Dakota Buttar Remains Red Hot in Calgary to Win Second Consecutive PBR Canada Touring Pro Division Event and Overtake No. 1 Ranking in the Nation
By: Kacie Albert Wednesday, September 8, 2021 @ 5:37 AM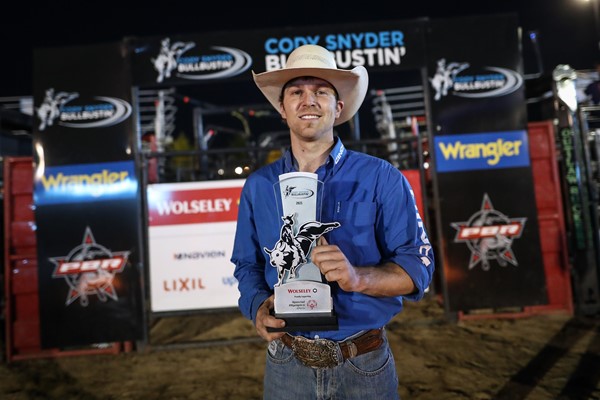 CALGARY, Alta. – In front of a raucous crowd at Grey Eagle Resort & Casino, reining PBR (Professional Bull Riders) Canada Champion Dakota Buttar (Kindersley, Saskatchewan) remained red hot Tuesday evening. Delivering a flawless 2-for-2 performance, Buttar logged his second consecutive Touring Pro Division event win, victorious at the opening iteration of the Cody Snyder Charity Bull Bustin' to surge to the No. 1 rank in the race for the 2021 PBR Canada Championship.
Fresh off his victory this past weekend in nearby Ponoka, Alberta, Buttar was quick to continue his momentum in Calgary. As one of eight riders to record a score in Round 1, the Saskatchewan contender earned his position in the championship round after making the 8 atop Sellin Dreams (Outlaw Buckers Rodeo Corp.) for 80 points.
Buttar returned determined in the championship round, drawing Slip Slap (Vold Rodeo/Prescott), who had bucked just once prior in PBR competition. Matching the bull jump-for-jump, Buttar registered the lone score of the championship round when he covered Slip Slap for 84.5 points.
The golden finish earned Buttar a crucial 25 national points, propelling him from No. 3 to No. 1 in the race for the 2021 PBR Canada Championship and accompanying $50,000 bonus. After beginning the tour stop 18.67 points behind No. 1 Zane Lambert (Ponoka, Alberta), Buttar now leads Lambert by 2.33 points.
Seeking history in 2021, should Buttar repeat as the national champion, he would become the first rider to win the Canadian title in consecutive seasons. Further, he would become just the third multi-time PBR Canada Champion in league history, joining the likes of three-time title holder Aaron Roy (Yellow Grass, Saskatchewan) and two-time champion Lambert.
Lambert also competed in Calgary Tuesday evening, going 1-for-2 to tie for fifth.
In Round 1, the Albertan veteran covered Brahma Boots Firm Believe (Outlaw Buckers Rodeo Corp.) for 83 points. Lambert's event, however, came to an early end, unable to take his championship round re-ride after getting banged up in the chutes by Whiskey Glasses (Outlaw Buckers Rodeo Corp.).
Despite the less-than-ideal ending to his event, Lambert earned 4 national points.
Edgar Durazo (Moctezuma, Mexico) and Tyler Craig (Crossfield, Alberta) tied for second, each netting 15 national points.
The duo of riders earned the silver finish after splitting the Round 1 win, both marked 85 points. Durazo covered In Cahoots (Outlaw Buckers Rodeo Corp.), while Craig made the 8 aboard By The Batch (Vold Rodeo).
Durazo is now tied for No. 18 in the national standings after beginning the event unranked, while Craig is No. 13, 99.5 points behind No. 1 Buttar, up three positions after travelling to the tour stop No. 16 in Canada.
Fourth was 2019 PBR Canada Champion Daylon Swearingen (Piffard, New York).
Marking his first event of the season on Canadian soil, Swearingen got his campaign north of the border off to an electric start in Round 1 of the Cody Snyder Charity Bull Bustin', riding Grey Tower III (Vold Rodeo/Robinson) for 83.5 points. Coming down hard, Swearingen did not attempt his championship round bull.
For his efforts, Swearingen earned 7 national points, now No. 22 in the national standings.
Rounding out the Top 5, and tying for fifth with Lambert, was Todd Chotowetz (Major, Saskatchewan).
He rode Southern Trespass (Outlaw Buckers Rodeo Corp.) for 83 points in the opening round to collect 4 national points.
PBR Canada Touring Pro Division action from Calgary, Alberta, for the Cody Snyder Charity Bull Bustin' continues Sept. 8-9. Action at Grey Eagle Resort & Casino will get underway nightly at 6:00 p.m. MDT.
Be sure to stay tuned to PBRCanada.com and follow the tour on Facebook (PBR Canada), Twitter (@PBRCanada), and Instagram (@PBRCanada) for the latest results and schedule of events.
PBR Canada Touring Pro Division – Cody Snyder Charity Bull Bustin'
Calgary, Alberta – Grey Eagle Resort & Casino
Event Results (Round 1-Round 2-Event Aggregate-Canadian Points-World Points)
1. Dakota Buttar, 80-84.5-164.5-25-10
2. Edgar Durazo, 85-0-85-15-5
(tie) Tyler Craig [1], 85-0-85-15-5
4. Daylon Swearingen, 83.5-0-83.5-7-3
5. Todd Chotowetz, 83-0-83-4-1.5
(tie) Zane Lambert, 83-0-83-4-1.5
7. Callum Miller, 81.5-0-81.5-0.5-0
(tie) Dakota Louis, 81.5-0-81.5-0.5-0
Nicholas Klinck [1], 0-0-0.00-0-0
Nicholas Klinck [2], 0-0-0.00-0-0
Jared Parsonage [1], 0-0-0.00-0-0
Jared Parsonage [2], 0-0-0.00-0-0
Coy Robbins, 0-0-0.00-0-0
Wacey Finkbeiner, 0-0-0.00-0-0
Fabian Dueck, 0-0-0.00-0-0
Brock Radford [1], 0-0-0.00-0-0
Brock Radford [2], 0-0-0.00-0-0
Dawson Shannon [1], 0-0-0.00-0-0
Dawson Shannon [2], 0-0-0.00-0-0
Wyatt Gleeson, 0-0-0.00-0-0
Rosendo Ramirez, 0-0-0.00-0-0
Chad Hartman, 0-0-0.00-0-0
Griffin Smeltzer, 0-0-0.00-0-0
Cody Coverchuk, 0-0-0.00-0-0
Micheal Ostashek, 0-0-0.00-0-0
Tyler Craig [2], 0-0-0.00-0-0
Garret Green, 0-0-0.00-0-0