PBR Canada's Elite Cup Series Returns to Lethbridge to Launch 2021 Season August 27-28
By: Kacie Albert Monday, June 21, 2021 @ 8:59 AM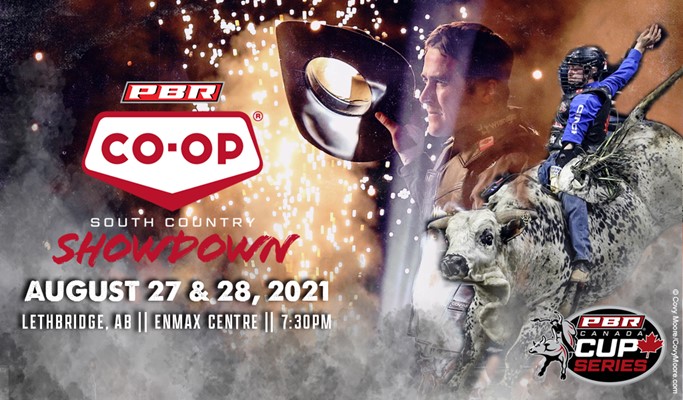 LETHBRIDGE, Alta. – For the first time in league history, PBR (Professional Bull Riders) Canada will launch the season for the elite Cup Series in Lethbridge, Alberta. The tour returns to the Alberta city for the third consecutive year Aug. 27-28, 2021, welcoming fans to ENMAX Centre for the fan-attended PBR South Country Co-op Showdown, presented by VisitLethbridge.com.
PBR Canada's Cup Series regularly features Canada's best riders alongside some of the league's top international athletes, squaring off against the rankest bucking bulls from across the nation. Fans will witness exhilarating 8-second rides and wrecks throughout the action-packed event as the PBR's courageous bull-riding athletes face off against their 2,000-pound opponents.
Last season, the nation's premier series travelled to Lethbridge twice, holding a total of three events.
After playing host to the last fan-attended Cup Series event prior to the onset of the COVID-19 (coronavirus) pandemic in early March, Lethbridge was the site of the league's historic return to competition with a double-header in late July 2020 following a 138-day hiatus from live events.
In front of a sold-out crowd, Dakota Buttar (Kindersley, Saskatchewan) won the March 2020 event in Lethbridge, marking one of his six event victories en route to the 2020 PBR Canada Championship.
Later that season, Brock Radford (De Winton, Alberta) and Ty Ellis (Sonningdale, Saskatchewan) tied for the victory at the opening iteration of the Lethbridge double-header in July, while Garrett Green (Meeting Creek, Alberta) won the third event of the season in Lethbridge held later the evening, which also marked the first fan-attended sporting event in Canada since the onset of COVID-19.
PBR Canada's elite Cup Series debuted in Lethbridge in 2019.
As the lone rider to go a perfect 3-for-3, Jared Parsonage (Maple Creek, Saskatchewan) captured the second premier series event win of his career inside ENMAX Centre.
PBR Canada's return to Lethbridge comes on the spurs of the league's resilient 2020 campaign which concluded with Buttar winning his career-first PBR Canada Championship.
Winning a league-leading four regular-season events, Buttar punctuated his record-setting season in momentous fashion.
Delivering a near perfect 5-for-6 effort at the three-day, four-event 2020 PBR Canada Finals Week, logging two additional event victories, Buttar never relinquished the No. 1 ranking, finishing the year 240.17 points ahead of No. 2 Zane Lambert (Ponoka, Alberta). 
With one Touring Pro Division event already complete in 2021, the Tanner Byrne Invitational, the battle for the year's national championship is shaping up to be yet another race for the ages.
At the Tanner Byrne Invitational, which was hosted by bull rider-turned-bullfighter Tanner Byrne (Prince Albert, Saskatchewan) at the Byrne Ranch in Prince Albert, Saskatchewan, Parsonage delivered a perfect 2-for-2 performance at the first PBR event on Canadian soil in 2021 to surge to an early lead atop the national standings.
Parsonage currently leads two-time PBR Canada Champion Lambert, who logged the first Canadian 90-point ride of the year in Prince Albert, covering reigning Canadian Bull of the Year Catch My Drift (Two Bit Bucking Bulls/K Rose Ranch) for a monstrous 91 points, by a mere 10 national points.
Lambert, along with reigning champion Buttar and three-time PBR Canada Champion Aaron Roy (Yellow Grass, Saskatchewan), are all seeking history in 2021.
Should Lambert earn his third Canadian Championship, he would tie Roy for most national titles held by one rider in league history. Lambert claimed the PBR Canada Championship in 2013 and 2017, while Roy was the top rider in Canada in 2008, 2010 and 2012. If Roy were to earn his fourth national title, he would further solidify his standing as one of Canada's greatest bull riders ever.
Rounding out the contingent, Buttar is attempting to accomplish a feat never prior done. Should he repeat as the PBR Canada Champion, he would become the first rider to win the championship in back-to-back seasons.
The bull riding action for 2021 PBR Canada Cup Series' South Country Co-op Showdown, presented by VisitLethbridge.com, begins at 7:30 p.m. MDT on Friday, August 27 and Saturday, August 28.
Tickets for the event go on sale Monday, June 21 at 1:00 p.m. MDT, and start at $30, standard fees may apply, and can be purchased online at ENMAXCentre.ca, or by phone at (403) 329-7328.
In cooperation with local government and through the dual activation of the PBR's "Be Cowboy Safe" guidelines, and Alberta Health COVID-19 rules and regulations, ENMAX Centre and PBR will follow all COVID-10 (coronavirus) related protocols for holding fan-attended events.
All PBR Canada events are subject to change, planned in accordance with directives issued by relevant government and health authorities given the evolving regulations during the COVID-19 pandemic.
The 2021 slate of events marks the sixth season for the PBR Canada Cup Series as a unified competitive series traveling across the country and broadcast on TSN. Stay tuned to PBRCanada.com for the latest event and broadcast schedule.