PBR Canada's Elite Cup Series Returns to Calgary for Third Consecutive Season October 23
By: Kacie Albert Tuesday, July 6, 2021 @ 11:00 AM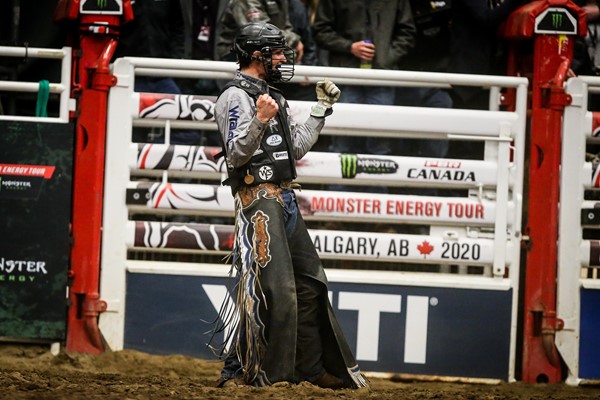 CALGARY, Alta. – For the third consecutive season, and fourth time in league history, PBR (Professional Bull Riders) Canada's elite Cup Series will buck into Calgary, Alberta, holding the fan-attended Pendleton Whisky Classic at Nutrien Western Event Centre Oct. 23.
PBR Canada's Cup Series regularly features Canada's best riders alongside some of the league's top international athletes, squaring off against the rankest bucking bulls from across the nation. Fans will witness exhilarating 8-second rides and wrecks throughout the action-packed event as the PBR's courageous bull-riding athletes face off against their 2,000-pound opponents.
After making history in 2018 as the first ticketed event in venue history to sell out, the Cup Series expanded its now annual stop in Calgary to a two-day affair in 2019 and 2020, welcoming a sold-out crowd for both stops' final rounds.
In 2020, Dakota Buttar (Kindersley, Saskatchewan) delivered a flawless 3-for-3 performance to capture his career-first Canadian Cup Series event win.
After logging an 85.5-point ride aboard Scarecrow (X6 Ranch Bucking Cattle) in Round 1, Buttar remained perfect in Round 2 when he covered Mish Mash (Vold Rodeo) for the second time in his career, marked a matching 85.5 points.
Sitting atop the aggregate entering the championship round, Buttar architected his second rematch of the night, drafting two-time PBR World Finals selection Tykro Pound Sand (Wild Hoggs/Corey Chmelnyk). Again reaching the requisite 8 atop the striking bovine athlete, Buttar brought the record-setting, Stampede City crowd to its feet, when he made the whistle for 87.5 points to cement his victory.
Furthering his stronghold atop the national standings, Buttar, who earned 535 national points, expanded his lead over then No. 2 Brock Radford (De Winton, Alberta) to 582.5 points.
The win was one of Buttar's six event victories en route to the 2020 PBR Canada Championship. Going a torrid 18-for-25 (72%) throughout the year, Buttar concluded the season 240.17 points ahead of runner-up and two-time PBR Canada Champion Zane Lambert (Ponoka, Alberta). 
Other past Canadian Cup Series victors in Calgary include Jordan Hansen (2019 – Okotoks, Alberta), Radford (2018) and Brady Sims (2016 – Holt, Missouri).
Buttar and Hansen are expected to return to Calgary in 2021, alongside the city's own Nick Tetz (Calgary, Alberta). Also anticipated to compete at the 2021 PBR Pendleton Whisky Classic are fellow Canadian standouts Lambert, Radford, three-time Canadian Champion Aaron Roy (Yellow Grass, Saskatchewan), Jared Parsonage (Maple Creek, Saskatchewan) and Lonnie West (Cadogan, Alberta).
Parsonage began the 2021 campaign on a high note, winning the season-launch Touring Pro Division event in Prince Albert, Saskatchewan compliments of a flawless 2-for-2 effort.
Surging to the top of the national standings, Parsonage narrowly beat two-time PBR Canada Champion Lambert, who logged the first Canadian 90-point ride of the year in Prince Albert, covering reigning Canadian Bull of the Year Catch My Drift (Two Bit Bucking Bulls/K Rose Ranch) for a monstrous 91 points.
Lambert, along with reigning champion Buttar and three-time champion Roy are all seeking history in 2021.
Should Lambert earn his third Canadian Championship, he would tie Roy for most national titles held by one rider in league history. Lambert claimed the PBR Canada Championship in 2013 and 2017, while Roy was the top rider in Canada in 2008, 2010 and 2012. If Roy were to earn his fourth national title, he would further solidify his standing as one of Canada's greatest bull riders ever.
Rounding out the contingent, Buttar is attempting to accomplish a feat never done before – repeating as the PBR Canada Champion in back-to-back seasons.
The bull riding action for 2021 PBR Canada Cup Series' Pendleton Whisky Classic, begins at 7:00 p.m. MDT on Saturday, October 23.
Tickets for the event go on sale Friday, July 9 at 10:00 a.m. MDT, and start at $25, standard fees may apply, and can be purchased online at Ticketmaster.ca. 
In cooperation with local government and through the dual activation of the PBR's "Be Cowboy Safe" guidelines, and Alberta Health COVID-19 rules and regulations, the Nutrien Western Event Centre and PBR will follow all COVID-10 (coronavirus) related protocols for holding fan-attended events.
All PBR Canada events are subject to change, planned in accordance with directives issued by relevant government and health authorities given the evolving regulations during the COVID-19 pandemic.
The 2021 slate of events marks the sixth season for the PBR Canada Cup Series as a unified competitive series traveling across the country and broadcast on TSN. Stay tuned to PBRCanada.com for the latest event and broadcast schedule.