PBR Canada National Finals Debut in Edmonton, Alberta at Rogers Place Nov. 12-13
By: Kacie Albert Monday, July 12, 2021 @ 11:08 AM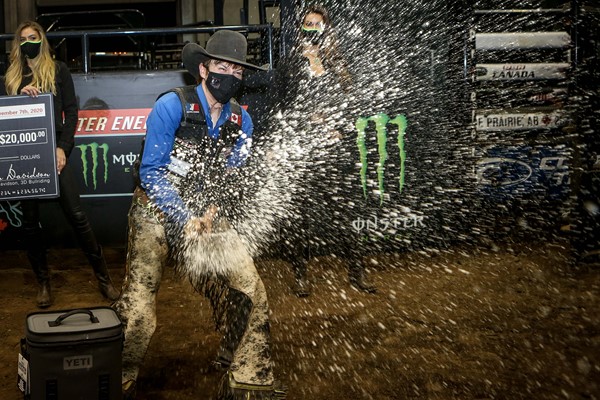 EDMONTON, Alta. – For the first time in league history, PBR (Professional Bull Riders) will hold the Canadian National Finals in Edmonton, Alberta, with the season-culminating event, part of the elite Cup Series, debuting inside the state-of-the-art Rogers Place Nov. 12-13 when the 2021 PBR Canada Champion will be crowned.
Season long, riders have the opportunity to compete at dozens of Cup Series and Touring Pro Division events across Canada to earn points towards the Canadian national standings, all in an effort to be the No.1-ranked cowboy at year's end and earn the coveted PBR Canada Championship.
Adding to the prestige of the event, for the first time in league history, the 2021 PBR Canada National Finals, presented by Command Tubular Products, will be broadcast LIVE on TSN.
Last season, the quartet of events that comprised the 2020 PBR Canada National Finals were integral for Dakota Buttar (Kindersley, Saskatchewan) en route to capturing his first national title.
Entering the series of season-culminating events with a firm grip on the No. 1 rank in the national standings, Buttar furthered his stronghold in the opening tour stop, finishing third to expand his lead over then No. 2 Garret Green (Meeting Creek, Alberta) to 137 points.
Buttar then notched his third Cup Series event victory of 2020 on the second night of action for the Canadian National Finals to clinch the season's PBR Canada Championship.
As the 2020 PBR Canada National Finals wound to a close, Buttar completed his impressive tear through the year-ending events with a win in the final tour stop, earned courtesy of an 88-point ride on Bull of the Year contender Finning Lil Shorty (Flying Four Bucking Bulls).
The Saskatchewan-native concluded the 2020 season 240.17 points ahead of runner-up, and two-time PBR Canada Champion, Zane Lambert (Ponoka, Alberta), having gone a torrid 18-for-25 (72%), including a historic 11-out ride streak to begin the year. He also registered a head-turning six event wins across the 13 events he competed at on home soil throughout the year.
A complete list of PBR Canada Champions include: Daylon Swearingen (2019 – Piffard, New York) Cody Coverchuk (2018 – Meadow Lake, Saskatchewan); Lambert (2017 and 2013); Ty Pozzobon (2016 – Merritt, British Columbia), Tanner Byrne (2015 – Prince Albert, Saskatchewan); Stetson Lawrence (2014 – Williston, North Dakota); Aaron Roy (2012, 2010 and 2008 – Yellow Grass, Saskatchewan); Tyler Thomson (2011 – Black Diamond, Alberta); Beau Hill (2009 – West Glacier, Montana); Tyler Pankewitz (2007 – Warburg, Alberta); and Scott Schiffner (2006 – Strathmore, Alberta).
Past PBR Canada National Finals event winners include: Swearingen (2019), Coverchuk (2018); Lambert (2017 and 2016); Brady Oleson (2015 – Blackfoot, Idaho); Roy (2014); Schiffner (2013); Pozzobon (2012); Dusty Ephrom (2011 – Kenossee Lake, Saskatchewan); Harve Stewart (2011- Stephenville, Texas); Mike Lee (2010 – Decatur, Texas); Guilherme Marchi (2009 – Tres Lagoas, Brazil); Jock Connolly (2008 – Charters Towers, Queensland, Australia); Vince Northrup (2007 – Davidson, Saskatchewan); and Brian Canter (2006 – Randleman, North Carolina).
The PBR Canada National Finals, presented by Command Tubular Products, is the sixth and final event of the 2021 PBR Canada Cup Series, the nation's first-ever cross-country, nationally televised PBR series.
The elite Cup Series features Canada's top bull riders, alongside some of the PBR's top international athletes, squaring off against the rankest bucking bulls in North America. Fans will witness exhilarating 8-second rides and wrecks throughout the action-packed event as the PBR's courageous riders face off against their 2,000-pound, animal-athlete opponents.
At the 2021 iteration of the PBR Canada National Finals, three riders will be seeking history – Buttar, Lambert and Roy.
Should Lambert earn his third Canadian Championship, he would tie Roy for most national titles held by one rider in league history. Lambert claimed the PBR Canada Championship in 2013 and 2017, while Roy was the top rider in Canada in 2008, 2010 and 2012. If Roy were to earn his fourth national title, he would further solidify his standing as one of Canada's greatest bull riders ever.
Rounding out the contingent, Buttar is attempting to accomplish a feat never done before – repeating as the PBR Canada Champion in back-to-back seasons.
While the PBR Canada National Finals have never before been held in Edmonton, Rogers Place has once prior hosted the PBR, welcoming the league for the first-ever PBR Global Cup, akin to the Olympics of bull riding, in November 2017.
Edmonton has twice prior hosted the elite Cup Series, with three-time PBR Canada Champion Roy winning in 2018, and Swearingen claiming the victory in 2019 en route to being crowned the season's PBR Canada Champion.
The bull riding action for 2021 PBR Canada National Finals, presented by Command Tubular Products, begins at 7:30 p.m. MDT on Friday, November 12 and Saturday, November 13 at Rogers Place, home of the NHL's Edmonton Oilers.
Tickets for the event go on sale Friday, July 16 at 10:00 a.m. MDT, and start at $30, standard fees may apply. They can be purchased online at Ticketmaster.ca. 
In cooperation with local government and through the dual activation of the PBR's "Be Cowboy Safe" guidelines, and Alberta Health COVID-19 rules and regulations, Rogers Place and PBR will follow all COVID-10 (coronavirus) related protocols for holding fan-attended events.
All PBR Canada events are subject to change, planned in accordance with directives issued by relevant government and health authorities given the evolving regulations during the COVID-19 pandemic.
The 2021 slate of events marks the sixth season for the PBR Canada Cup Series as a unified competitive series traveling across the country and broadcast on TSN. Stay tuned to PBRCanada.com for the latest event and broadcast schedule.