Logan Biever Ties for Tenth at PBR Pendleton Whisky Velocity Tour's Greenville Invitational
By: Easton Colvin Sunday, January 24, 2021 @ 10:56 AM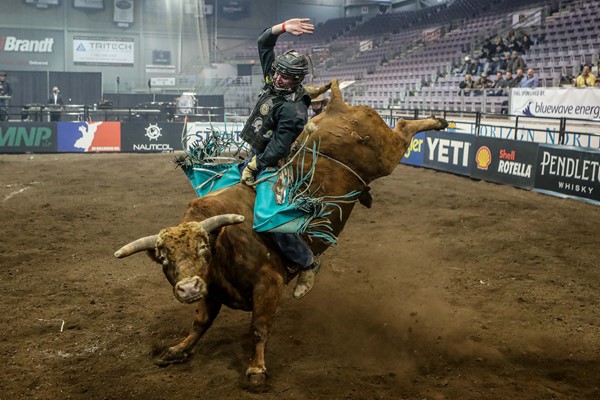 GREENVILLE, S.C. – As the lone Canadian competing in the United States, Albertan Logan Biever (Claresholm, Alberta) logged his second Top-10 finish in as many weeks on the PBR (Professional Bull Riders) Pendleton Whisky Velocity Tour, tying for tenth at the expansion series' Greenville Invitational in South Carolina.
The 22-year-old's effort was headlined by an 84-point ride on Cojo (D4 Cattle/Tomaski) in the opening round. He was unable to make the 8 throughout the remainder of the event, dispatched by Little Beagle (Championship Pro Rodeo) in 3.07 seconds in Round 2, and Chuck (Halpain Bucking Bulls) in 2.64 seconds in the championship round.
Biever left the Palmetto State having earned 1.33 world points and is now ranked No. 47 in the world. He trails No. 1 Mauricio Moreira (Gaviao Peixoto, Brazil) by 128.17 points.
Brazilian newcomer Marcelo Procopio Pereira (Rinopolis, Brazil), riding in just his second career Pendleton Whisky Velocity Tour event, won the second tour stop of the 2021 season.
Pereira entered Championship Saturday in third place after covering Zacchaeus (GT Bucking Bulls/Davis Rodeo Ranch) for 85.5 points during Round 1 on Friday night.
Matching up with Wine Time (JQH Bucking Bulls – Skip & Elaine Jones) in Round 2, the 25-year-old exploded out of the chutes on the way to an 88-point trip, tying for the round win.
Next tasked with Restraining Order (D4 Cattle/Tomaski), Pereira was unable to remain perfect, tossed to the dirt in 4.98 seconds during the championship round.
Pereira's 173.5 points over three outs earned him the first event win of his PBR career and 40 world points, moving him to No. 2 in the PWVT standings, just 0.5 points behind No. 1 J.T. Moore (Alvin, Moore).
The 2020 Wrangler National Finals Rodeo bull riding winner Colten Fritzlan (Rifle, Colorado) finished the two-day event second. After hitting the ground early in Round 1 on Friday, the Coloradan turned in two qualified rides Saturday, starting when he conquered Hard & Often (Halpain Bucking Bulls) for 85.5 points in Round 2.
Rocko (J.C. Knapp Rodeo Co.) was the championship round mount for Fritzlan, as the two combined for 87.5-points.
The second-place finish earned Fritzlan 28.5 world points.
Cody Casper (Newport, Washington), winner of Round 1 on Friday night, reached the 8-second whistle on Fu Man Chu (Sho-Me Rodeo) in Round 2 and was in second place heading into the championship round.
Facing off with Cimarron (Cunningham/Scoggins) in the 15-man championship round, Casper lost his seat at the 6.74-second mark, resulting in a third-place finish in the event.
The bronze-effort earned Casper 18 world points.
Fourth-place was split by Seth White (Statesville, North Carolina) and Thor Hoefer II (Priest River, Idaho).
White, who was in second coming into the night, got his job done in Round 2 aboard Little Anthony (Cornwell Bucking Bulls) scoring 83.5 points, but was down early in the championship round, lasting 2.45 seconds on Doolin Dalton (Frenzel Bucking Bulls).
Hoefer sat in ninth place after Friday night's Round 1, and made it into the championship round despite a buckoff aboard Last Chance (Sho-Me Rodeo) in Round 2. Meeting up with Money Maker (Mason/Smith Bucking Bulls) in the championship round, Hoefer split the round win with an 87.5-point score.
Hoefer took home 10.5 world points for the Top-5 finish, while White earned 9.5 world points.
The 2021 PBR Greenville Invitational was a stop on the Million Dollar Bull Team Challenge circuit, and after a second-place finish in Round 1, JQH Bucking Bulls #2 took home first on Saturday night with 277.97 points over three outs. Mason/Smith Bucking Bulls came in second with 272.72 points Saturday night, and Halpain was third with 270.45 points.
Fans can relive every out from the 2021 PBR Greenville Invitational on Sunday, January 24 at 8:00 a.m. ET on RidePass.com or via the RidePass mobile app.
The PBR Pendleton Whisky Velocity Tour is scheduled to return to action on February 19-20 from Rupp Arena in Lexington, Kentucky.
Professional Bull Riders Pendleton Whisky Velocity Tour
Greenville Invitational
Bon Secours Wellness Arena – Greenville, South Carolina
Event Leaders (Round 1-Round 2-Round 3-Event Aggregate-Event Points)
1. Marcelo Procopio Pereira, 85.5-88-0-173.50-40 Points.
2. Colten Fritzlan, 0-85.5-87.5-173.00-28.5 Points.
3. Cody Casper, 88-84.5-0-172.50-18 Points.
4. Seth White, 86.5-83.5-0-170.00-9.5 Points.
(tie). Thor Hoefer II, 82.5-0-87.5-170.00-10.5 Points.
6. Leonardo Lima, 84-83.5-0-167.50-4.83 Points.
7. Jesse Petri, 0-85.5-0-85.50-4 Points.
(tie). Eli Byler, 0-85.5-0-85.50-4 Points.
9. Francisco Garcia Torres, 0-85-0-85.00-1 Points.
10. Logan Biever, 84-0-0-84.00-1.33 Points.
(tie). Jake Lockwood, 84-0-0-84.00-1.33 Points.
12. Michael Lane, 83.5-0-0-83.50-0.5 Points.
(tie). Laramie Craigen, 83.5-0-0-83.50-0.5 Points.
14. Alex Cardozo, 82.5-0-0-82.50
(tie). Luis Blanco, 82.5-0-0-82.50
16. Cody Campbell, 79-0-0-79.00
Paulo Ferreira Lima, 0-0-0-0.00
Wyatt Rogers, 0-0-0-0.00
Lucas Fideles Souza, 0-0-0-0.00
Keith Hall, 0-0-0-0.00
Eli Vastbinder, 0-0-0-0.00
Hunter Ball, 0-0-0-0.00
Caleb Christian, 0-0-0-0.00
Jake Davis, 0-0-0-0.00
Francisco Morales, 0-0-0-0.00
Rubens Barbosa, 0-0-0-0.00
Ouncie Mitchell, 0-0-0-0.00
Wallace Vieira de Oliveira, 0-0-0-0.00
Bradley Brittain, 0-0-0-0.00
Grayson Cole, 0-0-0-0.00
Gage Gay, 0-0-0-0.00
Dylan Smith, 0-0-0-0.00
Romildo Rodrigues, 0-0-0-0.00
Ky Hamilton, 0-0-0-0.00
Carlos Gomes Junior, 0-0-0-0.00
Allen Burkholder, 0-0-0-0.00
Juan Carlos Contreras, 0-0-0-0.00
Ricky Aguiar, 0-0-0-0.00
Eli Miller, 0-0-0-0.00
Dylan Madsen, 0-0-0-0.00
Alecio Ferreira da Costa, 0-0-0-0.00
Jake Gowdy, 0-0-0-0.00
Ryan Prophet, 0-0-0-0.00
Jordan Spears, 0-0-0-0.00
Zachary Laney, 0-0-0-0.00