Albertan Logan Biever Second in Round 1 of the PBR Velocity Tour's Cedar Park Chute Out in Texas
By: Easton Colvin Saturday, January 16, 2021 @ 8:01 AM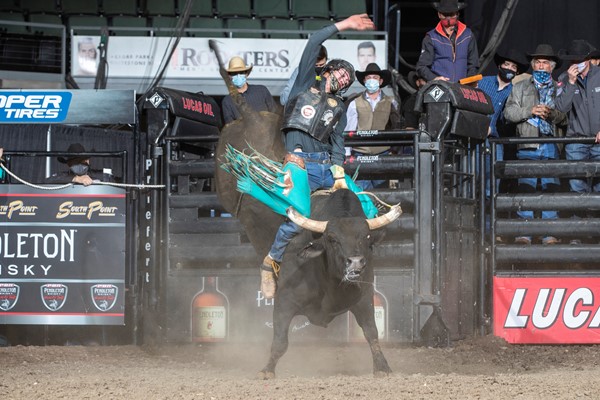 CEDAR PARK, Texas – As the dust settled after the first round of the 2021 PBR (Professional Bull Riders) Pendleton Whisky Velocity Tour (PWVT) season in Cedar Park, Texas, Logan Biever (Claresholm, Alberta), currently the lone Canadian competing in the United States, had made his presence know.
Delivering the high-marked ride of his young career on the league's expansion series, an 87.5-point trip aboard Wired Up (Rafter B Bucking Bulls/Harris), Biever is currently second ahead of Round 2.
Biever's qualified ride, which positioned him within one-point of the aggregate leader, earned him four world points and $591.75.
Marking his first Pendleton Whisky Velocity Tour event since 2018, Biever will attempt to assume the No. 1 position on the event leaderboard in Round 2 when he attempts Perfect Pistol (Winston Bucking Bulls/Melton Bull Co.).
Narrowly edging Biever, Leonardo Lima (Vale do Paraiso, Brazil) won Round 1 of the Cedar Park Chute Out.
The 27-year-old, entering his third-year of U.S. competition, made the 8-second whistle early in the 45-man round on Friday night. Taking on Slumlord (Nothin' But Try Ranch/'Diggers Bucking Bulls), Lima burst from the chutes, spurs flying, on the way to an 88.5-point score.
Earning an important seven world points for his round win, along with an accompanying $789, Lima is ranked No. 14 in the early 2021 world standings. Should he win the Lone Star State event, Lima would earn his first-ever berth to compete on the elite Unleash The Beast when the tour travels to Okeechobee, Florida on Jan. 30-31.
North Carolina's Eli Vastbinder (Statesville, North Carolina) rounded out the Top 3 at the end of the night.
The PBR veteran made his mark on the round with an 87-point ride. Matching his opponent Deplorabull (Winston Bucking Bulls/Melton Bull Co.) jump for jump, Vastbinder delivered one of the 13 qualified rides in the round.
The third-place finish netted the 29-year-old three world points and $394.50.
Fourth place was split by three veterans, Valdiron de Oliveira (Balcimo, Brazil), Paulo Ferreira Lima (Bezerros, Brazil) and Francisco Morales (Irapuato, Mexico).
The 41-year-old Oliveira rode his way to fourth by besting Oilfield Outlaw's Legacy (Oilfield Outlaw's Bucking Bulls) to earn his 86.5-points. While Lima made the 8 aboard Speckled Chicken (Rawson/Obernagel/Daisy's Bucking Bulls), PBR Global Cup Team Mexico competitor Morales took care of business on Rag Doll (Tom Baker Bucking Bulls).
For the three-way tie, each rider earned 1.33 world points and $65.75.
The 2021 PBR Cedar Park Chute Out is the first stop on the 2021 Million Dollar Bull Team Challenge season, as Nothin' But Try Ranch/'Diggers Bucking Bulls took home first with an aggregate score of 279.75 over three outs. UTC/Sellers Bucking Bulls finished second, turning in 274.01 points, and GT Bucking Bulls came in third with 273.37 points.
Fans can relive each out from Round 1 of the 2021 PBR Cedar Park Chute Out on Saturday, January 16 at 8 a.m. ET on RidePass.com or the RidePass mobile app.
The Cedar Park Chute Out returns to action on Saturday, January 17 at 7:00 p.m. CT with Round 2 and the championship round. The action can be seen live exclusively on RidePass.
Professional Bull Riders Pendleton Whisky Velocity Tour
Cedar Park Chute Out
H-E-B Center – Cedar Park, Texas
Event Leaders (Round 1-Round 2-Round 3-Event Aggregate-Event Points)
1. Leonardo Lima, 88.5-0-0-88.5-7 Points
2. Logan Biever, 87.5-0-0-87.5-4 Points
3. Eli Vastbinder, 87-0-0-87-3 Points
4. Valdiron de Oliveira, 86.5-0-0-86.5-1.33 Points
4. Paula Ferreira Lima, 86.5-0-0-86.5-1.33 Points
4. Francisco Morales, 86.5-0-0-86.5-1.33 Points
7. J.T. Moore, 86-0-0-86-1 Point
8. Chase Dougherty, 85-0-0-85-0 Points
8. Francisco Garcia Torres, 85-0-0-85-0 Points
10. Lucas Fideles Souza, 84.5-0-0-84.5-0 Points
11. Conner Halverson, 84-0-0-84-0 Points
12. Luis Blanco, 83-0-0-83-0 Points
13. Lucas Phipps, 56.5-0-0-56.5-0 Points
Grayson Cole, 0-0-0-0 Points
Jesse Petri, 0-0-0-0 Points
Jake Lockwood, 0-0-0-0 Points
Kyle Jones, 0-0-0-0 Points
Marcus Mast, 0-0-0-0 Points
Devon Weaver, 0-0-0-0 Points
Keith Hall, 0-0-0-0 Points
River Stephenson, 0-0-0-0 Points
Junior Patrik Souza, 0-0-0-0 Points
Hunter Ball, 0-0-0-0 Points
Cody Casper, 0-0-0-0 Points
Triston Dean, 0-0-0-0 Points
Cole Skender, 0-0-0-0 Points
Shane Proctor, 0-0-0-0 Points
Marcelo Procopio Pereira, 0-0-0-0 Points
Dalton Rudman, 0-0-0-0 Points
Alex Cardozo, 0-0-0-0 Points
Jordan Spears, 0-0-0-0 Points
Eli Miller, 0-0-0-0 Points
Jake Gowdy, 0-0-0-0 Points
Thor Hoefer II, 0-0-0-0 Points
Rodrigo Melgar, 0-0-0-0 Points
Juan Carlos Contreras, 0-0-0-0 Points
Ky Hamilton, 0-0-0-0 Points
Ruger Piva, 0-0-0-0 Points
Laramie Craigen, 0-0-0-0 Points
Wallace Vieira de Oliveira, 0-0-0-0 Points
Austin Covington, 0-0-0-0 Points
Ricky Aguiar, 0-0-0-0 Points
Rubens Barbosa, 0-0-0-0 Points
Carlos Gomes Junior, 0-0-0-0 Points
Romildo Rodrigues, 0-0-0-0 Points