Cody Coverchuk Earns Second PBR Canada Event Win of 2021 in Marwayne to Rise to No. 2 in the Nation
By: Kacie Albert Thursday, August 26, 2021 @ 6:34 PM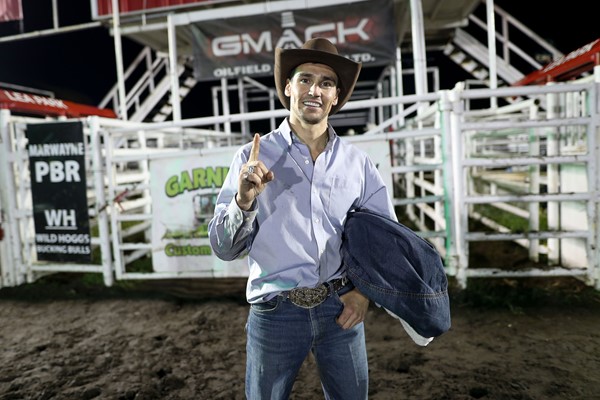 MARWAYNE, Alta. – Cody Coverchuk (Meadow Lake, Saskatchewan) inched one step closer to cementing his name in league history Wednesday evening, a dominant force at the PBR (Professional Bull Riders) Canada Touring Pro Division event in Marwayne, Alberta. Going a perfect 2-for-2, Coverchuk won the Garnier Custom Silage Marwayne PBR, presented by G Mack Oilfield Services, rising to No. 2 in the nation and climbing within 22.66 points of the No. 1 rank, as he attempts to become just the third multi-time PBR Canada Champion in league history in 2021.
In Round 1, Coverchuk was one of the final riders to punch his ticket to the championship round, advancing courtesy of his 80.5-point ride on Big Chill (Wild Hoggs Bucking Bulls).
Despite holding a less-than-desired position on the event leaderboard, Coverchuk was undeterred.
Drawing Ain't About Fame (Thompson Rodeo Livestock) as his final bovine athlete opponent, the Saskatchewan man reached the 8 for an event-best 86.5 points. The round winning score propelled Coverchuk up the leaderboard, securing his second PBR Canada event win of the 2021 season.
Capitalizing on a double-entry, Coverchuk also finished sixth compliments of his 83.5-point score on Done Talking (Eno Bucking Bulls) in the opening round.
For his collective efforts, Coverchuk earned 26 Canadian points, climbing from No. 4 to No. 2 in the national standings. Ahead of the season-launch event for elite PBR Canada Cup Series, Coverchuk is within a mere 22.66 points of No. 1 Nick Tetz (Calgary, Alberta).
Should 2018 PBR Canada Champion Coverchuk win the national title again in 2021, and accompanying $50,000 bonus, he would join an elite group of riders to have won the Canadian title in multiple seasons. Three-time champion Aaron Roy (Yellow Grass, Saskatchewan) and two-time title holder Zane Lambert (Ponoka, Alberta) are presently the lone to riders to have achieved the feat.
Current PBR Canada No. 1 Tetz also competed at the annual Marwayne Touring Pro Division event, finishing both tied for fourth and seventh. He earned the pair of Top-10 finishes via an 84-point ride on Slip Slap (Vold Rodeo/Prescott) and 82-point effort aboard Moscow Mule (Foley Bucking Bulls), respectively, in Round 1.
As the only other rider to go a perfect 2-for-2, Cole Young (Fairview, Alberta) was second, earning 18.3 national points.
After riding Thor's Hammer (Wild Hoggs Bucking Bulls) for 84 points in Round 1, Young punctuated his perfect performance at the Alberta event with a 76-point score atop Harv (Flying Four Bucking Bulls) in the championship round.
Young, who was unranked prior to the event, is now No. 15 in Canada, 102.33 points behind No. 1 Tetz.
Logan Biever (Claresholm, Alberta) was third.
Biever made a splash in Round 1, jumping to an early lead in the event after riding Longmire (Eno Bucking Bulls) for 84.5 points.
The home province hopeful, however, was unable to conclude the tour stop with a qualified ride, bested by Hanna Motors Winston Bruce (Skori Bucking Bulls) in 3.93 seconds.
Biever's showing netted him 15 national points, elevating him from No. 16 to No. 14 in the race for the 2021 PBR Canada Championship. He trails the No. 1 position by 101.16 points.
The Claresholm cowboy also finished 12th at the event, covering Time After Time (Thompson Rodeo Livestock) for 74.5 points in Round 1, but the score was not enough to earn him any additional national points.  
Rounding out the Top 5, and splitting fourth with Tetz, was reigning PBR Canada Champion Dakota Buttar (Kindersley, Saskatchewan).
Buttar's showing was headlined by his 84-point ride on Finning Hou's Deacon (Flying Four Bucking Bulls) in Round 1.
The four-time PBR World Finals qualifier earned 6.8 national points yet slipped to No. 4 in the standings. He now trails No. 1 Tetz by 41.33 points.
Seeking history of his own, should Buttar repeat as the PBR Canada Champion in 2021, he would become the first rider to win the title in consecutive seasons.
In the bull pen, Hanna Motors Winston Bruce was the top bovine athlete, marked 44 points in his championship round trip with Biever.
PBR Canada's Touring Pro Division next travels to Ponoka, Alberta, and the Ponoka Stampede Rodeo Grounds for the Wild West PBR on September 4. Action gets underway at 7:00 p.m. MDT.
The 2021 season for the elite PBR Canada Cup Series begins Aug. 27-28 in Lethbridge, Alberta, for the PBR South Country Co-op Showdown, presented by VisitLethbridge.com. Action begins nightly at ENMAX Centre at 7:30 p.m. MDT.
Be sure to stay tuned to PBRCanada.com and follow the tour on Facebook (PBR Canada), Twitter (@PBRCanada), and Instagram (@PBRCanada) for the latest results and schedule of events.
PBR Canada Touring Pro Division – Garnier Custom Silage Marwayne PBR, presented by G Mack Oilfield Services
Marwayne, Alberta – Lea Park Rodeo Grounds
Event Results (Round 1-Round 2-Event Aggregate-Canadian Points-World Points)
1. Cody Coverchuk [2], 80.5-86.5-167-25-10
2. Cole Young, 84-76-160-18.3-6
3. Logan Biever [2], 84.5-0-84.5-15-4
4. Nick Tetz [1], 84-0-84-6.8-2.5
(tie) Dakota Buttar, 84-0-84-6.8-2.5
6. Cody Coverchuk [1], 83.5-0-83.5-3-1
7. Nick Tetz [2], 82-0-82-0.5-0
(tie) Tanner Eno, 82-0-82-0.5-0
9. Jared Parsonage, 81-0-81-0-0
(tie) Griffin Smeltzer, 81-0-81-0-0
11. Shay Marks [1], 80.5-0-80.5-0-0
12. Logan Biever [1], 74.5-0-74.5-0-0
Ashton Sahli, 0-0-0.00-0-0
Micheal Ostashek, 0-0-0.00-0-0
Aaron Roy, 0-0-0.00-0-0
Tyler Craig [1], 0-0-0.00-0-0
Tyler Craig [2], 0-0-0.00-0-0
Todd Chotowetz, 0-0-0.00-0-0
Weston Davidson, 0-0-0.00-0-0
Dawson Shannon [1], 0-0-0.00-0-0
Dawson Shannon [2], 0-0-0.00-0-0
Shay Marks [2], 0-0-0.00-0-0
Fabian Dueck [1], 0-0-0.00-0-0
Fabian Dueck [2], 0-0-0.00-0-0
Coy Robbins, 0-0-0.00-0-0
Cawl Braithwaite, 0-0-0.00-0-0
Nicholas Klinck, 0-0-0.00-0-0