Albertan Logan Biever Tenth at PBR Pendleton Whisky Velocity Tour's Wichita Invitational
By: Kacie Albert Monday, April 26, 2021 @ 12:43 PM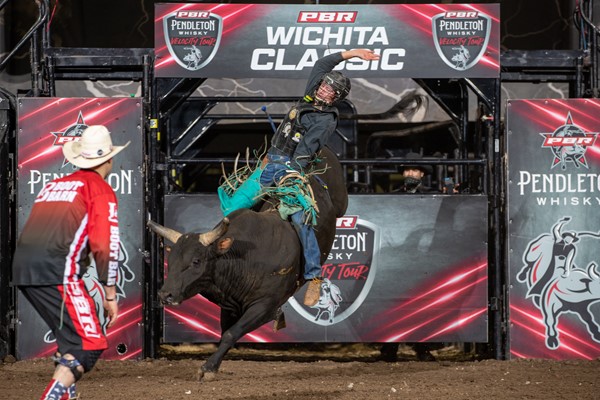 WICHITA, Kansas – On the heels of his career-best finish on the league's expansion series two weeks prior in Texas, Albertan Logan Biever (Claresholm, Alberta) continued his momentum this past weekend in Kansas, finishing 10th at the PBR (Professional Bull Riders) Pendleton Whisky Velocity Tour's Wichita Invitational at INTRUST Bank Arena.
The tour stop was one of three throughout the week that the Canadian contingent stateside competed in, with the sextet of riders also entered in Touring Pro Division events in Clovis, California, and Prescott Valley, Arizona.
Biever's fifth Top-10 finish of the season at the PBR Wichita Invitational was headlined by his 83-point ride aboard Tino (Clark View Farms) in the championship round.
For his 1-for-3 showing, the 23-year-old earned 4 world points.
Solidifying his world No. 50 rank, Biever is now 49 points outside of the Top 30 and his career-first berth to the PBR Unleash The Beast.
In Wichita, Biever was joined by fellow Canucks Jake Gardner (Fort St. John, British Columbia) and Riley Gagnon (Innisfail, Alberta). Both failed to reach the requisite 8 aboard their bovine athlete opponents.
Held in tandem with the PBR Pendleton Whisky Velocity Tour's Wichita Invitational, Tanner Eno (Coronation, Alberta), Ashton Sahli (Red Deer, Alberta) and Tyler Craig (Crossfield, Alberta) competed more than 1,000 miles away in Prescott Valley, Arizona for the Touring Pro Division's Yavapai Bottle Gas Mile High PBR, presented by Coors Light and Navajo Nation.
Despite best efforts, each of the three young guns narrowly missed the whistle in the Grand Canyon State, earning 0 world points.
Earlier in the week, Gardner and Biever competed in California for the annual Clovis Touring Pro Division event.
Narrowly missing the championship round, Gardner tied for 10th courtesy of his 83-point ride on Hawaiian Bond (Flying U/Cindy Rosser).
For complete results from all the past week's events, visit PBR.com.
Fans can relive all the action from the PBR Pendleton Whisky Velocity Tour's Wichita Invitational on RidePass, at RidePass.com or via the RidePass app available on iOS, Android and Roku.
The PBR Pendleton Whisky Velocity Tour next travels to Corpus Christi, Texas, and American Bank Center on April 30-May 1. Action gets underway for the Buc Days PBR Chute Out, presented by Coastal Bend Chevy Dealers, with Round 1 at 7:30 p.m. CDT on Friday, April 30, followed by Round 2 and the championship round on Saturday, May 1 at 7:30 p.m. CDT.