Jordan Hansen Dominates in Ponoka to Win the PBR Lockdown Bull Bash
By: Kacie Albert Monday, September 28, 2020 @ 2:27 PM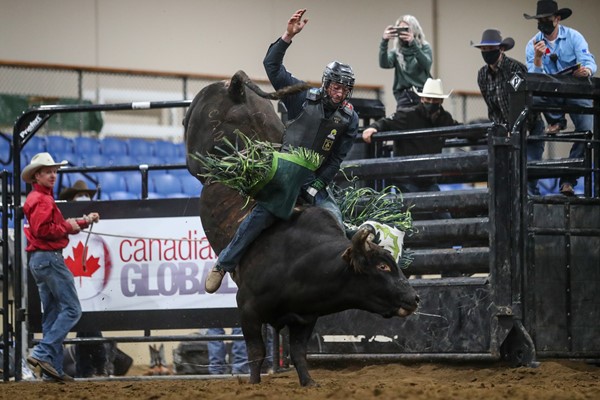 PONOKA, Alberta– Competing at just his fifth PBR (Professional Bull Riders) Canada event of the 2020 season, annual national champion contender Jordan Hansen (Okotoks, Alberta) delivered a perfect 2-for-2 performance to win the Lockdown Bull Bash in Ponoka, Alberta, part of the league's Touring Pro Division.
In addition to showcasing the outfit's world-class bovine athletes, the event was hosted by six-time and reigning PBR Canada Stock Contractor of the Year Vold Rodeo, as managed by Nansen and Jenn Vold.
In Round 1, the 27-year-old was one of eight riders to reach the requisite 8, covering Backwoods Legit (Wild Hoggs Bucking Bulls) for 81 points.
Hansen then recorded the high-marked ride of the event in the championship round when he faced Trapped (Vold Rodeo), the bovine athlete who in his last trip dispatched two-time and reigning PBR World Champion Jess Lockwood (Volborg, Montana) in 7.79 seconds during the September Unleash The Beast event in Billings, Montana.
Becoming the first rider to cover Trapped in four outs across all levels of PBR competition, Hansen was marked 87 points, cementing the event win.
Hansen netted $2,518.12, along with 25 national points for his victory.
Unranked prior to the event, the home province favorite is now ranked No. 15 in the PBR Canada national standings, 252.5 points behind No. 1 Dakota Buttar (Kindersley, Saskatchewan).
Buttar competed at the Lockdown Bull Bash, however had his event come to an early end when he was bucked off by Last Rights (Vold Rodeo) just short of the whistle.
Two-time PBR Canada Champion Zane Lambert (Ponoka, Alberta) and Jake Gardner (Fort St. John, British Columbia) tied for second after recording matching, 85-point, Round 1-winning rides.
For Lambert he went the distance aboard All Business (Two Bit Bucking Bulls) which Gardner conquered Hot Tamale (Two Bit Bucking Bulls).
Each rider netted a cheque for $1,227.19 along with 15 national points. Lambert rose from No. 7 to No. 5 as he seeks his historic third national championship, and Gardner gained one position, now ranked No. 11, after beginning the tour stop No. 12.
Lambert now trails No. 1 Buttar by 168 points, and Gardner is within 221 points.
Fourth was Lonnie West (Cadogan, Alberta), earning $637.5 and seven national points.
West's efforts were highlighted by an 83.5-point ride on Norse God (Wild Hoggs Bucking Bulls) in Round 1.
He maintained his No. 13-rank in the national standings, inching closer to the No. 1 position, which he now trails by 232.5 points.  
Rounding out the Top 5 in fifth was Dayton Johnston (Milk River, Alberta).
Johnston rode Jappy Feeling Dangerous (Wild Hoggs Bucking Bulls) for 83 points in Round 1, propelled to a $363.38 payday, while also collecting five national points.
The 24-year-old Alberta remains No. 14 in the nation.
Be sure to stay tuned to PBRCanada.com and follow the tour on Facebook (PBR Canada), Twitter (@PBRCanada), and Instagram (@PBRCanada) for the latest results and schedule of events.
PBR Canada Touring Pro Division – Lockdown Bull Bash
Calnash Trucking Ag Event Centre – Ponoka, Alberta
Event Leaders (Round 1- Round 2-Event Aggregate-Canadian Points-Payout)
1. Jordan Hansen, 81-87-168-25-$2,518.12
2 (tie). Jake Gardner, 85-0-85-15-$1,227.19
Zane Lambert, 85-0-85-15-$1,277.19
4. Lonnie West, 83.5-0-83.5-7-$637.5
5. Dayton Johnston, 83-0-83-5-$363.38
6. Mike Ostashek, 82.5-0-82.5-3-$178.50
7. Tyler Craig, 81-0-81-1-$133.88
8. Jackson Scott, 79.5-0-79.5-0-$89.25
Callum Miller, 0-0-0.00-0-$0
Coy Robbins, 0-0-0.00-0-$0
Tanner Eno, 0-0-0.00-0-$0
Ashton Sahli, 0-0-0.00-0-$0
Shay Marks, 0-0-0.00-0-$0
Griffin Smeltzer, 0-0-0.00-0-$0
Brock Radford, 0-0-0.00-0-$0
Tim Lipsett, 0-0-0.00-0-$0
Wade Marshall, 0-0-0.00-0-$0
Zachery King, 0-0-0.00-0-$0
Wyatt Gleeson, 0-0-0.00-0-$0
Logan Biever, 0-0-0.00-0-$0
Ty Ellis, 0-0-0.00-0-$0
Fabian Dueck, 0-0-0.00-0-$0
Nick Tetz, 0-0-0.00-0-$0
Dakota Buttar, 0-0-0.00-0-$0
Riley Gagnon, 0-0-0.00-0-$0