Four-Time World Finals Qualifier Scott Schiffner Excited for World Finals' Relocation to AT&T Stadium
By: Covy Moore Tuesday, October 6, 2020 @ 9:12 AM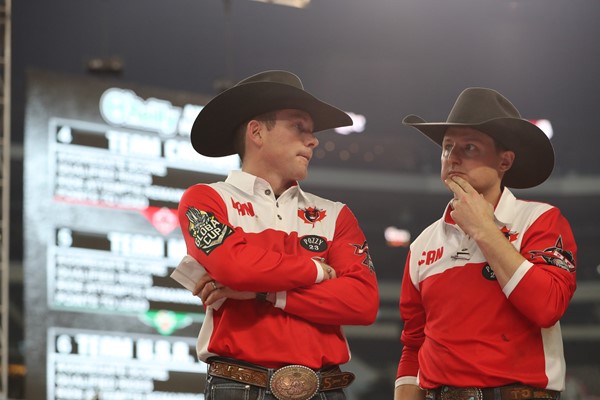 AIRDRIE, Alberta – With the recent announcement that the PBR World Finals will be held at AT&T Stadium in Arlington, Texas, the excitement surrounding the sport's most prestigious event has amplified.
As one of the most iconic stadiums in the world, the sheer size of the home of the NFL's Dallas Cowboys is undeniable and will provide a different atmosphere for this year's edition of the season culminating event. And that factor is one that Canadian bull riding legend turned PBR Global Cup Team Canada head coach Scott Schiffner says can enter a riders mind.
"Everyone says it's just another bull, it doesn't matter where you are at," Schiffner began.
"And Tuff Hedeman said, for lack of a better term, 'that's bullshit,' and he is right. I really believe that because the bigger the stage, the more that's on the line, a world championship for some, you should put more pressure on yourself, but not to the point of psyching yourself out though."
With a career that includes four trips to the PBR World Finals, the inaugural PBR Canada Championship in 2006 and plenty of PBR wins, Schiffner says that throughout his career he has seen some incredible buildings. However, it was his opportunity to lead Team Canada earlier this year that was an eye opener for him to the scale of AT&T Stadium, and one that causes him to note the unexpected challenges that come with competing in a building of its caliber.
"Stepping into a building like that can be overwhelming," Schiffner said. "It is a huge building, things are so spread out. But with that being said, anybody at any level wants to ride in the biggest building in front of the most people they possibly can."
"The biggest thing I noticed in that building for us was the separation. The biggest hurdles to jump there is that building is so big and it's a long ways from lockers rooms to the chutes. You just have to be aware of where you are and give yourself time to get to your spot. You could be a half-mile to where you got to go. If you are a bull rider at that level, you really have only one job and that is to make the whistle. All the other things become irrelevant."
For Schiffner, the buildings that stand out to him are numerous, but three take the cake for scale and history.
"There is always those places, I remember the first time years and year ago when I got to walk into the Astrodome. Back when Rodeo Houston was there. The Astrodome was the likes of something I had never seen, being a kid from Canada.  I always remember the sheer mass of those buildings and I was just to the point of thinking there is no possible way there is going to be that many people in this building and then they pack 70,000 people in," he reflected.
"I really remember going to Barretos in Brazil and it was the same thing. There is over 80,000 people there, and they are screaming. I am not sure if they are screaming at you, with you or for you cause of the language barrier, but it feels like those places really stand out in my mind. I always remember the couple of times I was lucky enough to ride at Madison Square Garden. That is a really neat building and iconic in the world of sports. I remember walking in there, walking those hallways and getting the opportunity to see all the different posters of singers and boxers, every sport icon in the world and realize you get the chance to do the same in that building as the elite in your sport. Things like that really stick out in my mind."
With the days ticking down to the 2020 PBR World Finals: Unleash The Beast, one competitor that fans around the world have their eyes on is J.B. Mauney. The two-time World Champion is back in top form and pushing to get into the top 35 in the PBR World Standings. Schiffner, who has competed alongside Mauney said to expect him to easily make the Top 35 and be riding in Arlington.
"Having the opportunity and pleasure to know J.B. and compete beside him, one, you never bet against J.B. Two, everybody has an opinion about what he should or shouldn't be doing. J.B. is the only guy that knows that," Schiffner said.
"Having watched him for so many years he is going to be at those Finals, he will find a way to win. Guys like that haven't been so great for so many years without knowing how to win. Father Time is catching up with him, and I know exactly how that feels, but old man strength will get you a very long ways when you are mentally sound and you want to win."
Tickets for the 2020 PBR World Finals are on sale now at SeatGeek.com and start at $20 USD. The event will take place at AT&T Stadium in Arlington, Texas, on Nov. 12-15. For additional information, click here.
Be sure to stay tuned to PBRCanada.com and follow the tour on Facebook (PBR Canada), Twitter (@PBRCanada), and Instagram (@PBRCanada) for the latest results and schedule of events.