Garrett Green Dominates the PBR Built Ford Tough Invitational to Win PBR Canada's Historic Return to Fan-Attended Events
By: Kacie Albert Friday, July 24, 2020 @ 12:42 AM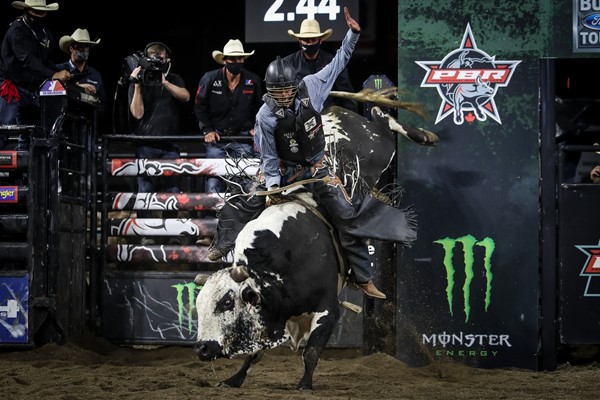 LETHBRIDGE, Alberta – At the first fan-attended professional sporting event in Canada since the shutdown due to COVID-19 (coronavirus), Garrett Green (Meeting Creek, Alberta) delivered a dominant 2-for-2 showing to emerge victorious at the historic PBR (Professional Bull Riders) Built Ford Tough Invitational, part of the elite Canadian Monster Energy Tour in Lethbridge, Alberta at ENMAX Centre.
While the raucous fans were not inside the arena, a myriad of honks, beeps and cheers could be heard from afar as those in attendance for the Alberta event watched from the comfort of their own vehicles in the parking lot, viewing the event from the 23-foot screens hung in the unique drive-in theatre.
Green began the event on a high note, winning Round 1 after covering Finning Hou's Deacon (Flying Four Bucking Bulls) for 85.5 points.
Continuing the momentum, the Albertan drafted fellow Flying Four Bucking Bulls bovine athlete and 2019 PBR Canada Bull of the Finals Finning Lil Shorty in the championship round.
Finning Lil Shorty was unridden in his past four trips, including an out at the 2019 PBR World Finals, and Green snapped the bull's buckoff streak, reaching the requisite 8 for an event-best 88-point score.
"After coming off last event like I did, falling off a nice one, I really wanted that redemption," Green said moments after his victory. "They weren't throwing me off tonight."
"He's got bull riding figured out," 2006 PBR Canada Champion and TSN commentator Scott Schiffner (Strathmore, Alberta) added of Green's performance. "The championship round was one of the best we've seen. The guys shot the lights out and it was great watching. "
The victory marks Green's third in the city of Lethbridge. Additionally, the 28-year-old also won the 5/5 Bucking Battle held inside ENMAX Centre this past March.
For his latest winning performance, Green earned a cheque for $3,443.78, along with 80 Canadian and 15 world points.
Additionally, as part of the Shell Rotella Rugged Ride for Charity initiative, a $1,000 donation will be made to charity in recognition of Green's event-best 88-point ride. Green selected the Ty Pozzobon Foundation as the benefitting organization. 
Green gained one position in the national standings, rising from No. 4 to No. 3, now within 70.5 points of No. 1 Dakota Buttar (Kindersley, Saskatchewan).
Logan Biever (Claresholm, Alberta) finished second to earn $2,217.23, 58 Canadian and eight world points.
The 22-year-old, who had been mired in a three-out buckoff streak dating to his win in December on the Touring Pro Division in Dawson Creek, British Columbia, reversed his fortunes in Round 1 when he rode Chances (Wild Hoggs Bucking Bulls) for 85 points.
With the second pick in the championship round bull draft, Biever selected Catch My Drift (Two Bit Bucking Bulls/K Rose Ranch), a bovine athlete with a propensity to propel riders to big scores.
Following in the footsteps of event winner Green, Chase Outlaw (Hamburg, Arkansas) and two-time PBR World Champion Jess Lockwood (Volborg, Montana), the three most recent riders to cover Catch My Drift, Biever reached the 8-second whistle for an 86-point score.
Biever is now ranked No. 6 in the Canadian national standings, 157.5 points behind the No. 1 ranking, after beginning the event No. 10.
Competing in just the fourth PBR event of his career, Ty Ellis (Sonningdale, Saskatchewan) continued his meteoric rise up the national standings.
Just hours prior to the PBR Built Ford Tough Invitational, Ellis made his Monster Energy Tour debut at the PBR Cooper Tires Invitational. Tying for the event win with Brock Radford (De Winton, Alberta), Ellis surged from unranked to No. 7 in the nation.
Embodying a seemingly unstoppable cowboy grit, Ellis' momentum continued as he delivered a flawless 2-for-2 performance to finish third at the fan-attended event.
Ellis first covered Bobby (Wild Hoggs Bucking Bulls) for 81.5 points in Round 1, before going the distance aboard Grey Tower III (Vold Rodeo) for 83.5 points in the championship round.
The Top-5 finish earned the Saskatchewan rider a $990.68 payday, along with 37 Canadian and seven world points. Ellis is now ranked No. 5 in Canada, 150 points back of No. 1 Buttar.
Fellow Monster Energy Tour newcomer Tanner Eno (Coronation, Alberta) also delivered a breakthrough performance, finishing fourth at the PBR Built Ford Tough Invitational to collect $1,085.03, 32 Canadian and four world points.
Rebounding from a 4.3-second buckoff atop Finning Twitch (Flying Four Bucking Bulls) in the first round, Eno, who advanced via buckoff time, capitalized under pressure in the championship round.
Eno, who earned a re-ride after Power Dozer (Skori Bucking Bulls) hipped himself leaving the chutes, converted on his second draw, riding VJV Whiskey Hand (Vold Rodeo) for 87.5 points.
The finish allowed the Albertan to crack into the nation's Top 10, now No. 9 in Canada.
Rounding out the Top 5 was two-time Team Canada rider Jake Gardner (Fort St. John, British Columbia).
Gardner, who was uncharacteristically bucked off in 4.81 seconds in Round 1 by Fantastic Pet (Two Bit Bucking Bulls), delivered one of the most memorable rides from the historic event in the final round.
Drafting 2018 PBR Canada Bull of the Year Happy Camper (Two Bit Bucking Bulls), Gardner was keen to not only reverse his fate from Round 1, but also avenge two bitter buckoffs aboard the bull from the 2017 and 2018 seasons.
With the few cowboys atop the back of the bucking chutes exploding into celebratory cheer, Gardner reached the 8 aboard Happy Camper for a massive 87-point score.
For his 1-for-2 showing, Gardner collected $679.32, 19 Canadian and three world points. Gardner rose three positions in the national standings, climbing from No. 15 to No. 12.  
In the bullpen, Big City Nights (Vold Rodeo) dominated.
Earning the high-marked bull of the event honors, the powerful bovine athlete dispatched Wyatt Gleeson (Sundre, Alberta) in a swift 4.13 seconds in the championship round to earn a tour stop best 44-point bull score.
Fans can tune in to a one-hour recap show from the historic PBR Built Ford Tough Invitational on Tuesday, August 4 at 10:00 p.m. ET on TSN2, or relive all the action on RidePass starting at 8:00 a.m. ET on Friday, July 24 at RidePass.com or via the RidePass app available on iOS, Android and Roku.
The PBR Canada Monster Energy Tour is anticipated to next travel to Medicine Hat, Alberta, and the Canalta Centre with the Thunderbuck in the Badlands on Saturday, September 26 at 7:00 p.m. MT. Stay tuned to PBRCanada.com for the latest event information.
PBR Canada Monster Energy Tour – PBR Built Ford Tough Invitational
ENMAX Centre – Lethbridge, Alberta
Event Leaders (Round 1- Round 2-Event Aggregate-Canadian Points)
1. Garrett Green, 85.5-88-173.50-80 Points.
2. Logan Biever, 85-86-171.00-58 Points.
3. Ty Ellis, 81.5-83.5-165.00-37 Points.
4. Tanner Eno, 0-87.5-87.50-32 Points.
5. Jake Gardner, 0-87-87.00-19 Points.
6. Nick Tetz, 83-0-83.00-14 Points.
7. Jackson Scott, 82.5-0-82.50-8.5 Points.
(tie). Chad Hartman, 82.5-0-82.50-8.5 Points.
Dakota Buttar, 0-0-0.00
Brock Radford, 0-0-0.00
Aaron Roy, 0-0-0.00
Shay Marks, 0-0-0.00
Jared Parsonage, 0-0-0.00
Zane Lambert, 0-0-0.00
Thor Hoefer II, 0-0-0.00
Micheal Ostashek, 0-0-0.00
Jordan Hansen, 0-0-0.00
Lonnie West, 0-0-0.00
Dayton Johnston, 0-0-0.00
Todd Chotowetz, 0-0-0.00
Wyatt Gleeson, 0-0-0.00
Fabian Dueck, 0-0-0.00
Isaac Mack, 0-0-0.00
Zachery King, 0-0-0.00
Ashton Sahli, 0-0-0.00
2020 PBR Canada National Standings
(Place, Rider, Events, Wins, Top 5's, Points, Total Winnings)
1. Dakota Buttar, 7, 3, 6, 245.50, $19,028.87
2. Brock Radford, 8, 2, 5, 178.00, $14,569.85
3. Garrett Green, 6, 2, 3, 175.00, $10,918.93
4. Jared Parsonage, 7, 0, 4, 109.00, $6,148.78
5. Ty Ellis, 3, 1, 2, 95.50, $3,679.65
6. Logan Biever, 5, 1, 2, 88.00, $5,989.10
7. Aaron Roy, 7, 0, 2, 86.00, $3,401.36
8. Zane Lambert, 6, 0, 2, 71.00, $3,689.43
9. Tanner Eno, 3, 0, 2, 57.50, $1,967.20
10. Nick Tetz, 4, 0, 1, 56.50, $2,614.86
11. Tim Lipsett, 5, 0, 2, 52.50, $2,211.98
12. Jake Gardner, 5, 0, 2, 35.00, $1,894.61
13. Dayton Johnston, 4, 0, 0, 25.50, $1,488.52
14. Thor Hoefer II, 5, 0, 1, 20.00, $2,868.75
15. Dalton Rudman, 2, 0, 0, 18.50, $1,261.40
16. Jackson Scott, 4, 0, 0, 16.50, $461.13
17. Todd Chotowetz, 5, 0, 0, 15.00, $741.20
18. Dakota Louis, 3, 0, 1, 14.50, $1,875.31
19. Micheal Ostashek, 3, 0, 0, 11.00, $405.71
20. Zachary Laney, 2, 0, 0, 10.50, $463.25
21. Cody Casper, 2, 0, 1, 10.00, $1,275.00
21. Callum Miller, 2, 0, 0, 10.00, $481.78
23. Shay Marks, 7, 0, 1, 9.00, $1,197.08
23. Rosendo Ramirez, 1, 0, 0, 9.00, $370.60
25. Chad Hartman, 1, 0, 0, 8.50, $235.88
26. Wacey Finkbeiner, 4, 0, 0, 7.00, $775.63
27. Lonnie West, 3, 0, 0, 6.00, $132.09
28. Kache Moosman, 1, 0, 0, 5.00, $0.00
28. Koby Kile, 3, 0, 1, 5.00, $655.21
30. Wyatt Gleeson, 5, 0, 0, 4.50, $0.00
31. Austin Richardson, 2, 0, 0, 3.00, $0.00
32. Cole Young, 4, 0, 0, 1.00, $223.13
32. Nick Goncalves, 1, 0, 0, 1.00, $0.00
34. Jordan Hansen, 2, 0, 0, 0.00, $0.00
34. Marcos Gloria, 3, 0, 0, 0.00, $0.00
34. Lane Mellers, 1, 0, 0, 0.00, $0.00
34. Riley Gagnon, 2, 0, 0, 0.00, $0.00
34. Fabian Dueck, 2, 0, 0, 0.00, $0.00
34. Weston Hartman, 1, 0, 0, 0.00, $0.00
34. Italo Aguilar Goncalves, 1, 0, 0, 0.00, $0.00
34. Cody Hudson, 2, 0, 0, 0.00, $0.00
34. Isaac Mack, 2, 0, 0, 0.00, $0.00
34. Wade Marshall, 1, 0, 0, 0.00, $0.00
34. Cawl Braithwaite, 1, 0, 0, 0.00, $0.00
34. Lane Paley, 2, 0, 0, 0.00, $148.75
34. Griffin Smeltzer, 1, 0, 0, 0.00, $0.00
34. Zachery King, 3, 0, 0, 0.00, $0.00
34. Wyatt Covington, 3, 0, 0, 0.00, $0.00
34. Jayde Murphy, 2, 0, 0, 0.00, $0.00
34. Ashton Sahli, 2, 0, 0, 0.00, $0.00
34. Austin Allred, 1, 0, 0, 0.00, $0.00
34. Desmond Lambert, 1, 0, 0, 0.00, $0.00
34. Cole Harris, 1, 0, 0, 0.00, $0.00
34. Cameron Brown, 1, 0, 0, 0.00, $0.00