Dakota Buttar Wins PBR Canada Monster Energy Tour's Calgary Classic
By: Kacie Albert Saturday, January 25, 2020 @ 11:49 PM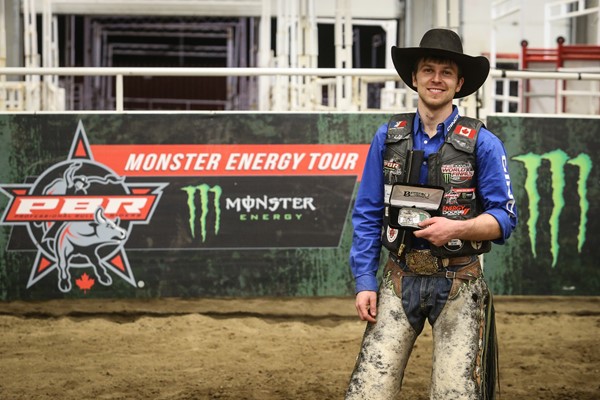 CALGARY, Alberta – In front of a sold-out crowd inside the Nutrien Western Event Centre, three-time Glen Keeley Award winner Dakota Buttar (Kindersley, Saskatchewan) delivered a flawless 3-for-3 performance to capture his career-first PBR (Professional Bull Riders) Canada Monster Energy Tour event win, victorious at the Calgary Classic.
Marking the season-launch event for the 2020 season, Buttar began his march to victory when he recorded the fourth-best score of Round 1, logging an 85.5-point ride aboard Scarecrow (X6 Ranch Bucking Cattle).
In Round 2, Buttar then faced a familiar opponent.
Drawing Mish Mash (Vold Rodeo), the Saskatchewan man had previously ridden the bovine athlete to a Round 1 win at the 2019 PBR Canada Finals, scored 86 points.
In Calgary, Buttar again reached the 8-second whistle, this time marked 85.5 points.
Sitting atop the aggregate entering the championship round, Buttar architected his second rematch of the night, drafting two-time PBR World Finals selection Tykro Pound Sand (Wild Hoggs/Corey Chmelnyk) for the championship round.
The duo had met once prior, teaming up for an 87.5-point score during the championship round of the 2018 PBR Canada Finals.
Known to propel riders to notable victories, with phenom Daylon Swearingen (Piffard, New York) winning both the 2019 PBR Canada Finals and PBR Canada Championship aboard the bovine athlete, Tykro Pound Sand once again earned his rider a coveted buckle.
Brining the record-setting crowd to its feet, Buttar recorded an 87.5-point ride to cement his victory.
Courtesy of the win, the four-time PBR World Finals qualifier earned $5,373.70, in addition to 535 Canadian and 30 world points.
Remaining the No. 1-ranked rider in the nation, Buttar extended his lead atop the Canadian standings, now 582.5 points in front of No. 2 Brock Radford (De Winton, Alberta).
Buttar also gained ground in the broader PBR world standings, now ranked No. 19.
Garrett Green (Meeting Creek, Alberta) was second, earning $4,725.15, 440 Canadian and 20 world points.
The home province favorite began the event on a strong note, winning Round 1 after riding Dejango (Skori Bucking Bulls) for 86.5 points.
Green then covered TNT (Vold Rodeo) for 79 points in Round 2 to advance to the championship round.
Drafting a familiar opponent in Catch My Drift (Two Bit Bucking Bulls/K Rose Ranch), Green recorded the high-marked ride of the event, winning the championship round with a monstrous 88.5-point ride.
Green is now ranked No. 3 in Canada, 595 points behind the No. 1 spot.
As the final two riders to go a perfect 3-for-3, three-time PBR Canada Champion Aaron Roy (Yellow Grass, Saskatchewan) and Jared Parsonage (Maple Creek, Saskatchewan) tied for third.
Roy's qualified rides were earned aboard Tractorland Arizona Dreamin (Wild Hoggs/Corey Chmelnyk) for 83 points in Round 1, Blackfoot Nation (Flying High Rodeo Co.) for 84.5 points in Round 2, and Rhythm & Blues (Flying High Rodeo Co.) for 86 points in the championship round.
Garnering $1,806.68, Roy also earned a crucial 212.5 Canadian and 8 world points. His earnings allowed him to climb to No. 7 in the Canadian national standings, now 822.5 points behind No. 1 Buttar.
Persisting through a torn meniscus, Parsonage used an 84-point ride on Snap Shot (Skori Bucking Bulls) in Round 1, and 81.5-point effort atop Shock Rock (Wild Hoggs Bucking Bulls) in Round 2 to advance to the first Monster Energy Tour championship round of 2020.
He then drafted 2018 PBR Canada Bull of the Year Happy Camper (Two Bit Bucking Bulls), the very bovine athlete who propelled him to the event win at the 2018 Touring Pro Division stop in Prince Albert, Saskatchewan.
Once again covering the three-time PBR World Finals bucker, Parsonage was marked a massive 88 points.
The Maple Creek man left Calgary with $2,177.28, in addition to 202.5 Canadian and 8 world points.
Seeking his first PBR Canada Championship in 2020, Parsonage is now No. 4 in the nation, 617.5 points removed from the top ranking.
In yet another tie, two-time PBR Canada Champion Zane Lambert (Ponoka, Alberta) and 2018 PBR Canada Rookie of the Year Nick Tetz (Calgary, Alberta) split fifth, each going 2-for-3.
Lambert's 8-second efforts were witnessed aboard Power Dozer (Skori Bucking Bulls) for 84 points in Round 1, and Thunder Road (Eno Bucking Bulls) for 81.5 points in Round 2.
His Top 5 finish earned him $648.55, along with 55 Canadian and 3.5 world points.
Hometown favorite Tetz tied with Lambert after recording an 83-point trip on Can't Catch Me (Wild Hoggs Bucking Bulls) in Round 1, and an 82.5-point score on Southern Heat (Vold Rodeo) in Round 2.
Tetz was propelled to a matching $648.55 payday, while also netting 65 Canadian and 3.5 world points.
 He is now inside the Top 20 in the nation, ranked No. 17 in Canada.
In the bull pen, Tykro Pound Sand and Come on Over (Vold Rodeo/Prescott) tied for the high-marked bull of the event, both scored 44 points in the championship round.
Tykro Pound Sand recorded the marks when he teamed with event winner Buttar for his 87.5-point score, while Come on Over earned the high score when he dispatched Callum Miller (Warwick, Queensland, Australia) in 5.21 seconds.
Fans can relive all the action from the 2020 PBR Canada Monster Energy Tour Calgary Classic starting at 8:00 a.m. EST on Sunday, January 26 at RidePass.com or via the RidePass mobile app.
Following a one month break, the 2020 PBR Canada Monster Energy Tour will travel to Lethbridge, Alberta and the ENMAX Centre for the South Country Co-Op Showdown on March 6-7. Action will get underway on both Friday and Saturday at 7:00 p.m. MST.  
PBR Canada Monster Energy Tour – Calgary Classic
Nutrien Western Event Centre – Calgary, Alberta
Event Leaders (Round 1- Round 2-Round 3-Event Aggregate-Payout-Canadian Points-World Points)
1. Dakota Buttar, 85.5-85.5-87.5-258.50-$5,373,70-535-30
2. Garrett Green, 86.5-79-88.5-254.00-$4,725.15-440-20
3. Aaron Roy, 83-84.5-86-253.50-$1,806.68-212.5-8
(tie). Jared Parsonage, 84-81.5-88-253.50-$2,177.28-202.5-8
5. Zane Lambert, 84-81.5-0-165.50-$648.55-55-3.5
(tie). Nick Tetz, 83-82.5-0-165.50-$648.55-65-3.5
7. Callum Miller, 85.5-78.5-0-164.00-$481.78-55-2
8. Dayton Johnston, 86-77.5-0-163.50-$722.67-70-0
9. Wyatt Gleeson, 84.5-78-0-162.50-$0-22.5-0
10. Nick Goncalves, 81-80.5-0-161.50-$0-10-0
11. Todd Chotowetz, 0-86-0-86.00-$741.20-105-0
(tie). Zachary Laney, 86-0-0-86.00-$463.25-60-0
13. Rosendo Ramirez, 0-85.5-0-85.50-$370.60-55-0
(tie). Jake Gardner, 0-85.5-0-85.50-$370.60-55-0
15. Tim Lipsett, 84.5-0-0-84.50-$0-17.5-0
16. Austin Richardson, 83.5-0-0-83.50-$0-0-0
17. Brock Radford, 0-83-0-83.00-$0-15-0
18. Jackson Scott, 82.5-0-0-82.50-$0-0-0
19. Wacey Finkbeiner, 82-0-0-82.00-$0-0-0
20. Lane Mellers, 81.5-0-0-81.50-$0-0-0
(tie). Griffin Smeltzer, 81.5-0-0-81.50-$0-0-0
Cole Young, 0-0-0-0.00-$0-0-0
Riley Gagnon, 0-0-0-0.00-$0-0-0
Italo Aguilar Goncalves, 0-0-0-0.00-$0-0-0
Cawl Braithwaite, 0-0-0-0.00-$0-0-0
Zachery King, 0-0-0-0.00-$0-0-0
Austin Allred, 0-0-0-0.00-$0-0-0