Brock Radford Fifth Following Opening Night of Competition at Denver Chute Out
By: Kacie Albert Tuesday, January 14, 2020 @ 10:43 AM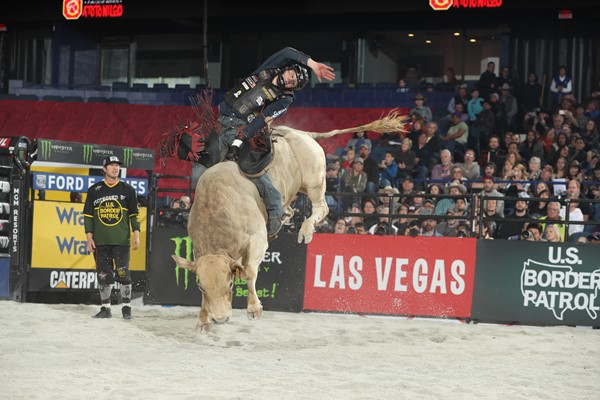 DENVER, Colo. –  With only 11 rides recorded by 45 of the world's top bull riders on night one of the PBR (Professional Bull Riders) Pendleton Whisky Velocity Tour's Denver Chute Out at the National Western Stock Show, Brock Radford (De Winton, Alberta) is fifth after delivering a key 85-point ride.
The 24-year-old Albertan made the 8 aboard Relentless (4 L & Diamond S Rodeo Company) to position himself within the Top 5 of the event ahead of the second half of Round 1 on Tuesday, January 14.
Radford was joined by fellow Canucks Shay Marks (Sunnybrook, Alberta), Nick Tetz (Calgary, Alberta) and Jake Gardner (Fort St. John, British Columbia) in Monday evening's draw, however none experienced the same success.
Marks came down in 4.93 seconds in his match against Texas Heat (TNT Rodeo Co.), while Tetz was bested in 3.01 seconds by Hot Spots (Hodges/Shuler), and Dose of Salts (TNT Rodeo Co.) sent Gardner to the dirt in a quick 2.47 seconds.
The raucous crowd inside the National Western Coliseum was brought to its feet when 2017 PBR Global Cup Canada Team USA rider Cole Melancon (Paris, Texas) recorded the evening's top marks.
Now the high-marked ride of his career, the 25-year-old covered Let's Gamble (Hodges/Shuler/Flying S) for a massive 90 points.
Bodreaux Campbell (Crockett, Texas) was second after riding Redman (Cottonwood Bucking Bulls LLC) for 88.5 points.
The qualified ride comes on the heels of his career-best performance on the Pendleton Whisky Velocity Tour in Reno, Nevada. Going 2-for-3, the Texan notched a fifth-place finish in the Silver State.
Third was Santiago Castellanos (Dixon, Mexico). His qualified ride was earned aboard Attaboy (TNT Rodeo Co.) for 86.5 points.
Backed by an 85.5-point ride, Marcus Mast (Middlebury, Indiana) is currently fourth. The Indiana man covered Squeeze Box (Hodges/Shuler).
The Denver Chute Out continues with the second half of Round 1 at 7:00 p.m. MST on Tuesday, January 14.
Fans can relive all the action from the first half of Round 1 of the 2020 Denver Chute Out now via RidePass.com or the RidePass mobile app. The LIVE stream of the second half of Round 1 will begin at 7:00 p.m. MST on RidePass.
PBR Pendleton Whisky Velocity Tour
Denver Chute Out
National Western Stock Show – Denver, Colorado
Event Leaders (Round 1-Round 2-Round 3-Event Aggregate-Event Points)
1. Cole Melancon, 90-0-0-90-0
2. Boudreaux Campbell, 88.5-0-0-88.5-0
3. Santiago Castellanos, 86.5-0-0-86.5-0
4. Marcus Mast, 85.5-0-0-85.5-0
5. Brock Radford, 85-0-0-85-0
6. Jess Petri, 84.5-0-0-84.5-0
7/8. Lane Mellers, 84-0-0-84-0
7/8. Jonny Perez, 84-0-0-84-0
9/10. Brady Oleson, 82.5-0-0-82.5-0
9/10. Cody Hudson, 82.5-0-0-82.5-0
11. Ky Hamilton, 81.5-0-0-81.5-0
Dener Barbosa, 0-0-0-0-0
Jake Goodson, 0-0-0-0-0
Luciano De Castro, 0-0-0-0-0
Weston Hartman, 0-0-0-0-0
Wyatt Covington, 0-0-0-0-0
Mason Ward, 0-0-0-0-0
Joao Ricardo Vieira, 0-0-0-0-0
Shay Marks, 0-0-0-0-0
Dakotah Barnett, 0-0-0-0-0
Wyatt Rogers, 0-0-0-0-0
Ezekiel Mitchell, 0-0-0-0-0
Jake Lockwood, 0-0-0-0-0
Derek Kolbaba, 0-0-0-0-0
Matt Werries, 0-0-0-0-0
Ruger Piva, 0-0-0-0-0
Elijah Lankford, 0-0-0-0-0
J.T. Pettitt, 0-0-0-0-0
Dakota Louis, 0-0-0-0-0
Matt Hennelly, 0-0-0-0-0
Ouncie Mitchell, 0-0-0-0-0
Esteban Bustamante Salcido, 0-0-0-0-0
Nick Tetz, 0-0-0-0-0
Eli Byler, 0-0-0-0-0
Koby Kile, 0-0-0-0-0
Ryan McConnel, 0-0-0-0-0
Jake Gardner, 0-0-0-0-0
Chase Robbins, 0-0-0-0-0
Hayden Harris, 0-0-0-0-0
Riley Gagnon, 0-0-0-0-0
J.T. Stevens, 0-0-0-0-0
Cody Casper, 0-0-0-0-0
Zac Osborne, 0-0-0-0-0
Flavio de Souza Viana, 0-0-0-0-0
Tyler Werner, 0-0-0-0-0