Three-Time Canadian Champion Aaron Roy Wins Glen Keeley Memorial PBR
By: Kacie Albert Tuesday, September 3, 2019 @ 9:26 AM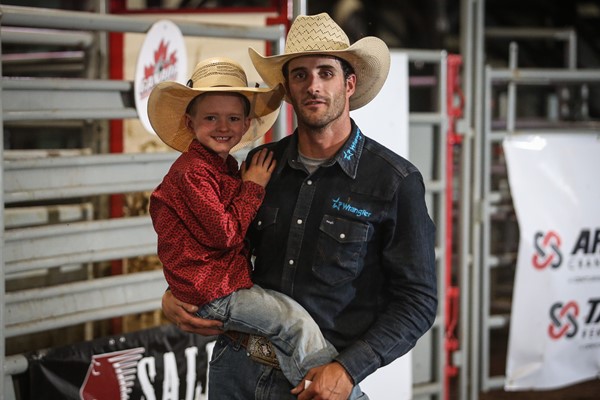 STAVELY, Alberta – In front of an electric crowd at Stavely Arena Saturday night, three-time PBR Canada Champion Aaron Roy (Yellow Grass, Saskatchewan) captured his first event win of the 2019 season, victorious at the 16th annual Glen Keeley Memorial PBR.
Launched in 2004, the event was created to honour the late Glen Keeley who passed away in March 2000 due to injuries sustained when he bucked off World Champion Bull Promise Land at the Ty Murray Invitational in Albuquerque, New Mexico. His namesake event donates all proceeds to the Glen Keeley Benevolent & Scholarship Fund, which has awarded more than $250,000 to date.
In Round 1, Roy first rode Chiseled in Stone (Thompson Rodeo Livestock) for 80 points to punch his ticket to the championship round.
From there, Roy's momentum continued. He sealed the event win when he covered Tykro Pound Sand (Wild Hoggs/Corey Chmelnyk) for an event-best 88.5 points.
A double entry, the five-time Glen Keeley Award winner also finished sixth courtesy of an 84.5-point trip on Tom Petty (Skori Bucking Bulls) in the final round.
Collectively Roy left the Alberta event with $5,589.43, in addition to 350 Canadian and 65 world points.
Roy is now ranked No. 15 in Canada as the season marches towards the 2019 PBR Monster Energy Canadian Finals, presented by Dakota Dunes Casino, in Saskatoon, Saskatchewan on Nov. 22-23. The season-culminating event will feature the Top 20 riders from the national standings vying for the coveted PBR Canada Championship in addition to the season's $50,000 bonus.
Shay Marks (Sunnybrook, Alberta) rode to his twelfth Top-5 effort of the season in Stavely, finishing second.
Highlighted by a Round 1 winning 88-point ride on Dunt (Skori Bucking Bulls), Marks earned $3,102.33, 195 Canadian and 30 world points in front of the home province crowd.
The 23-year-old remains the No. 2-ranked rider in the Canadian national standings, however closed the gap on No. 1 Jared Parsonage (Maple Creek, Saskatchewan) who he now trails by 274.99 points.
In the broader PBR world standings Marks is now No. 43, 152.5 points outside of the Top 35 and a berth onto the elite PBR Unleash The Beast.
Third went to Cody Casper (Newport, Washington) earning the American cowboy $1,989.68, 135 Canadian and 20 world points.
Going 1-for-2, Casper's 8-second effort came aboard White Tie (Vold Rodeo) in the first round for 86 points.
He is now ranked No. 11 in Canada and No. 48 in the world.
Jake Gardner (Fort St. John, British Columbia) was propelled to a fourth-place result after covering Hell's Bells (Wilson Rodeo) for 85.5 points in Round 1.
The British Columbia cowboy left Stavely Arena with $1,335.18, 100 Canadian and 15 world points.
Seeking his second PBR Canada Finals qualification, Gardner is now No. 6 in the national standings, 1,548.32 points behind No. 1 Parsonage.
Rounding out the Top 5 was current Canadian No. 1 Parsonage.
Making the 8 on Power Dozer (Skori Bucking Bulls) for 85 points in Round 1, the Saskatchewan man netted $772.31, 80 Canadian and 10 world points to retain the top ranking in the nation.
Uptown Funk (Vold Rodeo) was the high-marked bull of the event, earning a 45.5-point score for his 2.12-second buckoff of Michael Ostashek (Edson, Alberta) in Round 1.
PBR Canada Touring Pro Division action continues on Thursday September 5 in Magrath, Alberta for the Celebration for the Two Bit Nation PBR. Action begins at 7:00 p.m. MDT.
Be sure to stay tuned to PBRCanada.com and follow the tour on Facebook (PBR Canada), Twitter (@PBRCanada), and Instagram (@PBRCanada) for the latest results.
PBR Canada Touring Pro Division
Stavely, Alberta – Stavely Arena
Glen Keeley Memorial PBR
Event Results (Round 1- Round 2 -Aggr. Score- Money Earned-Canadian Points-World Points)
1. Aaron Roy 2, 80-88.5-168.5-$4,313.16-275-60
2. Shay Marks, 88-0-88-$3,102.33-195-30
3. Cody Casper, 86-0-86-$1,989.68-135-20
4. Jake Gardner, 85.5-0-85.5-$1,335.18-100-15
5. Jared Parsonage, 85-0-85-$772.31-80-10
6. Aaron Roy, 0-84.5-84.5-$1,276.27-75-5
7. Brock Radford, 81.5-0-81.5-$301.07-20-0