Dakota Buttar Ninth at PBR Unleash The Beast's U.S. Border Patrol Invitational
By: Kacie Albert Sunday, September 22, 2019 @ 7:07 PM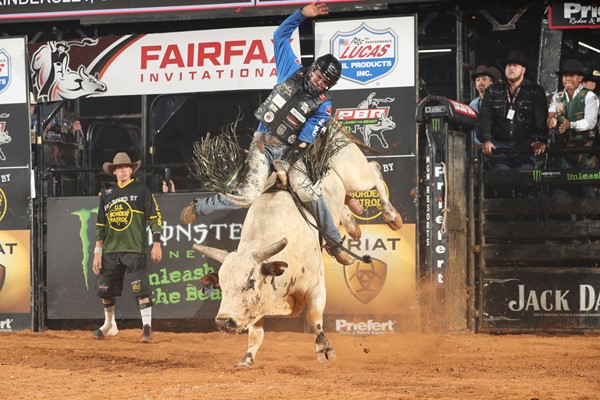 FAIRFAX, Va. – In front of a record crowd inside EagleBank Arena Sunday afternoon in Fairfax, Virginia, Dakota Buttar (Kindersley, Saskatchewan) delivered the best finish of the three Canucks riding stateside, going 2-for-3 to conclude the elite PBR (Professional Bull Riders) Unleash The Beast's U.S. Border Patrol Invitational ninth.
In Round 1, Buttar got off the a quick start, riding No Sir (K-C Bucking Bulls/Bull Creek Bucking Bulls) for 83.25 points.
After covering Buffalo Scott (Blake Sharp) for 86.75 points in the second round, the Saskatchewan man rose from thirteenth to fourth in the overall event aggregate.
Selecting Birthday Cake (M Rafter E Bucking Bulls/Goods Bucking Bulls) in the championship round, Buttar's bid for his first premier series event win of 2019 came to an end when he was bested by the bovine athlete in 4.59 seconds.
For his efforts, Buttar earned $2,475 and 55 world points, rising from No. 27 to No. 25 in the world standings.
Fellow Canadians Jared Parsonage (Maple Creek, Saskatchewan) and Lonnie West (Cadogan, Alberta) were also onsite at the second-ever premier series event in Fairfax, however failed to record a qualified ride.
Parsonage remains on the hunt for his first qualified ride on the Unleash The Beast after recording two heart-breaking buckoffs on the campus of George Mason University. After he was bested by Godzilla (Blake Sharp) in 6.67 seconds in Round 1, the Saskatchewan man again was sent to the ground early in Round 2, this time by Blue Crush (Cord McCoy/Reese) in 7.17 seconds.
West did not compete in Round 2 after sustaining a dislocated left shoulder (riding arm) in Round 1 during his trip with Stealing Thunder (J Bar W).
Chase Outlaw (Hamburg, Arkansas) captured his fourth regular-season event win of 2019 as one of two riders to go a perfect 3-for-3 at the elite PBR (Professional Bull Riders) Unleash The Beast's U.S. Border Patrol Invitational.
After recording an 85.5-point ride aboard Hurricane Tested (Kruger Bucking Bulls) in Round 1, the "CEO of Outlaw Nation" surged to second in the event aggregate when he recorded the second-best score in Round 2, 87.75 points aboard Coy Dog (Rickey West Bucking Bulls).
Then, Outlaw architected a matchup that paid dividends. With the second pick in the championship round bull draft, the Arkansas rider selected a familiar opponent in Big Black (K-C Bucking Bulls/Joe & Nina Webb).
The duo first met in January during the final round of the Chicago event, combining for a 90.25-point score that led to Outlaw finishing runner-up overall.
In their next showdown, Outlaw again made the whistle for 90 points, this time marked 91.5 points to win the Mason Lowe Memorial in St. Louis, his first regular-season victory of 2019.
Climbing aboard the Ohio bovine athlete for the third time in his career, Outlaw covered Big Black for a massive 90.5 points to win the final round, his eighth round win of the year.
The score, his fifth 90-point ride of the year, clinched the victory and earned him a check for $38,260 and 562.5 world points.
Outlaw is also now tied with No. 1 Jose Vitor Leme (Ribas do Rio Pardo, Brazil) and No. 2 Jess Lockwood (Volborg, Montana) for most event wins in 2019 with four.
The Hamburg native remains No. 3 in the world standings as he seeks his first PBR World Championship, but gained ground on No. 1 Leme who he now trails by 1,181.66 points.
Rookie of the Year contender Dalton Kasel (Muleshoe, Texas) finished second to earn $19,256.67 and 350 world points.
Sweeping both Round 1 and Round 2, his fourth and fifth round victories of the year, the 20-year-old's 8-second efforts were earned aboard Dang It (Davis Rodeo Ranch/Fogle) for 87.25 points and Constant Sorrow (Blake Sharp/Buckwild Bucking Stock) for 88.75 points.
Kasel fell just short of his first Unleash The Beast win when he was bested by Buckeye Bill (K-C Bucking Bulls) in a heartbreaking 7.73 seconds in the championship round.
Compliments of his performance, the Texan catapulted from No. 21 to No. 15 in the world. He also rose from No. 8 to No. 4 in the Rookie of the Year race, now trailing standings leader Ezekiel Mitchell (Rockdale, Texas) by 118.75 points.
Home state hopeful Michael Lane (Tazewell, Virginia) finished third, marking the best finish of his career on the premier series.
Joining event winner Outlaw as the only other rider to go a perfect 3-for-3, Lane collected a check for $10,800 along with 290 world points for his efforts.
To begin the event, Lane first rode Dirty Laundry (J Bar W) for 84 points, which he followed with an 83-point ride aboard Lonesome Trail (M Rafter E Bucking Bulls/Miller Farms) to enter the championship round fifth in the aggregate.
Also selecting a familiar opponent, Lane drafted Peep Show (Cornwell Bucking Bulls), who he had faced once prior, bucking off in 5.12 seconds during the 2017 Pendleton Whisky Velocity Tour event in Portland, Maine.
This time around, Lane bested his bovine athlete opponent, making the 8 aboard Peep Show for 86.25 points.
On the hunt for his third qualification to the PBR World Finals, Lane gained crucial ground in the world standings.
Outside the Top 35 prior to the event, ranked No. 40, Lane is now No. 29.
Fourth went to world No. 1 Leme, allowing him to further extend his lead on No. 2 Lockwood who went 0-for-2 in Fairfax.
After an 86.25-point ride aboard Cut The Cord (Kruger Bucking Bulls) in Round 1, Leme fell just short of the whistle in Round 2, sent to the ground by Funky Junk (Torres Brothers Bucking Bulls LLC) in an ever-close 7.36 seconds.
Determined to climb the leaderboard, Leme delivered the second-best marks of the championship round when he rode Apper's Mind Freak (Jo-Z Bucking Bulls/K Bar C Bucking Bulls/Spark-Lin-Acres) for 88.75 points.
The Top-5 finish netted the Brazilian phenom $10,300 and 205 world points.
After entering the event with an 821.66-point lead over No. 2 Lockwood, Leme now leads his closest challenger for the 2019 PBR World Championship by 1,026.66 points.
Rounding out the Top 5 was 2016 PBR World Champion Cooper Davis (Jasper, Texas) who earned $5,900 and 105 world points.
Davis' 8-second efforts were earned aboard Rocky (K-C Bucking Bulls/Ronnie Chism Farm & Ranch) in Round 1 for 84.75 points, and Joker (Rickey West Bucking Bulls) in Round 2 for 87 points.
The Texan remains No. 5 in the world standings.
Shownuff (Blake Sharp/Henry Wilson) was the YETI "Built for the Wild" Bull of the event. Marked an event-high 44.5 points, the bovine athlete earned the top marks courtesy of his 2.08-second buckoff of Davis in the championship round.
Fans can relive all the action from the PBR Unleash The Beast's U.S. Border Patrol Invitational on Monday, September 23, at 8:00 a.m. EDT on RidePass.com or via the RidePass mobile app.
Elsewhere in the PBR, in front of a sold-out crowd on Saturday night inside The Oncenter War Memorial Arena, Junior Patrick Souza (Sonoroa, Brail) used a flawless 3-for-3 performance to win the Pendleton Whisky Velocity Tour's Syracuse Showdown.
On the event's opening night, Souza recorded the eighth best score of Round 1, reaching the 8 aboard Southern Twist (Kruger Bucking Bulls) for 73 points. Determined to win the first-ever Velocity Tour event in Syracuse, Souza remained in the hunt in Round 2 after riding Rough & Ready (Kruger Bucking Bulls) for 81 points. Souza sealed the victory when he became the lone rider to cover all three of his draws, marked 86.5 points aboard Plum Crazy (Cornwell Bucking Bulls/Circle G) in the championship round.
The perfect performance earned Souza a check for $5,400 in addition to 170 world points. Ranked No. 149 in the world at the start of the event, Souza skyrocketed to No. 76 compliments of the victory. He now trails the Top 35 by 432.5 points.
Souza also earned an invite to compete on the elite PBR Unleash The Beast in Minneapolis, Minnesota, on October 4-5. 
Following a one-week break, the elite PBR Unleash The Beast next travels to Minneapolis, Minnesota, and the Target Center for the Minneapolis Invitational on October 4-5. Action gets underway with Round 1 on Friday, October 4 starting at 7:45 p.m. CDT, concluding with Round 2 and the championship round on Saturday, October 5 at 6:45 p.m. CDT.
PBR Unleash The Beast
U.S. Border Patrol Invitational
EagleBank Arena – Fairfax, Virginia
Event Leaders (Round 1-Round 2-Round 3-Event Aggregate-Event Points)
1. Chase Outlaw, 85.5-87.75-90.5-263.75-562.5 Points.
2. Dalton Kasel, 87.25-88.75-0-176.00-350 Points.
3. Michael Lane, 84-83-86.25-253.25-290 Points.
4. Jose Vitor Leme, 86.25-0-88.75-175.00-205 Points.
5. Cooper Davis, 84.75-87-0-171.75-105 Points.
6. João Ricardo Vieira, 0-86.25-85.5-171.75-100 Points.
7. Derek Kolbaba, 87.25-0-0-87.25-80 Points.
(tie). Marco Eguchi, 87.25-0-0-87.25-80 Points.
9. Dakota Buttar, 83.25-86.75-0-170.00-55 Points.
10. Dylan Smith, 0-86.75-0-86.75-40 Points.
11. Alan de Souza, 86-0-0-86.00-35 Points.
12. Matt Triplett, 0-86.5-0-86.50-20 Points.
(tie). Eduardo Aparecido, 85.75-0-0-85.75-20 Points.
14. Alisson De Souza, 85.25-81.5-0-166.75-15 Points.
15. Cody Teel, 85.5-0-0-85.50-7.5 Points.
16. Alex Cardozo, 0-84.75-0-84.75
17. Lane Mellers, 83.75-0-0-83.75
18. Lucas Divino, 0-83.25-0-83.25
19. Ezekiel Mitchell, 83-0-0-83.00
20. Dener Barbosa, 81.75-0-0-81.75
Jess Lockwood, 0-0-0-0.00
Luciano De Castro, 0-0-0-0.00
Daylon Swearingen, 0-0-0-0.00
Claudio Montanha Jr., 0-0-0-0.00
Mason Taylor, 0-0-0-0.00
Brennon Eldred, 0-0-0-0.00
J.B. Mauney, 0-0-0-0.00
Keyshawn Whitehorse, 0-0-0-0.00
Rubens Barbosa, 0-0-0-0.00
Taylor Toves, 0-0-0-0.00
Jared Parsonage, 0-0-0-0.00
Scottie Knapp, 0-0-0-0.00
Junio Quaresima, 0-0-0-0.00
Brady Sims, 0-0-0-0.00
Cody Casper, 0-0-0-0.00
Lonnie West, 0-0-0-0.00
2019 PBR World Standings
(Place, Rider, Events, Wins, Top 5's, Points, Total Winnings)
1. Jose Vitor Leme, 48, 10, 27, 6,106.66, $417,182.79
2. Jess Lockwood, 38, 13, 24, 5,080.00, $424,381.80
3. Chase Outlaw, 58, 10, 17, 4,925.00, $441,754.02
4. João Ricardo Vieira, 43, 5, 16, 4,387.50, $466,134.43
5. Cooper Davis, 27, 2, 11, 2,547.50, $198,155.45
6. Cody Teel, 43, 4, 11, 2,418.33, $194,923.29
7. Luciano De Castro, 32, 0, 7, 1,860.00, $98,013.01
8. Derek Kolbaba, 45, 3, 10, 1,846.66, $195,035.05
9. Marco Eguchi, 32, 2, 5, 1,787.50, $222,390.46
10. Ryan Dirteater, 27, 1, 10, 1,618.33, $114,746.18
11. Ezekiel Mitchell, 49, 4, 9, 1,536.66, $84,941.64
12. Alisson De Souza, 41, 3, 9, 1,499.16, $81,634.33
13. Daylon Swearingen, 39, 5, 16, 1,462.50, $94,220.93
14. Matt Triplett, 36, 1, 7, 1,427.50, $80,865.58
15. Dalton Kasel, 27, 2, 9, 1,417.91, $130,257.75
16. Lucas Divino, 40, 1, 6, 1,359.16, $79,873.97
17. Claudio Montanha Jr., 39, 1, 4, 1,357.50, $131,245.48
18. Mason Taylor, 34, 1, 8, 1,266.66, $76,352.06
19. Cody Jesus, 24, 1, 6, 1,255.83, $92,710.24
20. Stetson Lawrence, 41, 0, 9, 1,233.33, $85,431.70
21. Aaron Kleier, 35, 4, 19, 1,156.66, $58,971.19
22. Silvano Alves, 38, 2, 8, 1,041.66, $72,159.83
23. Cody Nance, 42, 2, 8, 1,030.00, $88,603.85
24. Brennon Eldred, 37, 0, 7, 975.00, $82,747.41
25. Dakota Buttar, 42, 5, 15, 937.50, $63,275.21
26. Joe Frost, 26, 1, 3, 904.16, $44,730.57
27. J.B. Mauney, 20, 1, 2, 899.16, $66,676.53
28. Eduardo Aparecido, 28, 0, 6, 870.00, $99,133.50
29. Michael Lane, 32, 2, 7, 865.00, $34,575.33
30. Keyshawn Whitehorse, 33, 1, 6, 855.00, $63,141.60
31. Cannon Cravens, 27, 0, 4, 850.00, $74,729.99
32. Rubens Barbosa, 41, 0, 8, 802.50, $62,090.49
33. Taylor Toves, 41, 2, 6, 794.16, $50,189.58
34. Dylan Smith, 43, 3, 7, 714.16, $41,275.51
35. Colten Jesse, 18, 0, 1, 686.66, $54,716.65
36. Brady Fielder, 29, 6, 13, 667.50, $39,211.37
37. Jared Parsonage, 38, 2, 14, 650.00, $59,565.94
38. Scottie Knapp, 36, 2, 8, 595.00, $45,707.37
39. Danilo Carlos Sobrinho, 27, 1, 3, 585.00, $38,528.35
40. Cliff Richardson, 21, 2, 7, 580.00, $27,421.06
41. Kurt Shephard, 27, 1, 8, 565.00, $42,017.80
42. Cody Heffernan, 16, 4, 7, 522.50, $21,953.35
43. Junio Quaresima, 33, 1, 4, 467.50, $32,904.11
44. Shay Marks, 48, 1, 12, 460.00, $24,323.41
45. Koal Livingston, 14, 1, 2, 428.33, $21,912.94