Shay Marks Selected for Team Canada Ahead of 2020 PBR Global Cup USA
By: Kacie Albert Friday, November 22, 2019 @ 8:16 PM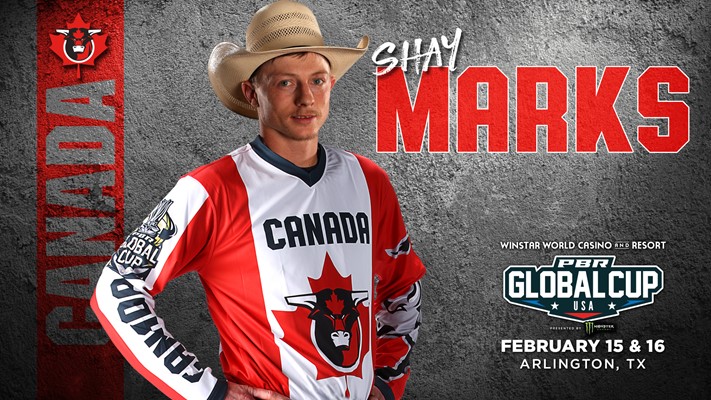 SASKATOON, Saskatchewan – Ahead of the 2020 WinStar World Casino and Resort PBR Global Cup USA, presented by Monster Energy, Team Canada Coaches Scott Schiffner (Strathmore, Alberta) and Tanner Girletz (Cereal, Alberta) have announced the fourth pick for the seven-man contingent set to represent the Maple Leaf. Poised to make his Global Cup debut, Shay Marks (Sunnybrook, Alberta) joins the already powerhouse roster containing Jared Parsonage (Maple Creek, Saskatchewan), Dakota Buttar (Kindersley, Saskatchewan) and Jordan Hansen (Cadogan, Alberta).
The announcement came amidst the 2019 PBR Monster Energy Canadian Finals, presented by Dakota Dunes Casino, the season-culminating event for what has been one of the tightest national title races in league history. 
The fourth edition of the PBR Global Cup, the only nation vs. nation bull riding competition, will make its second stop at AT&T Stadium in Arlington, Texas, on February 15-16, 2020. The new team tournament debuted in Edmonton, Alberta, in November 2017, visited Sydney, Australia, in June 2018, and most recently stopped in Arlington this past February.
A league first, for the 2020 edition of the event akin to the "Olympics of bull riding," the coaches and assistant coaches have more power than ever, given full autonomy over the six athletes, and one alternate, set to don their nation's colors and go head-to-head against the rankest bucking bulls on the planet.
For Marks, the selection comes amidst a banner year in his young career.
After undergoing reconstructive shoulder surgery in 2017, the now 23-year-old did not return to PBR competition until January when he made an explosive statement at his first event back. Marks delivered a dominant 2-for-2 performance to win the season-launch Monster Energy Tour event in Winnipeg. He briefly held  the No. 1 ranking in the national standings and concluded the regular-season No. 3 in the national standings having recorded an additional 16 Top-10 efforts.
A top-contender for the 2019 PBR Canada Championship and accompanying $50,000 bonus, Marks is going head-to-head against his already named teammates who are also atop the standings: No. 1 Parsonage, No. 2 Buttar and No. 5 Hansen.
Marks also made a splash stateside in 2019.
Competing at seven Pendleton Whisky Velocity Tour events, including the series' finals in Las Vegas, Marks also made his triumphant return to the elite Unleash The Beast for the first time since 2014.
First riding at the Nashville event in August, marking the first-ever Major appearance of his career, Marks made one additional regular-season appearance in Greensboro, North Carolina.
In yet another milestone moment, Marks made his PBR World Finals debut on Nov. 10, competing in Round 4 and 5 as an alternate. He concluded the year a career-best No. 49.
The finals roster picks for Team Canada, in addition to Team USA Eagles and Wolves, Team Australia, Team Brazil and Team Mexico will be announced in the coming weeks. Those rosters are currently:
Team USA Eagles: Cooper Davis (Buna, Texas), Jess Lockwood (Volborg, Montana) and Chase Outlaw (Hamburg, Arkansas)
Team USA Wolves: Ryan Dirteater (Cherokee – Hulbert, Oklahoma), Stetson Lawrence (Chippewa and Sioux – Williston, North Dakota) and Keyshawn Whitehorse (Navajo – McCracken Springs, Utah).
Team Australia: Cliff Richardson (Gresford, New South Wales, Australia), Lachlan Richardson (Gresford, New South Wales, Australia), and Ky Hamilton (Mackay, Queensland, Australia)
Team Brazil: Jose Vitor Leme (Ribas do Rio Pardo, Brazil), Kaique Pacheco (Itatiba, Brazil), and Luciano De Castro (Guzolandia, Brazil)
Team Mexico: Edgar Durazo (Moctezma, Mexico), Alvaro Aguilar Alvarez (La Punta, Mexico) and Francisco Garcia Torres (Sal, Mexico)
For more information on the event, including ticketing,  premium experience and elite seats offerings, visit PBR.com/GlobalCup.