PBR Canada Champion Scott Schiffner Names Dakota Buttar, Jordan Hansen and Jared Parsonage to Team Canada for 2020 PBR Global Cup USA
By: Kacie Albert Thursday, November 7, 2019 @ 8:00 PM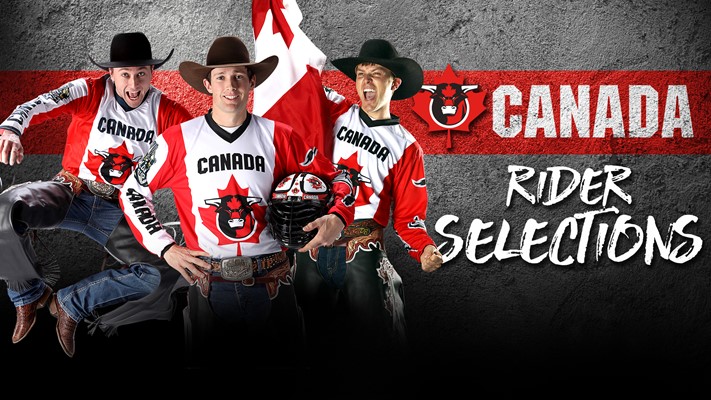 ARLINGTON, Texas – Ahead of the 2020 WinStar World Casino and Resort PBR (Professional Bull Riders) Global Cup USA, presented by Monster Energy, the coaches tasked with leading the six teams from the five competing nations have announced the first three riders set to comprise their seven-man teams for the event akin to the "Olympics of bull riding."
The fourth edition of the PBR Global Cup, the only nation vs. nation bull riding competition, will make its second stop at AT&T Stadium in Arlington, Texas, on February 15-16, 2020. The new team tournament debuted in Edmonton, Alberta, in November 2017, visited Sydney, Australia, in June 2018, and most recently stopped in Arlington this past February.
For the first time in league history, the coaches and assistant coaches have more power than ever, given full autonomy over the six athletes, and one alternate, set to don their nation's colors and go head-to-head against the rankest bucking bulls on the planet.
Set to debut a new coaching staffing, Team Canada's Scott Schiffner (Strathmore, Alberta), PBR Canada's first-ever national champion and a 12-time qualifier to the PBR Canada Finals, and six-time PBR Canada Finals qualifier Tanner Girletz (Cereal, Alberta) chose Dakota Buttar (Kindersley, Saskatchewan), Jordan Hansen (Okotoks, Alberta) and Jared Parsonage (Maple Creek, Saskatchewan) as the nation's first three selects.
The additional roster selections are:
Team USA Eagles: Cooper Davis (Buna, Texas), Jess Lockwood (Volborg, Montana) and Chase Outlaw (Hamburg, Arkansas)
Team USA Wolves: Ryan Dirteater (Cherokee – Hulbert, Oklahoma), Stetson Lawrence (Chippewa and Sioux – Williston, North Dakota) and Keyshawn Whitehorse (Navajo – McCracken Springs, Utah).
Team Australia: Cliff Richardson (Gresford, New South Wales, Australia), Lachlan Richardson (Gresford, New South Wales, Australia), and Ky Hamilton (Mackay, Queensland, Australia)
Team Brazil: Jose Vitor Leme (Ribas do Rio Pardo, Brazil), Kaique Pacheco (Itatiba, Brazil), and Luciano De Castro (Guzolandia, Brazil)
Team Mexico: Edgar Durazo (Moctezma, Mexico), Alvaro Aguilar Alvarez (La Punta, Mexico) and Francisco Garcia Torres (Sal, Mexico)
A three-time Glen Keeley Award winner currently competing at his fourth career PBR World Finals, Buttar will ride for the Maple Leaf for the fourth consecutive edition of the global event.
Contributing one score to the Canuck's battle to retain their home soil in Edmonton at the inaugural stop, where the finished third, the Saskatchewan man's event came to an early end when he broke his foot. Riding again in both Sydney and Arlington, Buttar again contributed one score to the country's total in both cities.
Thus far in 2019, Buttar has not only led the Canadian contingent in the world standings, but has also been dominant on home soil. After injuring his shoulder in April riding on the elite Unleash The Beast in Billings, Montana, Buttar returned to competition on June 8 on home soil, winning the Touring Pro Division event in Moose Jaw, Saskatchewan.
Since, he has won a league-leading five event titles going an impressive 25-for-39 (64.1%). While he briefly held the No. 1 ranking in the nation, Buttar is now No. 2, a slim 32.49 points behind the No. 1 spot as he looks to capture his first PBR Canada Championship.
For Hansen, the selection comes after qualifying for the second Wrangler National Finals Rodeo of his career. Presently No. 5 in the Canadian national title race, Hansen won the sold-out Monster Energy Tour event in Calgary, in addition to capturing two titles on the Touring Pro Division.
A now two-time Team Canada select, Hansen was the nation's top-performer in his debut this February inside AT&T Stadium. Covering Bottoms Up for 87 points, and Check It Out for 85 points, Hansen was responsible for two of the nation's three scores in their dismal last-place finish.
Rounding out the trio of initial selects is current Canadian No. 1 Parsonage, currently competing at the first PBR World Finals of his career.
Regarded as one of Canada's most consistent riders, Parsonage has gone 36-for-62 (58.06%) on home soil in 2019. In Canadian competition, he won a league-best two Monster Energy Tour events, in Lethbridge, Alberta and Halifax, Nova Scotia, in addition to collecting 14 additional Top-5 efforts,
The 2019 season also bore witness to the Maple Creek man's Unleash The Beast debut. After making his first appearance on the PBR's premier series in January in Glendale, Arizona, he made two additional appearances during the Unleash The Beast second half in Anaheim, California, and Fairfax, Virginia.
The 2020 event will mark Parsonage's third PBR Global Cup.
After going 3-for-3 in his debut in Sydney, where Team Canada finished third, Parsonage was shutout in Arlington.
The Canadian team will be one of four visiting teams looking to out-ride Team USA Eagles and Wolves on their home soil.
Two-time PBR World Champion Justin McBride (Whitesboro, Texas), set to become the lone coach to pilot a nation at all four editions of the PBR Global Cup, alongside two-time Team USA Eagles Assistant Coach J.W. Hart (Overbook, Oklahoma), selected a contingent led by Global Cup phenom, and 2016 PBR World Champion, Davis.
Regarded as "Captain America," Davis will compete for the Red, White and Blue for the fourth consecutive edition of the event, after establishing himself as one of the nation's most crucial team members across the past three PBR Global Cups.
After going 2-for-3 in Edmonton, and 3-for-4 in Sydney, both resulting in third-place finishes in the individual aggregate, the Texan compiled the top performance of any athlete at the PBR Global Cup's debut in the United States when he went 3-for-4 to top the individual leaderboard en route to Team USA Eagles' runner-up finish.
Led by first-time Global Cup coach, and PBR co-founder, Ted Nuce (Stephenville, Texas) and returning Assistant Coach, INFR (Indian National Finals Rodeo) President Mike "Bo" Vocu (Oglala Lakota – Kyle, South Dakota), the historic all Native American Team USA Wolves squad will be headlined by Dirteater, their top performer from the 2019 edition of the event. 
In his Global Cup debut in Feb. 2019, Dirteater went a flawless 3-for-3 to spearhead a come-from-behind push by the Wolves. His perfect outing left him second in the individual aggregate, finishing a slim 4.8 points behind the top-marked Davis.
Under the leadership of 2008 PBR World Champion Guilherme Marchi (Tres Lagoas, Brazil) and three-time PBR World Finals event winner Robson Palermo (Rio Branco Acre, Brazil), Team Brazil will be on the hunt for their unprecedented third consecutive PBR Global Cup event win, after taking the title at the two most recent stops in Australia and the United States.
In addition to making team history in Arlington in February 2019, Team Brazil standout Leme etched his name in the individual record books as the first rider to record a 90-point score at a PBR Global Cup. He covered Frequent Flyer for 90 points during the opening night's bonus round.
Reigning PBR World Champion Pacheco earned his fourth consecutive selection to Team Brazil, while Castro will be competing for the second time after going a perfect 3-for-3 in Sydney.
Team Australia and Mexico will both look to their initial picks to improve upon their efforts in 2019 as each nation seeks its first Global Cup Championship.
For Australia, led by 1998 World Champion Troy Dunn (Bloomsbury, Queensland, Australia) and Brendon Clark (Morpeth, New South Wales, Australia), the Richardson brothers will return for the fourth edition of the event to anchor the nation's contingent, while 19-year-old young gun Hamilton will return to the nation's roster for the first time since adding a score to their heart-breaking, 0.75-point, runner-up finish on home soil in June 2018.
Rounding out the competing teams is an ever-improving Team Mexico, set to be coached by Gerardo Venegas (Juarez, Mexico) and Jerome Davis (Archdale, North Carolina), that recorded its best finish to date at a Global Cup in Feb. 2019, finishing fifth out of the six teams. Veteran Durazo earned his fourth selection to the team, while Alvarez and Torres will both be making their third appearance at the international spectacle.
Tickets for the 2020 WinStar World Casino and Resort PBR Global Cup USA, presented by Monster Energy are on sale now and start at just $10. They can be purchased at the AT&T Stadium Box Office, online at ATTStadium.com or SeatGeek.com, or via the phone at (800) 732-1727.
For more information on the event, including premium experience and elite seats offerings, visit PBR.com/GlobalCup.