Jared Parsonage Finishes 10th in Round 2 of 2019 PBR Unleash The Beast World Finals
By: Kacie Albert Thursday, November 7, 2019 @ 11:43 PM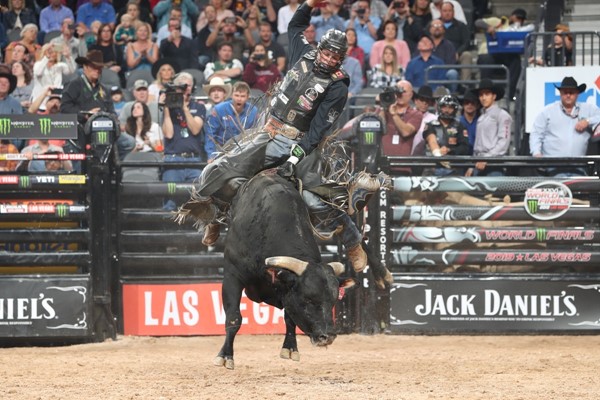 LAS VEGAS – Competing at the first PBR (Professional Bull Riders) Unleash The Beast World Finals of his career, Jared Parsonage (Maple Creek, Saskatchewan) recorded the first qualified ride of his career at the most prestigious event in bull riding Thursday night inside T-Mobile Arena, finishing tenth in Round 2.
One of two Canadians competing in Sin City, the Saskatchewan man covered Cool Customer (D&H Cattle/Flinn) for 81.5 points to collect 5 world points. Parsonage remained No. 39 in the world.
Parsonage, who was dispatched by Good Night Robicheaux (Dakota Rodeo/Chad Berger/Clay Struve/Diamond Willow/Riley Samford) in 3.52 seconds in Round 1, is now tied for 16th overall in the event.
Ahead of Friday night's Round 3, the 26-year-old drafted Roulette (Frontier Rodeo Company) as his next bovine athlete opponent.
Dakota Buttar (Kindersley, Saskatchewan) remains on the hunt for his first qualified ride of the 2019 PBR World Finals.
After Concealed Carry (Rockin R Bucking Bulls/Jerry Rush) bested him in 1.72 seconds in Round 1, the three-time Glen Keeley Award winner nearly covered YETI PBR World Champion Bull contender Fearless (D&H Cattle/Buck Cattle/Tommy Julian) Thursday evening, but was sent to the dirt in a close 5.56 seconds.
In Round 3, Buttar selected Accelerator (Terrell/Smith).
Apart from the fierce PBR World Finals action, Thursday night's competition also bore witness to the revealing of the initial roster selections for the 2020 WinStar World Casino and Resort PBR Global Cup USA, presented by Monster Energy.
Parsonage and Buttar, alongside Jordan Hansen (Okotoks, Alberta) were the first three picks for the new coaching staff of Scott Schiffner (Strathmore, Alberta) and Tanner Girletz (Cereal, Alberta).
Round 2 of competition also featured the first out for one of the 10 Canadian bucking bulls that were tapped to compete stateside by PBR Livestock Director Cody Lambert.
From Outlaw Buckers Rodeo Corp., Fish Camp got the better of Daylon Swearingen (Piffard, New York) in 2.33 seconds to earn a 43.75-point bull score.
In the bull pen, Round 3 will feature four Canadian bulls. Those match-ups are: Finning Lil Shorty (Flying Four Bucking Bulls) vs. Cliff Richardson (Gresford, New South Wales, Australia); Homegrown (Eno Bucking Bulls) vs. Ryan Dirteater (Hulbert, Oklahoma); Wild Child (Outlaw Buckers Rodeo Corp.) vs. Marco Eguchi (Poa, Brazil); and Happy Camper (Two Bit Bucking Bulls) vs. Luciano de Castro (Guzolandia, Brazil).
On a raucous Thursday night inside T-Mobile Arena that bore witness to three 90-point rides, 2017 PBR World Champion Jess Lockwood (Volborg, Montana) delivered a monstrous 91.5-point ride in Round 2 of the 2019 PBR Unleash The Beast World Finals to chip away at world No. 1 Jose Vitor Leme's (Ribas do Rio Pardo, Brazil) lead atop the standings. The Montana man is now within 609.16 points of the top spot.
Prior to the on-the-dirt action, the match-up against Spotted Demon (Julio Moreno/Dallas Schott) was one that forebode a potentially career-defining moment for Lockwood. Just one year prior, the Julio Moreno bovine athlete propelled Eguchi to the Lane Frost/Brent Thurman Award, an honor given to the athlete who records the high-marked ride at the PBR World Finals, when he was covered for a massive 94 points.
Further adding to the significance of the showdown, Lockwood had twice prior failed to make the 8-second buzzer on Spotted Demon during 15/15 Bucking Battles.  Lockwood was first bested in San Jose, California in 2016 in 4.67 seconds, and then sent to the dirt in 4.66 seconds in Sacramento in 2017.
This time, however, Lockwood's grit and determination to capture his second World Championship propelled him to a qualified ride. His 11th 90-point ride of the 2019 season netted him $20,000 and a crucial 180 world points.
The world No. 2 rider cut No. 1 Leme's lead from 789.16 points to 609.16 points.
On the World Finals event leaderboard, the 22-year-old is presently fourth as one of four riders to be a perfect 2-for-2 thus far at the most prestigious event in bull riding. In Round 1, he rode Silver Back (Mason/Smith Bucking Bulls) for 86.5 points.
Of the Top 3 contenders for the season's World Championship, Lockwood was the lone rider to earn a qualified ride.
Leme's bid for another 6-for-6 performance at the World Finals came to an end at the 1.9-second mark aboard Danny Boy (D&H Cattle Co./Gordon/OK Corralis) when he was marked for a slap.
Outlaw's second qualified ride was denied when he was bucked off his re-ride bull Apper's Mind Freak (Jo-Z Bucking Bulls/K Bar C Bucking Bulls/Spark-Lin Acres) in 4.1 seconds. Earlier in the evening, Outlaw opted to take his re-ride despite covering Magic Train (Phenom Genetics/Sankey Pro Rodeo) for 84.25 points.
Outlaw remains 1,715.83 points behind the No. 1 ranking, and is now 1,106.67 points behind No. 2 Lockwood.
Apart from the world's Top 3, Round 2 of the 2019 PBR World Finals belonged to Cody Jesus (Window Rock, Arizona) who topped the night with a 92-point ride aboard Lil 2 Train (Jane Clark/Gene Owen).
Jesus's fourth 90-point ride of 2019 propelled him to a $35,000 payday and garnered 300 world points. He gained two spots in the world standings, climbing from No. 20 to No. 18.
On the overall event leaderboard, Jesus is tied for first alongside Round 1 winner Eduardo Aparecido (Gouvelandia, Brazil) who was bucked off in Round 2 by Soup in a Group (Dakota Rodeo/Chad Berger/Clay Struve/Wilks Ranch) in an ever-close 6.26 seconds.
Competing for what would be his historic fourth YETI PBR World Champion Bucking Bull title, SweetPro's Bruiser (D&H Cattle Co./Buck Cattle Co.) propelled Cody Teel (Kountze, Texas) to a third-place finish in Round 2 after being ridden for 91 points.
For Teel, the draw was a familiar one, yet resulted in a much different outcome than his prior three meetings with the bovine athlete. Facing off twice in 2017, the D&H Cattle Co. bull first bested Teel in 2.69 seconds during the Iron Cowboy Major in Arlington, Texas, only to beat him in a swifter 1.9 seconds later that year during the 15/15 Bucking Battle in Thackerville, Oklahoma. The duo then met in Duluth, Georgia in 2018. Teel nearly covered SweetPro's Bruiser but was dispatched in 6.15 seconds
Finally reaching the 8-second buzzer, Teel collected $15,000 and 125 world points courtesy of the ride, remaining No. 6 in the world.
Teel is now 2-for-2 in Sin City and third in the overall event after riding Skeeter Peter (Owens/Smith) for 88.25 points on the opening night of competition.
Fourth in Round 2, and another flawless rider inside T-Mobile Arena, is first-time World Finals rider Richardson. As the first rider to explode from the chutes, the newly minted Team Australia rider for the 2020 PBR Global Cup USA, set the evening's tone early, riding Cochise (Jane Clark/Gene Owen) for 89.5 points.
Richardson earned $10,000 and 95 world points, allowing him to climb from No. 36 to No. 32 in the world standings.
Rounding out the Top 5 in Round 2 was Matt Triplett (Columbia Falls, Montana) who covered Magic Poison (Frontier Rodeo Company) for 89.25 points, collecting $6,000 and 75 world points. He climbed one spot in the world standings to No. 16.
Recording the eighth-best score of the second round, Rookie of the Year contender Alan de Souza (Taubate, Brazil) is the final rider to be flawless thus far.
His Round 2 ride was earned aboard Texas Comfort Air's First Blood (Cooper/Scruggs Bucking Bulls) for 86.5 points to collect 25 world points. He climbed from No. 26 to No. 25 in the world, yet remains ninth in the Rookie of the Year race.
Making his World Finals debut as an alternate after two-time PBR World Champion J.B. Mauney (Statesville, North Carolina) was unable to compete after dislocating his shoulder in Round 1, Junio Quaresima (Meridiano, Brazil) was the top performer in the race amongst the first-year pros.
Quaresima covered Ain't Easy Being Me (D&H Cattle/Craig Moore) for 87 points to finish sixth in Round 2 and net $3,000 and 50 world points.
Mason Taylor (Maypearl, Texas) was the only other rookie contender to reach the 8 seconds, scoring 85.75 points atop Classic Man (Humpz and Hornz/Megan Ibrahimi) to conclude Round 2 ninth and collect 10 world points.
Third in the race, Taylor now trails standings leader Dalton Kasel (Muleshoe, Texas), bested by Oz (TNT Bucking Bulls/Hart Cattle Co.) in 3.9 seconds, by 641.25 points.
Paralleling the fierce World Championship and Rookie of the Year races, the intensity was ratcheted up in the bid to be crowned the 2019 YETI PBR World Champion Bucking Bull.
Heartbreak Kid (D&H Cattle/Buck Cattle/Erwin Cattle) climbed from No. 4 to tie for No. 2 in the standings after earning a World Finals best 46.5-point bull score for his swift 1.32-second buckoff of Lucas Divino (Nova Crizas, Brazil). He now trails No. 1 Smooth Operator (Dakota Rodeo/Julie Rosen/Clay Struve/Chad Berger) by 0.22 points after beginning the night 0.28 points back.
Smooth Operator was marked 46.25 points during his first trip at the PBR World Finals to retain his No. 1 ranking. The bovine athlete bested Dylan Smith (Ararat, Virginia) in 6.99 seconds.
No. 2 Smooth Wreck (Dakota Rodeo/Chad Berger/Clay Struve/Diamond Willow) was marked 45.5 points for his 3.92 seconds worth of work against reigning Rookie of the Year Keyshawn Whitehorse (McCracken Springs, Utah), while now No. 4 Fearless was scored 44.25 points when he bucked off Buttar in 5.56 seconds. Fearless is now 0.45 points behind No. 1 Smooth Operator.
SweetPro's Bruiser remains No. 5 in the race after earning a 44.25-point score in his trip with Teel. He is 0.64 points removed from the top spot.
The 2019 PBR World Finals continue with Round 3 on Friday, November 8 beginning at 7:40 p.m. PT inside T-Mobile Arena.
Fans can relive all the action from Round 2 starting at 8:00 a.m. ET on Friday, November 8 on RidePass.com or via the mobile app. 

PBR Unleash The Beast
2019 PBR Unleash The Beast World Finals
T-Mobile Arena – Las Vegas, Nevada
Event Leaders (Round 1-Round 2-Round 3-Round 4-Round 5-Round 6-Event Aggregate-Event Points)
1. Cody Jesus, 0-92-0-0-0-0-92.00-300 Points.
(tie). Eduardo Aparecido, 91.25-0-0-0-0-0-91.25-300 Points.
3. Cody Teel, 88.25-91-0-0-0-0-179.25-220 Points.
4. Jess Lockwood, 86.5-91.5-0-0-0-0-178.00-215 Points.
5. Chase Outlaw, 88.5-0-0-0-0-0-88.50-152.5 Points.
(tie). Dalton Kasel, 88.5-0-0-0-0-0-88.50-152.5 Points.
7. Cliff Richardson, 85.75-89.5-0-0-0-0-175.25-105 Points.
8. Jose Vitor Leme, 88-0-0-0-0-0-88.00-75 Points.
(tie). Matt Triplett, 0-89.25-0-0-0-0-89.25-75 Points.
10. Junio Quaresima, 0-87-0-0-0-0-87.00-50 Points.
(tie). Leandro Machado, 87.25-0-0-0-0-0-87.25-50 Points.
12. Luciano De Castro, 0-86.75-0-0-0-0-86.75-35 Points.
13. Ryan Dirteater, 86-0-0-0-0-0-86.00-25 Points.
(tie). Alan de Souza, 79.25-86.5-0-0-0-0-165.75-25 Points.
15. Mason Taylor, 0-85.75-0-0-0-0-85.75-10 Points.
16. Alisson De Souza, 79.75-0-0-0-0-0-79.75-5 Points.
(tie). Jared Parsonage, 0-81.5-0-0-0-0-81.50-5 Points.
18. Rubens Barbosa, 0-71.25-0-0-0-0-71.25
João Ricardo Vieira, 0-0-0-0-0-0-0.00
Cooper Davis, 0-0-0-0-0-0-0.00
Marco Eguchi, 0-0-0-0-0-0-0.00
Derek Kolbaba, 0-0-0-0-0-0-0.00
Daylon Swearingen, 0-0-0-0-0-0-0.00
Ezekiel Mitchell, 0-0-0-0-0-0-0.00
Lucas Divino, 0-0-0-0-0-0-0.00
Claudio Montanha Jr., 0-0-0-0-0-0-0.00
Stetson Lawrence, 0-0-0-0-0-0-0.00
Cody Nance, 0-0-0-0-0-0-0.00
Taylor Toves, 0-0-0-0-0-0-0.00
Dakota Buttar, 0-0-0-0-0-0-0.00
J.B. Mauney, 0-0-0-0-0-0-0.00
Joe Frost, 0-0-0-0-0-0-0.00
Keyshawn Whitehorse, 0-0-0-0-0-0-0.00
Michael Lane, 0-0-0-0-0-0-0.00
Brady Fielder, 0-0-0-0-0-0-0.00
Dylan Smith, 0-0-0-0-0-0-0.00
Scottie Knapp, 0-0-0-0-0-0-0.00
Colten Jesse, 0-0-0-0-0-0-0.00
Ramon de Lima, 0-0-0-0-0-0-0.00
Ouncie Mitchell, 0-0-0-0-0-0-0.00
Austin Richardson, 0-0-0-0-0-0-0.00
Daniel Tinsman, 0-0-0-0-0-0-0.00