Dominant Dakota Buttar Wins Lloydminster PBR Winter Classic to Claim No. 1 Ranking in Canada
By: Kacie Albert Sunday, December 8, 2019 @ 1:40 PM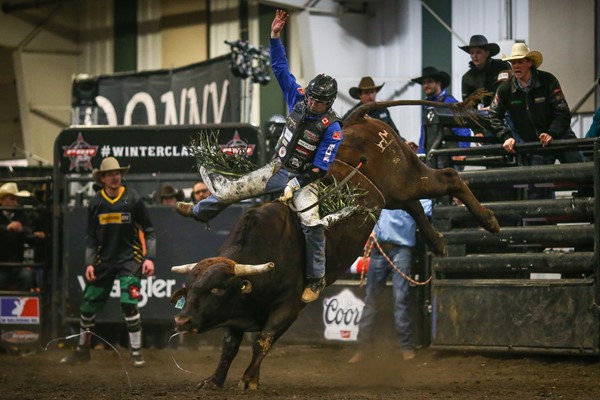 LLOYDMINSTER, Saskatchewan – Sweeping both rounds of competition inside the Lloydminster Exhibition, a seemingly unstoppable Dakota Buttar (Kindersley, Saskatchewan) went a flawless 2-for-2 Saturday night to win the Lloydminster PBR Winter Classic, part of the PBR (Professional Bull Riders) Canada Touring Pro Division, surging to the No. 1 ranking in the Canadian national standings.
The home province favorite first put his name atop the leaderboard when he led Round 1 with an 85-point trip atop Obvious Enterprises Savage Sensation (Foley Bucking Bulls).
As the last man to leave the chutes in the championship round, Buttar faced Kubota's Big Orange Tractor (Wild Hoggs Bucking Bulls). Becoming the fourth man in 11 outs to reach the 8-second buzzer aboard the bovine athlete, the 27-year-old was marked an event-high 89 points.
Buttar's perfect performance earned him $3,878.13, 350 Canadian and 15 world points.
Previously unranked, Buttar catapulted to the No. 1 ranking in the nation. He now leads No. 2 Logan Biever (Claresholm, Alberta) by 150 points.
Alongside Buttar, four additional riders covered both their draws, including runner-up Brock Radford (De Winton, Alberta) who left the Saskatchewan event with $2,337.51, 187.5 Canadian and 8 world points.
Radford first covered Shock Rock (Wild Hoggs Bucking Bulls) for 83.5 points in Round 1 before besting Grey Tower III (Vold Rodeo) for 88 points in the championship round.
He is now ranked No. 3 in Canada, 162.5 points behind Buttar.
Cody Casper (Pacific, Washington) was third.
To begin the event, Casper rode Drag Up Fever (Vold Rodeo) for 82.5 points to conclude Round 1 tied for sixth.
The Washingtonian was then quick to climb the leaderboard in the championship round, covering Vertigo Spy (Vold Rodeo) for 87.5 points.
For his efforts Casper earned $1,275.01, 120 Canadian and 7 world points.  He is now tied for No. 5 in the Canadian rankings alongside Thor Hoefer II (Priest River, Idaho), both within 230 points of No. 1 Buttar.
Jared Parsonage (Maple Creek, Saskatchewan) concluded the second event of the 2020 season fourth, earning $743.75, 90 Canadian and 4 world points.
His qualified rides were earned atop Border King (Foley Bucking Bulls) for 82.5 points, and two-time PBR World Finals bucker Tykro Pound Sand (Wild Hoggs/Corey Chmelynk) for 87 points.
The Top-5 effort allowed Parsonage to crack into the Top 10 in the national standings, now tied for No. 8, 260 points behind the top spot.
Rounding out the Top 5 was Jake Gardner (Dawson Creek, British Columbia), the final rider to go 2-for-2.
His 78-point ride on Yellow Stone (Vold Rodeo) and 88-point trip on 2019 PBR Canada Bull of the Finals Finning Lil Shorty (Flying Four Bucking Bulls) earned him $844.69, 90 Canadian and 3 world points.
Gardner is now tied for No. 8 in the Canadian national standings alongside Parsonage.
PBR Canada action will resume in 2020 when the elite Monster Energy Tour returns on January 24-25 in Calgary, Alberta with the Calgary Classic inside the Nutrien Western Event Centre. Tickets are still available and can be purchased at Ticketmaster.ca.
Be sure to stay tuned to PBRCanada.com and follow the tour on Facebook (PBR Canada), Twitter (@PBRCanada), and Instagram (@PBRCanada) for the latest results.
PBR Canada Touring Pro Division
Lloydminster, Saskatchewan – Lloydminster Exhibition
Lloydminster PBR Winter Classic
Event Results (Round 1- Round 2 -Aggr.Score- Payout-Canadian Points-World Points)
1. Dakota Buttar, 85-89-174-$3,878.13-350-15
2. Brock Radford, 83.5-88-171.5-$2,337.51-187.5-8
3. Cody Casper, 82.5-87.5-170-$1,275.01-120-7
4. Jared Parsonage, 82.5-87-169.5-$743.75-90-4
5. Jake Gardner, 78-88-166-$844.69-90-3
6. Wacey Finkbeiner, 84.5-0-84.5-$775.63-75-2
7. Shay Marks, 84-0-84-$541.88-55-1
8. Dakota Louis, 83.5-0-83.5-$228.44-42.5-0
9. Todd Chotowetz, 82.5-0-82.5-$0-0-0
10. Aaron Roy, 82-0-82-$0-0-0
11. Michael Ostashek, 77-0-77-$0-0-0