Dakota Buttar and Jared Parsonage Record Qualified Rides in Round 3 of 2019 PBR World Finals
By: Kacie Albert Saturday, November 9, 2019 @ 12:09 AM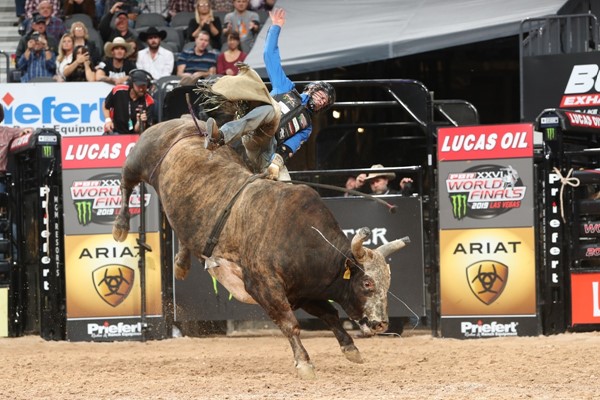 LAS VEGAS – On a Friday night inside T-Mobile Arena that featured six Canadian athletes competing, riders Dakota Buttar (Kindersley, Saskatchewan) and Jared Parsonage (Maple Creek, Saskatchewan) fed from the raucous Las Vegas crowd, both covering their Round 3 draws at the 2019 PBR (Professional Bull Riders) Unleash The Beast World Finals.
Both delivering 85-point rides, the duo covered Accelerator (Terrell/Smith) and Total Feeds Bushwacked (Ohl/Herb/McDowell/Comozzi), respectively, to tie for fifteenth in the round.
For Buttar, the 8-second effort, his first at his fourth consecutive appearance at the PBR World Finals, came aboard a familiar opponent.
First meeting at the 2019 PBR Global Cup USA, Buttar then rode Accelerator for 86 points. Appropriately timed, the rematch came just one day after Buttar was named to Team Canada for the 2020 WinStar World Casino and Resort PBR Global Cup USA, presented by Monster Energy. Parsonage was also selected for the team, alongside Jordan Hansen (Okotoks, Alberta).
Parsonage is now 2-for-3 at his debut PBR World Finals having covered Cool Customer (D&H Cattle/Flinn) for 81.5 points in Round 2. Tied for nineteenth in the event, Parsonage is now tenth in the aggregate.
In Round 4, Buttar will attempt Red Bones (M Rafter E Bucking Bulls), while Parsonage will face Do Wa Diddy (Andrews Rodeo Co.).  
Joining the Canuck riders were four bovine athletes from the nation.
As the first of the quartet to leave the chutes, Finning Lil Shorty (Flying Four Bucking Bulls), making his World Finals debut, became the first bull to best Cliff Richardson (Gresford, New South Wales, Australia), sending him to the dirt in 4.96 seconds to earn a 42.75-point bull score.
Just four outs later, Homegrown (Eno Bucking Bulls) made his first-ever trip at the PBR World Finals, bucking off Ryan Dirteater (Hulbert, Oklahoma) in 6.65 seconds to earn 43.75 points. The score led the Canadian bull pen on Friday night.
The remaining two bulls bucking for the Maple Leaf, Wild Child (Outlaw Buckers Rodeo Corp.) and Happy Camper (Two Bit Bucking Bulls) were both ridden for Top 10 finishes in Round 3.
Marco Eguchi (Poa, Brazil) rode Wild Child for 87.5 points to finish tenth, while Luciano de Castro (Guzolandia, Brazil) covered Happy Camper for 88 points to conclude the round eighth.
The trip marked Wild Child's first trip at the World Finals, marked 42.75 points, while Happy Camper's third consecutive appearance at the event earned him a bull score of 43 points.
Joining Buttar in Parsonage in Round 4 will be four Canadian bulls. Those match-ups are:
Big City Nights (Vold Rodeo) vs. Brady Fielder (Clermont, Queensland, Australia)
Come On Over (Vold Rodeo/Prescott) vs. Claudio Montanha Jr. (Pacaembu, Brazil)
Dilligaff (Outlaw Buckers Rodeo Corp.) vs. Cody Nance (Paris, Tennessee)
Catch My Drift (Two Bit Bucking Bulls/K Rose Ranch) vs. Chase Outlaw (Hamburg, Arkansas)
The top three bull riders in the world once again closed out a 2019 PBR World Finals round by sweeping the final three bulls, further intensifying what is shaping up to be the most exciting championship race in the sport's history.
During Friday night's Round 3 of the 2019 PBR Unleash The Beast World Finals, not a single seat was occupied for the last three outs of the most prestigious event in bull riding. While each of the world's Top 3 recorded an 8-second effort, 2017 PBR World Champion Jess Lockwood's (Volborg, Montana) dominant 92-point point ride propelled him to the round win, allowing him to further reduce No. 1 Jose Vitor Leme's (Ribas do Rio Pardo, Brazil) lead atop the world rankings.
"You know he's gonna come out there 100 mph to the left. He was just that and nice enough to let me stay on top of him," Lockwood said of his third round opponent Biker Bob (Dakota Rodeo/Chad Berger/Clay Struve/H&C Bucking Bulls).  
Prior to the on-the-dirt showdown, the Montana man drafted a match-up that had previously propelled him to glory.
First squaring off against the Chad Berger bovine athlete in Tulsa, Oklahoma this August, Lockwood recorded a 90-point ride aboard Biker Bob to capture his third regular-season event title of the year and return to the world No. 1 ranking. Following the ride, Biker Bob then propelled Leme to a win in Springfield, Missouri on the elite Unleash The Beast when he was covered for 92 points, and Derek Kolbaba (Walla Walla, Washington) to a runner-up result during the Minneapolis 15/15 Bucking Battle when he was ridden for 90.25 points.
Tonight, when the clock struck the 8-second mark, the ride again resulted in a big score, with Lockwood tallying a monstrous 92 points inside T-Mobile Arena.
Lockwood collected 300 world points and $35,000 for his efforts, remaining No. 2 in the world, now within a slim 407.49 points of No. 1 Leme.
Lockwood's 12th 90-point score of the season, propelled him to the top of the aggregate and leaderboard.
Lockwood is one of just three riders to be a perfect 3-for-3 at the 2019 PBR World Finals, joined by Cody Teel (Kountze, Texas) and Alan de Souza (Taubate, Brazil).
As the final cowboy to leave the chutes, Leme fed from Lockwood's energy, covering his drafted opponent, Birthday Cake (M Rafter E Bucking Bulls/Goods Bucking Bulls), for 89.5 points to tie for third.
The 8-second effort was a rebound for the Brazilian phenom, who bucked off Danny Boy (D&H Cattle Co./Gordon/OK Corralis) in an uncharacteristically quick 1.9 seconds in round 2.
Now 2-for-3, Leme's Round 3 ride earned him 98.33 world points and $10,333.33. He is now both fifth in the aggregate and overall event leaderboard.
Rounding out the world's Top 3, No. 3 Outlaw finished eleventh in the round in an emotional match-up.
After Lockwood was presented with the Mason Lowe Award earlier in the evening, a new honor to be presented annually to the rider who scores the high-marked ride of the regular season, Outlaw attempted the very bull named in honor of his late friend – Mason's Missouri Golden (Dakota Rodeo/Chad Berger/Clay Struve/Heald Pro Bulls).  
Rising to the occasion, Outlaw reached the 8-second whistle for a score of 87 points.
Despite the score, the Arkansas man finished outside the points and is now 1814.16 points behind No. 1 Leme.
Eduardo Aparecido (Gouvelandia, Brazil) finished second in Round 3 courtesy of his 90.5-point ride aboard Trail of Tears (CG Bucking Bulls), his second 90-point effort at the 26th edition of the PBR World Finals.
The veteran Brazilian collected 180 world points and $20,000 and he gained further ground in the world standings, climbing from No. 22 to No. 21. He is now second overall in the event.
Tied for third alongside Leme was Rubens Barbosa (Iaciara, Brazil) and Teel who each covered their third round bulls for matching 89.5 point scores to earn 98.33 world points and $10,333.33.
The duo rode Medicine Man (TNT Bucking Bulls/Hart Cattle Co.) and Midnight Rain (Dakota Rodeo/Chad Berger/Clay Struve/Staci Wilks/N Bar Ranch), respectively.
Barbosa is now 2-for-3 and ninth in the event, while the qualified ride allowed Teel to remain perfect and rise to third in the event standings.
In the world standings, Barbosa climbed from No. 32 to No. 28, while Teel further honed in on overtaking the world No. 5 ranking. While he is still No. 6, Teel is now within 805.84 points of No. 5 Cooper Davis (Jasper, Texas) after beginning the event 1,124.17 points back. Davis has been shut out through the first three rounds of competition, currently 0-for-3.
The 2019 PBR World Finals continue with Round 4 on Saturday, November 9 beginning at 7:40 p.m. PT inside T-Mobile Arena.
Fans can relive all the action from Round 3 starting at 8:00 a.m. ET on Saturday, November 9 on RidePass.com or via the mobile app. 
PBR Unleash The Beast
2019 PBR Unleash The Beast World Finals
T-Mobile Arena – Las Vegas, Nevada
Event Leaders (Round 1-Round 2-Round 3-Round 4-Round 5-Round 6-Event Aggregate-Event Points)
1. Jess Lockwood, 86.5-91.5-92-0-0-0-270.00-515 Points.
2. Eduardo Aparecido, 91.25-0-90.5-0-0-0-181.75-480 Points.
3. Cody Teel, 88.25-91-89.5-0-0-0-268.75-318.33 Points.
4. Cody Jesus, 0-92-0-0-0-0-92.00-300 Points.
5. Jose Vitor Leme, 88-0-89.5-0-0-0-177.50-173.33 Points.
6. Chase Outlaw, 88.5-0-87-0-0-0-175.50-152.5 Points.
(tie). Dalton Kasel, 88.5-0-0-0-0-0-88.50-152.5 Points.
8. Cliff Richardson, 85.75-89.5-0-0-0-0-175.25-105 Points.
9. Rubens Barbosa, 0-71.25-89.5-0-0-0-160.75-98.33 Points.
10. Matt Triplett, 0-89.25-86.75-0-0-0-176.00-75 Points.
11. Luciano De Castro, 0-86.75-88-0-0-0-174.75-60 Points.
12. Lucas Divino, 0-0-88.75-0-0-0-88.75-50 Points.
(tie). Junio Quaresima, 0-87-0-0-0-0-87.00-50 Points.
(tie). Leandro Machado, 87.25-0-0-0-0-0-87.25-50 Points.
15. Ezekiel Mitchell, 0-0-88.25-0-0-0-88.25-35 Points.
(tie). Alan de Souza, 79.25-86.5-87.75-0-0-0-253.50-35 Points.
17. Ryan Dirteater, 86-0-0-0-0-0-86.00-25 Points.
18. Mason Taylor, 0-85.75-0-0-0-0-85.75-10 Points.
19. Marco Eguchi, 0-0-87.5-0-0-0-87.50-5 Points.
(tie). Alisson De Souza, 79.75-0-0-0-0-0-79.75-5 Points.
(tie). Jared Parsonage, 0-81.5-85-0-0-0-166.50-5 Points.
22. Ramon de Lima, 0-0-85.5-0-0-0-85.50
23. Daylon Swearingen, 0-0-85.25-0-0-0-85.25
24. Dakota Buttar, 0-0-85-0-0-0-85.00
João Ricardo Vieira, 0-0-0-0-0-0-0.00
Cooper Davis, 0-0-0-0-0-0-0.00
Derek Kolbaba, 0-0-0-0-0-0-0.00
Claudio Montanha Jr., 0-0-0-0-0-0-0.00
Stetson Lawrence, 0-0-0-0-0-0-0.00
Cody Nance, 0-0-0-0-0-0-0.00
Taylor Toves, 0-0-0-0-0-0-0.00
J.B. Mauney, 0-0-0-0-0-0-0.00
Joe Frost, 0-0-0-0-0-0-0.00
Keyshawn Whitehorse, 0-0-0-0-0-0-0.00
Michael Lane, 0-0-0-0-0-0-0.00
Brady Fielder, 0-0-0-0-0-0-0.00
Dylan Smith, 0-0-0-0-0-0-0.00
Scottie Knapp, 0-0-0-0-0-0-0.00
Colten Jesse, 0-0-0-0-0-0-0.00
Lawson Nobbs, 0-0-0-0-0-0-0.00
Ouncie Mitchell, 0-0-0-0-0-0-0.00
Austin Richardson, 0-0-0-0-0-0-0.00
Daniel Tinsman, 0-0-0-0-0-0-0.00