Brock Radford Leads Final Regular-Season PBR Canada Event of 2019 After Opening Night in Yorkton
By: Kacie Albert Friday, November 8, 2019 @ 8:38 PM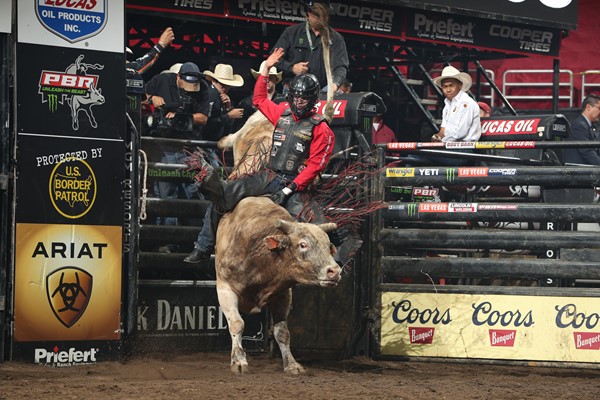 YORKTON, Saskatchewan – Determined to capture his first PBR (Professional Bull Riders) Canada Championship at the conclusion of the 2019 season, Brock Radford (De Winton, Alberta) delivered a dominant performance Friday night inside the Gallagher Centre, leading the Yorkton Grain Millers Harvest Showdown, the final regular-season event of the year, after the opening night of competition.
In Round 1, the Albertan got off to a hot start, riding Turn Back Time (Flying Four Bucking Bulls) for 82 points.
Tied for third heading into the championship round, Radford shot to the top of the leaderboard when he reached the 8 aboard One For The Money (Vold Rodeo) for 85 points.
Radford is currently No. 7 in the nation, 1318.32 points behind No. 1 Jared Parsonage (Maple Creek, Saskatchewan). The 2019 PBR Canada season will culminate in Saskatoon, Saskatchewan on Nov. 22-23 with the PBR Monster Energy Canadian Finals, presented by Dakota Dunes Casino, where the national champion will be crowned, earning the coveted buckle and $50,000 bonus.
A double entry, the 24-year-old also finds himself tied for third courtesy of a Round 1-best, 85-point ride aboard Tractor Land (Wild Hoggs Bucking Bulls).
Zane Lambert (Ponoka, Alberta) is second as the only other rider to go a perfect 2-for-2 on the opening night of action.
First riding Mystic (R Saga Ranch) for 82 points in Round 1, the two-time PBR Canada Champion remained flawless when he covered Dylans Devil (Wild Hoggs Bucking Bulls) for 82.5 points in the championship round.
Seeking his historic 14th consecutive PBR Canada Finals qualification, Lambert is No. 11 in Canada, 1779.57 points removed from the top spot.
Tied for third alongside Radford is Kache Mooosman (Price, Utah) who covered Kubota's Summer Warrior (Wild Hoggs Bucking Bulls) for 85 points in the championship round
Logan Biever (Claresholm, Alberta) rounds out the Top 5. His performance was backed by an 83-point ride aboard Finning Overhaul (Flying Four Bucking Bulls) in Round 1.
The Yorkton Grain Millers Harvest Showdown concludes on Saturday, November 9. Action inside the Gallagher Centre gets underway at 7:00 p.m. CSTT.
Be sure to stay tuned to PBRCanada.com and follow the tour on Facebook (PBR Canada), Twitter (@PBRCanada), and Instagram (@PBRCanada) for the latest results.
PBR Canada Touring Pro Division
Yorkton, Saskatchewan – Gallagher Centre
Yorkton Grain Millers Harvest Showdown
Event Results (Round 1- Round 2 -Aggr. Score)
1. Brock Radford, 82-85-167
2. Zane Lambert, 82-82.5-164.5
3 (tie). Brock Radford [2], 85-0-85
Kache Moosman, 0-85-85
5. Logan Biever, 83-0-83
6. Tim Lipsett, 81.5-0-81.5
7. Cody Casper, 81-0-81
8. Marcos Gloria, 79-0-79