Daylon Swearingen Wins Canadian Monster Energy Tour's London Classic for Third PBR Event Victory of 2019
By: Kacie Albert Saturday, May 11, 2019 @ 11:07 PM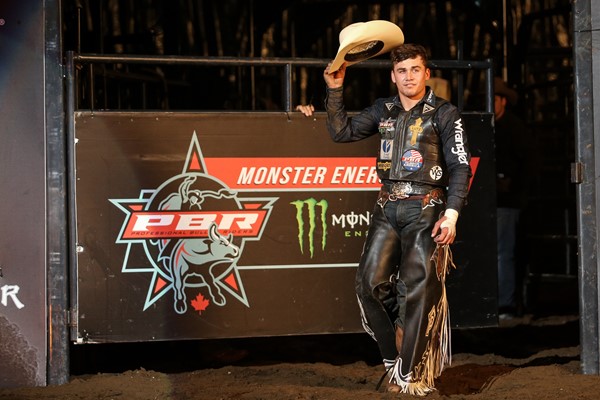 LONDON, Ontario – In front of an electric crowd at Budweiser Gardens in London, Ontario, Daylon Swearingen (Piffard, New York) captured his third event win of the 2019 season, victorious at PBR (Professional Bull Riders) Canada Monster Energy Tour's London Classic.
The 19-year-old's win was highlighted by the top-scored ride in Round 1, bringing the raucous crowd to its feet when he made the 8 aboard Black Sails(Triple R Bull Co.) for 84.5 points.
Swearingen's win at the PBR's first event in London since 2016 was his third victory in the league thus far this year. After winning the Touring Pro Division event in Belton, Texas in mid-march, the young gun captured his first title on the Pendleton Whisky Velocity Tour in April at the Wichita Classic in Kansas.
For his efforts, the New York cowboy collected $6,337.18, 450 Canadian and 170 world points.
While his win on the Velocity Tour in Kansas propelled him to his Unleash The Beast debut in Columbus, Ohio, where he finished thirteenth, Swearingen is now solidly ranked inside the Top 35. After beginning the event No. 36 in the world, Swearingen is now No. 27, 161.67 points in front of the premier series' cutline.
In the Canadian standings, Swearingen rose from No. 19 to No. 4, now within 357.08 points of No. 1 Jared Parsonage (Maple Creek, Saskatchewan).
Shay Marks (Sunnybrook, Alberta) finished second to net $4,733.23, 200 Canadian and 90 world points.
Much like Swearingen, Marks' finish was backed by an 8-second effort in Round 1, taking Applause (Vold Rodeo) to the whistle for 83.5 points.
The top contender in the PBR Canada Championship title race riding at the London Classic, Marks honed in on the top ranking. Entering the stop No. 4, he is now the No. 3-ranked rider in Canada, just 200 points behind No. 1 Parsonage.
In the world rankings, Marks also gained ground. As the No. 67-ranked rider in the world at event's start, Marks is now No. 49, 282.5 points outside of the Top 35.
Competing at just the second Canadian event of his career, Marcus Mast (Middlebury, Indiana) was third.
He rode Blackberry Smoke (Triple R Bull Co.) for 83 points in Round 1 to propel him to a $3,129.28 pay day. Mast also netted 150 Canadian and 55 world points for his trip to the Great White North.  
Luis Blanco (Iacanga, Brazil) was fourth, earning $2,185.78 along with 100 Canadian and 20 world points.
His qualified ride aboard Josiah's Fire (R Saga Ranch Ltd) for 82.5 points in Round 1 earned him his tenth Top-10 finish of the season.
Now ranked No. 28 in Canada, Blanco gained ground in the world title race, climbing from No. 61 to No. 56.
Rounding out the Top 5 was Carlos Garcia (Abingdon, Virginia) who rode Act Naturally (Thompson Rodeo Livestock) for 82 points. He leaves Budweiser Gardens with a check for $1,374.37 along with 75 Canadian and 15 world points.
Twist of Barbwire (Thompson Rodeo Livestock) was named the high-marked bull of the event courtesy of his 43.5-point bull score earned when the bovine athlete bucked off Blanco in the championship round in 3.64 seconds.
Fans can relive all the action from the 2019 PBR Canada Monster Energy Tour's London Classic Sunday, May 12th at 8:00 a.m. EDT on RidePass.com or via the mobile app. The event will also be broadcast on TSN2 on Tuesday, July 9 at 7:30 p.m. EDT.
PBR Canada's Monster Energy Tour will next travel to Moncton, New Brunswick, and the Avenir Centre for the Moncton Classic, presented by GO! Store. The event will be the third of the four-stop slate of events in the Eastern provinces and will get underway on Saturday, May 25 at 7:00 p.m. ADT. 
PBR Canada Monster Energy Tour – London Classic
Budweiser Gardens – London, Ontario
(Round 1-Round 2-Event Aggregate-Canadian Points-World Points-Payout)
1. Daylon Swearingen, 84.5-0-84.50-450-170-$6,337.18
2. Shay Marks, 83.5-0-83.50-200-90-$4,733.23
3. Marcus Mast, 83-0-83.00-150-55-$3,129.28
4. Luis Blanco, 82.5-0-82.50-100-20-$2,185.78
5. Carlos Garcia, 82-0-82.00-75-15-$1,374.37
6. Michael Lane, 68.5-0-68.50-35-10-$1,110.19
Tanner Byrne, 0-0-0.00
Cody Casper, 0-0-0.00
Zane Lambert, 0-0-0.00
Dayton Johnston, 0-0-0.00
Marcos Gloria, 0-0-0.00
Dakota Louis, 0-0-0.00
Allen Burkholder, 0-0-0.00
Lonnie West, 0-0-0.00
Italo Aguilar Goncalves, 0-0-0.00
Micheal Ostashek, 0-0-0.00
Cole Young, 0-0-0.00
Rosendo Ramirez, 0-0-0.00
Fabian Dueck, 0-0-0.00
Coy Robbins, 0-0-0.00
Nick Goncalves, 0-0-0.00
Jacob Moore, 0-0-0.00
James Sullivan, 0-0-0.00
Zac Bourgeois, 0-0-0.00
Dylan Douglas, 0-0-0.00
Will Loomis, 0-0-0.00
Adam Hinkley, 0-0-0.00
Tyler Ewart, 0-0-0.00
Ben Peever, 0-0-0.00
Bret Timmermans, 0-0-0.00