Michael Lane Wins Career-First PBR Canada Event in Moncton
By: Kacie Albert Saturday, May 25, 2019 @ 10:51 PM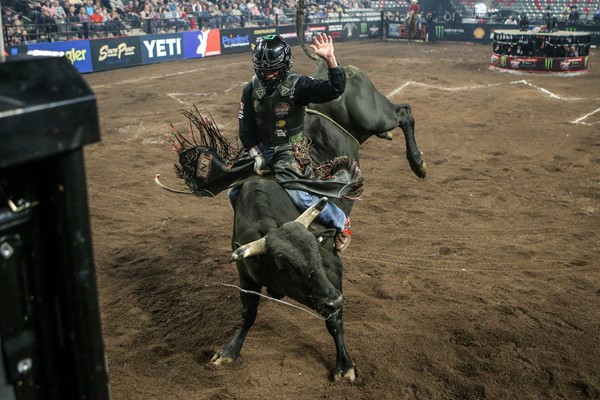 MONCTON, New Brunswick – Brining the electric crowd inside the Avenir Centre to its feet, Michael Lane (Tazewell, Virginia) captured the first PBR (Professional Bull Riders) Canada event win of his career, victorious at the Monster Energy Tour's Moncton Classic, presented by GO! Store in Moncton, New Brunswick.
The 28-year-old was the first to strike at the league's second ever trip to the maritime city, covering Hollow Point (Vold Rodeo) in Round 1 for 80 points.
As the lone rider to reach the 8-second whistle twice at the event, Lane remained perfect in the second round when he rode Black Sails (Triple R Bull Co.) for 82.5 points.
Despite a 5.13-second buckoff of Big City Nights (Vold Rodeo) in the championship round, Lane's 2-for-3 effort propelled him to his second PBR event win of the 2019 season.
For his efforts, Lane leaves New Brunswick with a check for $5,263.52, along with 495 Canadian and 170 world points.
Lane is now ranked inside the Top 35 in the world, rising from No. 44 to No. 35 courtesy of his finish. In the Canadian standings, Lane is now No. 9 in the nation, 530.83 points behind No. 1 Jared Parsonage (Maple Creek, Saskatchewan).
Daylon Swearingen (Piffard, New York) finished second after recording the high-marked ride of the event in Round 1.
Entering the event on a win streak, victorious at the most recent Monster Energy Tour event in London, Ontario, Swearingen surged to the top of the leader board after recording an 86-point score on Blackberry Smoke (Triple R Bull Co.) in the opening round.
Despite being bested by Dylan's Devil (Wild Hoggs Bucking Bulls) and Kubota's Sidekick (Wild Hoggs Bucking Bull/A.T. Hines), Swearingen recorded his eighth Top-5 finish of the year to collect $4,108.79, in addition to 340 Canadian and 90 world points.
Swearingen rose from No. 4 to No. 2 in the Canadian standings, where he now trails the top spot by a mere 17.08 points, while he climbed from No. 28 to No. 22 in the world.
Third went to Chase Outlaw (Hamburg, Arkansas) who netted $2,865.24, 280 Canadian and 55 world points.
The "CEO of Outlaw Nation's" bronze effort was highlighted by an 84-point trip on Tykro Total (Wild Hoggs Bucking Bulls) in Round 2.
While he is now ranked No. 20 in Canada, Outlaw gained important ground in the world standings. Still No. 2 in the world, Outlaw closed the gap on No. 1 Jose Vitor Leme (Ribas do Rio Pardo, Brazil) to within 434.16 points.
Cole Young (Fairview, Alberta) and 2017 PBR Canada Rookie of the Year Coy Robbins (Camrose, Alberta) tied for fourth after recording matching 82.5-point rides.
Young earned the score on Josiah's Fire (R Saga Ranch Ltd.) in Round 2, while Robbins recorded the marks on Act Naturally (Thompson Rodeo Livestock) in Round 1.
Each cowboy netted 17.5 world points. Young also earned $1,728.28 along with 140 Canadian points, while Robbins collected $1,817.11 and 145 Canadian points.
Two additional riders, Shay Marks (Sunny Brook, Alberta) and Lonnie West (Cadogan, Alberta), also collected points in Moncton.
Marks finished sixth after riding Original Sin (Thompson Rodeo Livestock) for 82 points in Round 1. He earned a check for $1,142.04, 95 Canadian and 10 world points. In the Canadian standings, Marks is now No. 4, 105 points behind No. 1 Parsonage.
West, the defending event winner, was the lone other ride to reach the whistle. Concluding the stop seventh, West rode Black Attack (Vold Rodeo) for 78.5 points in Round 2, to earn $840.03, 60 Canadian and 5 world points. 
One for the Money (Vold Rodeo) and Cause n' Effect (R Saga Ranch Ltd.) tied for the high-marked bull of the event after recording matching 43.5-point scores.
Both bucking in the championship round, One for the Money bucked off Marks in 7.54 seconds, while Cause n' Effect dispatched Young in 2.52 seconds.
While the bull of the event honor is the first for Cause n' Effect, it's the second for One for the Money who was the top bovine athlete in Quebec.
Fans can relive all the action from the Moncton Classic, presented by GO! Store, Sunday, May 26 at 8:00 a.m. EDT. The event will also be broadcast on TSN2 on Tuesday, July 16 at 7:30 p.m. EDT.
The Canadian Monster Energy Tour will next travel to Halifax, Nova Scotia and Scotiabank Centre for the Halifax Toughest Cowboy, presented by GO! Store on Saturday, June 1 at 7:00 p.m. ADT.
PBR Canada Monster Energy Tour – Moncton Classic, presented by GO! Store
Avenir Centre – Moncton, New Brunswick
(Round 1-Round 2-Round 3-Event Aggregate-Canadian Points-World Points-Payout)
1. Michael Lane, 80-82.5-0-162.50-495-170-$5,263.52
2. Daylon Swearingen, 86-0-0-86.00-340-90-$4,108.79
3. Chase Outlaw, 0-84-0-84.00-280-55-$2,865.24
4. Cole Young, 0-82.5-0-82.50-140-17.5-$1,728.28
(tie). Coy Robbins, 82.5-0-0-82.50-145-17.5-$1,817.11
6. Shay Marks, 82-0-0-82.00-95-10-$1,142.04
7. Lonnie West, 0-78.5-0-78.50-60-5-$840.03
Tanner Byrne, 0-0-0-0.00
Cody Casper, 0-0-0-0.00
Zane Lambert, 0-0-0-0.00
Austin Richardson, 0-0-0-0.00
Logan Biever, 0-0-0-0.00
Carlos Garcia, 0-0-0-0.00
Zac Bourgeois, 0-0-0-0.00
Will Loomis, 0-0-0-0.00