Cole Wagner Leads in Prince Albert After Day 1
By: Kacie Albert Friday, May 31, 2019 @ 12:09 PM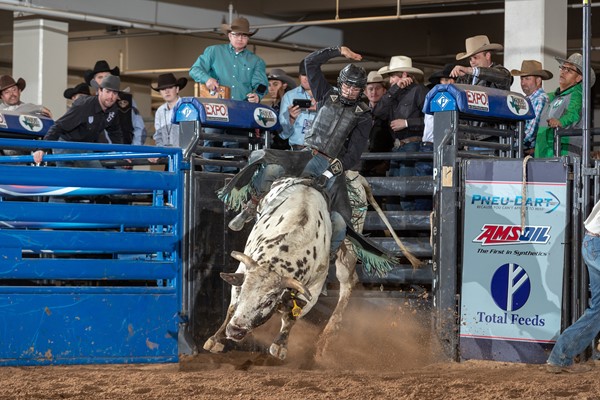 PRINCE ALBERT, Saskatchewan – Delivering the high-marked ride of the event, Cole Wagner (Valier, Montana) surged to an early lead at the Clunie-Cooper Memorial PBR in Prince Albert, Saskatchewan, following the opening night of competition.
As the first rider to reach the 8-second mark, Wagner covered Turn Back Time (Flying Four Bucking Bulls) for 85 points to win Round 1 and capture the event lead.
As a two-day event, both Round 1 and the championship round take place each night with the overall winner being crowned with the highest aggregate score. With the two days, a bull rider can potentially win both first and second place.
Second went to Jake Gardner (Dawson Creek, British Columbia).
Rebounding from a first round buckoff, Gardner climbed the leaderboard when he rode Baja Midnight (Vold Rodeo) for a championship round-best 84 points.
Three-time PBR Canada Champion Aaron Roy (Yellow Grass, Saskatchewan) is third after riding Vertigo Spy (Vold Rodeo) for 83 points in front of his home province crowd.
Also recording a qualified ride in the opening round Tim Lipsett's (Lumsden, Saskatchewan) 83-point ride on Finning Hou's Deacon (Flying Four Bucking Bulls) placed him fourth.
Rounding out the Top 5 was Weston Hartman (Mandan, North Dakota).
As the lone other rider to record a score in the championship round, Hartman's Top 5 result was backed by an 82.5-point ride on Son of Odin (Wild Hoggs Bucking Bulls).
The Clunie-Cooper Memorial PBR in Prince Albert, Saskatchewan at the Art Hauser Centre, part of the PBR Canada's Touring Pro Division, concludes Friday night, May 31, starting at 7:00 p.m. CDT.  
Be sure to stay tuned to PBRCanada.com and follow the tour on Facebook (PBR Canada), Twitter (@PBRCanada), and Instagram (@PBRCanada) for the latest results. 
PBR Canada Touring Pro Division
Prince Albert, Saskatchewan – Art Hauser Centre
Clunie-Cooper Memorial PBR
Event Results (Round 1-Round 2-Aggr. Score)
1. Cole Wagner, 85-0-85
2. Jake Gardner, 0-84-84
3. Aaron Roy, 83.5-0-83.5
4. Tim Lipsett, 83-0-83
5. Weston Hartman, 0-82.5-82.5
6. Jake Gardner, 78-0-78
7. Italo Aguilar Goncalves, 73-0-73
Fabien Dueck, 0-0-0.00
Shay Marks 2, 0-0-0.00
Wyatt Lavallee, 0-0-0.00
Jake Lockwood, 0-0-0.00
Logan Biever, 0-0-0.00
Dayton Johnston, 0-0-0.00
Shay Marks, 0-0-0.00
Tyson Thue, 0-0-0.00
Coy Robbins, 0-0-0.00
Chance Switzer, 0-0-0.00
Wyatt Gleeson, 0-0-0.00
Landon Schmidt , 0-0-0.00
Fabien Dueck 2, 0-0-0.00
Tyson Salmon, 0-0-0.00
Logan Biever 2, 0-0-0.00
Tristan O'Neal, 0-0-0.00
Michael Ostashek, 0-0-0.00
Zac Peterson, 0-0-0.00