Two-Time PBR Canada Champion Zane Lambert Wins Round 1 of the Calgary Classic
By: Kacie Albert Friday, March 22, 2019 @ 10:52 PM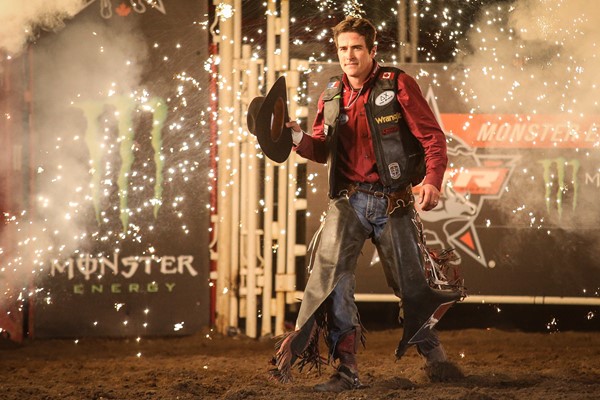 CALGARY, Alberta – On a night that saw 12 riders reach the 8-second mark, two-time PBR (Professional Bull Riders) Canada Champion Zane Lambert (Ponoka, Alberta) led the field, winning Round 1 of the Monster Energy Tour's Calgary Classic.
As just the sixth man to explode from the chutes inside the Nutrien Western Event Centre, Lambert surged to the top of the leaderboard fast, covering Wildlife Distillery's Riggs (Don and Burke Ramsay / Willy Macza) for 86.5 points.
The top marks earned Lambert 100 Canadian national points. He is now ranked No. 11 in the nation, 642.08 points behind No. 1 Jared Parsonage (Maple Creek, Saskatchewan).
For his Round 1-win, Lambert advanced to the Challenge of Champions where he faced reigning PBR Canada Bull of the Year Happy Camper (Two Bit Bucking Bulls) for the chance to win an additional $2,500.
In a match-up for the ages, Lambert is one of just three riders to successfully ride the bovine athlete from Magrath, Alberta. In Sept. 2018, Lambert rode Happy Camper for 90.5 points, one of just three 90-point rides on Canadian soil during the season, to win the Glen Keeley Memorial in Stavely, Alberta.
Bringing the electric crowd to its feet, Happy Camper bested Lambert in 6.03 seconds to take the lead in the duo's meetings, now having bucked him off twice in three career showdowns. 
Jackson Scott (Kamloops, British Columbia) concluded the opening round of the two-day event second to net 60 national points. His 85.5-point effort was earned aboard Catch of The Day (Wild Hoggs Bucking Bulls).
While the 21-year-old remains No. 4 in Canada, he closed in on the top spot, now a mere 315.83 points behind Parsonage.
Third went to Cory Price (Calhan, Colorado) who was the first rider at the Friday-night event to reach the 8-second whistle. The Coloradoan coveredHello Darkness (Thompson Rodeo Livestock) for a career-high 84.5 points to collect 50 Canadian points.
Parsonage and Shane Peters (Delburne, Alberta) tied for fourth, each earning 35 national points for their matching 84-point rides.
After Parsonage earned a re-ride for his trip aboard Southern Bend (Allemand Livestock Company, Inc.), he successfully rode Rhythm & Blues (Flying High Rodeo Co.), while Peters covered Moose (Hy-Kik Ranch/Rafter KL).
Heading into the final day of competition, Parsonage's qualified ride allowed him to further extend his lead atop the national standings. After beginning Round 1 175.83 points in front of No. 2 Shay Marks (Sunnybrook, Alberta), he now leads Marks by 210.83 points.
Thus far in 2019, Parsonage has been one of the most consistent riders in all of Canadian competition. He is 7-for-9 across both the Canadian Monster Energy Tour and Touring Pro Division for a 77% riding average.
Should Parsonage win the stop, he would become the first rider in Canadian Monster Energy Tour history to win three events on the series. The Saskatchewan rider earned his first event win on the tour in Abbotsford, British Columbia in October 2018, and was victorious at the second stop of the 2019 season in Lethbridge, Alberta.
Three additional riders also earned points toward the 2019 PBR Canada Championship in the first round.
Jordan Hansen (Okotoks, Alberta) rode Sick Rhymes (Two Bit Bucking Bulls) for 83 points to finish sixth and net 15 points, while Josh Frost (Randlett, Utah) and Cole Young (Fairview, Alberta) both delivered 82.5-point scores to earn 5 Canadian points. Frost's 8-second effort came atopTough As Kade (Shay Marks/Diamond C Buckers) while Young rode Power Dozer (Brian Cummings/Mainline Bucking Bulls).
For Young, the qualified ride snapped an 18-out buckoff streak which dated to June 2018.
The PBR Canada Monster Energy Tour's Calgary Classic will conclude Saturday, March 23 at 7:30 p.m. MDT.
Fans can relive all the action from Round 1, including the Challenge of Champions, starting at 8:00 a.m. ET on Saturday, March 23 on RidePass.com or via the mobile app.
The LIVE coverage of Round 2 and the Championship Round will begin on RidePass starting at 7:30 p.m. MDT on Saturday, March 23.
PBR Canada Monster Energy Tour – Calgary Classic
Nutrien Western Event Centre – Calgary, Alberta
Event Leaders (Round 1-Round 4-Round 2-Round 3-Event Aggregate-Event Points)
1. Zane Lambert, 86.5-0-0-0-86.50-100 Points.
2. Jackson Scott, 85.5-0-0-0-85.50-60 Points.
3. Cory Price, 84.5-0-0-0-84.50-50 Points.
4. Jared Parsonage, 84-0-0-0-84.00-35 Points.
(tie). Shane Peters, 84-0-0-0-84.00-35 Points.
6. Jordan Hansen, 83-0-0-0-83.00-15 Points.
7. Josh Frost, 82.5-0-0-0-82.50-5 Points.
(tie). Cole Young, 82.5-0-0-0-82.50-5 Points.
9. Marcos Gloria, 81.5-0-0-0-81.50
10. Jake Gardner, 81-0-0-0-81.00
11. Tanner Byrne, 80-0-0-0-80.00
12. Aaron Roy, 79.5-0-0-0-79.50
Shay Marks, 0-0-0-0-0.00
Garrett Green, 0-0-0-0-0.00
Dayton Johnston, 0-0-0-0-0.00
Todd Chotowetz, 0-0-0-0-0.00
Logan Biever, 0-0-0-0-0.00
Zac Peterson, 0-0-0-0-0.00
Micheal Ostashek, 0-0-0-0-0.00
Tim Lipsett, 0-0-0-0-0.00
Wyatt Gleeson, 0-0-0-0-0.00
Wacey Finkbeiner, 0-0-0-0-0.00
Italo Aguilar Goncalves, 0-0-0-0-0.00
Warlen Aquino, 0-0-0-0-0.00
Riley Gagnon, 0-0-0-0-0.00
Klayton Lakevold, 0-0-0-0-0.00
Coy Robbins, 0-0-0-0-0.00
Wyatt Laughlin, 0-0-0-0-0.00
Weston Hartman, 0-0-0-0-0.00
Ron Hunt, 0-0-0-0-0.00
2019 PBR National Canada Standings
(Place, Rider, Events, Wins, Top 5's, Points, Total Winnings)
Jared Parsonage, 5, 1, 3, 808.33, $14,272.23
Shay Marks, 3, 1, 2, 597.50, $8,490.20
Garrett Green, 4, 0, 3, 556.25, $8,661.90
Jackson Scott, 8, 0, 2, 492.50, $7,874.61
Jordan Hansen, 4, 1, 1, 375.00, $4,220.18
Todd Chotowetz, 6, 1, 1, 335.00, $7,453.18
Daylon Swearingen, 1, 0, 1, 253.75, $4,875.00
Tanner Byrne, 2, 0, 1, 205.00, $3,641.00
Logan Biever, 5, 0, 1, 200.00, $2,910.53
Jake Gardner, 6, 0, 1, 195.00, $2,570.40
Zane Lambert, 4, 0, 1, 166.25, $925.00
Dalan Duncan, 1, 0, 1, 153.33, $1,916.11
Cody Casper, 2, 0, 0, 145.00, $2,250.80
Dayton Johnston, 5, 0, 1, 131.25, $2,050.40
Micheal Ostashek, 5, 0, 1, 110.00, $1,231.65
Josh Frost, 2, 0, 1, 108.33, $917.58
Aaron Roy, 3, 0, 0, 80.00, $1,688.10
Cole Young, 5, 0, 0, 62.50, $507.37
Edgar Durazo, 2, 0, 0, 57.50, $507.37
Billy West, 3, 0, 0, 50.00, $331.00
Cory Price, 1, 0, 0, 50.00, $0.00
Wyatt Gleeson, 5, 0, 0, 45.00, $165.50
Dakota Louis, 2, 0, 0, 42.50, $420.00
Shane Peters, 2, 0, 0, 35.00, $0.00
Tim Lipsett, 3, 0, 0, 32.50, $224.91
Warlen Aquino, 3, 0, 0, 17.50, $0.00
Jake Lockwood, 1, 0, 0, 10.00, $0.00
Italo Aguilar Goncalves, 4, 0, 0, 7.50, $0.00
Riley Gagnon, 4, 0, 0, 7.50, $0.00
Kache Moosman, 1, 0, 0, 5.00, $0.00
Dalton Rudman, 1, 0, 0, 5.00, $0.00
Marcos Gloria, 1, 0, 0, 0.00, $0.00
Wacey Finkbeiner, 3, 0, 0, 0.00, $0.00
Thor Hoefer II, 2, 0, 0, 0.00, $0.00
Zac Peterson, 2, 0, 0, 0.00, $0.00
Chase Thielen, 1, 0, 0, 0.00, $0.00
Klayton Lakevold, 4, 0, 0, 0.00, $0.00
Cawl Braithwaite, 1, 0, 0, 0.00, $0.00
Ron Hunt, 3, 0, 0, 0.00, $0.00
Wyatt Laughlin, 3, 0, 0, 0.00, $0.00
Weston Hartman, 2, 0, 0, 0.00, $0.00
Denton Spiers, 1, 0, 0, 0.00, $0.00
Riley Blankenship, 1, 0, 0, 0.00, $0.00
Ty Wallace, 1, 0, 0, 0.00, $0.00
Luke Gee, 1, 0, 0, 0.00, $0.00
Alex Guzman, 1, 0, 0, 0.00, $0.00
Stetson Wright, 1, 0, 0, 0.00, $0.00
Clayton Sellers, 1, 0, 0, 0.00, $0.00
Riker Carter, 1, 0, 0, 0.00, $0.00
Lon Danley, 1, 0, 0, 0.00, $0.00
Maycon Moura, 1, 0, 0, 0.00, $0.00
David Otey, 1, 0, 0, 0.00, $0.00
Brett Custer, 1, 0, 0, 0.00, $0.00
Sebastien Messelod, 1, 0, 0, 0.00, $0.00
Scottie Knapp, 1, 0, 0, 0.00, $0.00
Coy Robbins, 1, 0, 0, 0.00, $0.00