Jordan Hansen and Jake Lockwood Tie for Win at Clunie-Cooper Memorial PBR
By: Kacie Albert Saturday, June 1, 2019 @ 10:37 AM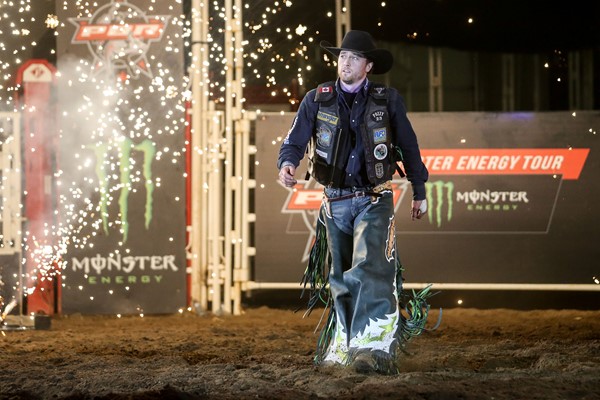 PRINCE ALBERT, Saskatchewan – As the lone two riders to deliver a flawless performance inside the Art Hauser Centre, Jordan Hansen (Okotoks, Alberta) and Jake Lockwood (Boradus, Montana) tied for the win at the annual Clunie-Cooper Memorial PBR, part of the Canadian Touring Pro Division, in Prince Albert, Saskatchewan.
For Hansen, his march to the top of the leaderboard began in Round 1 with an 84.5-point ride aboard Preacher Man (X6 Ranch Bucking Cattle). Fifth after the opening round of competition, the Alberta native then recorded the top marks in the championship round, covering Broken Trigger (Skori Bucking Bulls) for 86.5 points.
Also going a perfect 2-for-2, Lockwood recorded matching 85.5-point rides. First covering 2015 PBR Canada Bull of the Year Minion Stuart (Skori Bucking Bulls) in Round 1, Lockwood tied for the win after making the 8 on Baja Midnight (Vold Rodeo/Rafter G Cattle Co.) in the final round.
The win, Hansen's third of the season allowed him to return to the No. 1 ranking in the Canadian national standings after being surpassed by Jared Parsonage (Maple Creek, Saskatchewan) in mid-May following his runner-up effort on the Touring Pro Division in Nipawin, Saskatchewan.
Netting 260 Canadian points, Hansen now leads Parsonage by 190 points.
Hansen also collected a check for $4,567.03 and 45 world points. In the world standings, he climbed from No. 61 to No. 51, now trailing the Top 35 by 210 points.
Co-winner Lockwood earned $4,947.64, along with 245 Canadian and 45 world points for his efforts. In the Canadian standings he climbed from No. 14 to No. 7, now 670.83 points behind Hansen, while he rose from No. 56 to No. 47 in the world rankings. Lockwood is now 190 points outside of the Top 35.
The co-win in Prince Albert is now Lockwood's second consecutive event victory on Canadian soil. The Montana rider won the most recent Touring Pro Division event, capturing his career-first victory in Nipawin.
Third went to Weston Hartman (Mandan, North Dakota) after he rode Karl's Big Orange Tractor (Wild Hoggs Bucking Bulls) for a Round 1-best 86 points. A double entry, Hartman also recorded a tenth place finish after he rode Son of Odin (Wild Hoggs Bucking Bulls) for 82.5 points in the championship round.
Collectively he earned $3,044.71, 195 Canadian and 20 world points. In the national standings, Hartman, who was previously unranked, is now No. 24, 1,080.83 points behind No. 1 Hansen.
Three-time PBR Canada Champion Aaron Roy (Yellow Grass, Saskatchewan) parlayed an 85.5-point trip on Border Line Genius (Wild Hoggs Bucking Bulls) in Round 1 into a fourth place finish. Another double-entry, Roy was also eighth after making the 8 on Vertigo Spy (Vold Rodeo), also in the first round, for 83.5 points.
Roy left his home province event with a check for $2,055.17, 120 Canadian and 15 world points. As he seeks his record-breaking fourth national title, Roy is now ranked No. 23 in the Canadian standings after beginning the two-day event No. 32. He is 1,070.83 points behind the top spot.
Rounding out the Top 5 was Cole Wagner (Valier, Montana).
The American rider, who led the event following the opening night of competition, rode Turn Back Time (Flying Four Bucking Bulls) for 85 points to net $964.16, 80 Canadian and 10 world points.   
Despite being surpassed by Hansen for the No. 1 spot in the nation, Parsonage gained ground in the national title race courtesy of his tie for sixth with Jake Gardner (Dawson Creek, British Columbia). Both marked 84 points, Parsonage rode Speak Easy (X6 Ranch Bucking Battle) in Round 1, while Gardner reached the whistle on Baja Midnight in the championship round.
Parsonage earned $414.42, 25 Canadian and 2.5 world points, while Gardner left the Art Hauser Centre with $921.87, 60 Canadian and 2.5 world points.
PBR Canada action continues on Saturday, June 1 with the Halifax Toughest Cowboy in Halifax, Nova Scotia at the Scotiabank Centre at 7:00 p.m. ADT. Tickets are still available and can be purchased at Ticket Atlantic.
Be sure to stay tuned to PBRCanada.com and follow the tour on Facebook (PBR Canada), Twitter (@PBRCanada), and Instagram (@PBRCanada) for the latest results. 
PBR Canada Touring Pro Division
Prince Albert, Saskatchewan – Art Hauser Centre
Clunie-Cooper Memorial PBR
Event Results (Round 1- Round 2 -Aggr. Score- Money Earned-Canadian Points-World Points)
1T. Jordan Hansen, 84.5-86.5-171-$4,567.03-260-45
1T. Jake Lockwood 2, 85.5-85.5-171-$4,947.64-245-45
3. Weston Hartman 2, 86-0-86-$2,790.98-165-20
4. Aaron Roy 2, 85.5-0-85.5-$1,818.36-105-15
5. Cole Wagner, 85-0-85-$964.16-80-10
6T. Jake Gardner, 0-84-84-$921.87-60-2.5
6T. Jared Parsonage, 84-0-84-$414.42-25-2.5
8. Aaron Roy, 83.5-0-83.5-$236.81-15-0
9. Tim Lipsett, 83-0-83-$0-0-0
10. Weston Hartman, 0-82.5-82.5-$253.73-30-0
11. Jake Gardner 2, 78-0-78-$0-0-0
12. Michael Ostachek 2, 76.5-0-76.5-$0-0-0
13. Italo Aguilar Goncalves, 73-0-73-$0-0-0