Shay Marks Leads Ranchman's PBR Charity Classic After Opening Night
By: Kacie Albert Tuesday, July 2, 2019 @ 11:00 PM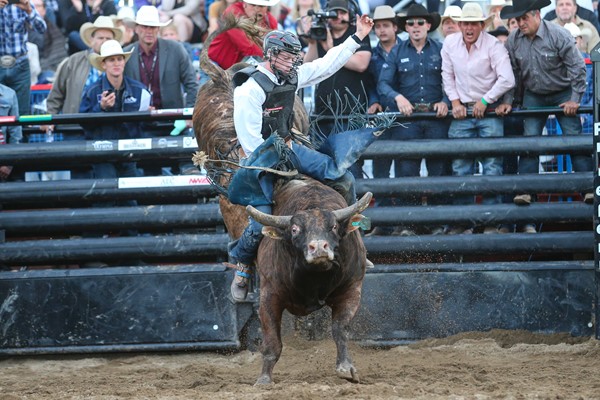 CALGARY, Alberta – In front of a raucous crowd at the renowned Ranchman's Cookhouse and Dancehall in Calgary, Alberta, Shay Marks (Sunnybrook, Alberta) delivered a flawless performance to conclude the opening night of action at the Ranchman's PBR Charity Classic atop the leaderboard.
As a two-day event, July 2-3, both Round 1 and the championship round take place each night. The winner will be the rider with the highest aggregate score on two bulls across the two days.
To begin the evening's event, Marks made the 8 aboard Dunt (Skori Bucking Bulls) for 80.5 points, the seventh best score of Round 1.
Marks was quick to continue the momentum in the championship round, covering Twist of Barbwire (Thompson Rodeo Livestock) for 86 points.
Reigning Calgary Stampede Champion Marcos Gloria (Central de Minas, Brazil) finished the first night second as the only other rider to go a perfect 2-for-2.
He first covered James Bond (Wild Hoggs Bucking Bulls) for 77.5 points, followed by an 85.5-point ride on Vertigo Spy (Vold Rodeo).
Current Canadian No. 1 Jared Parsonage (Maple Creek, Saskatchewan) recorded the top marks in Round 1 to finish the opening night third. His 8-second effort came aboard Big Deal (Two Bit Bucking Bulls) for 86 points.
In fourth is three-time PBR Canada Champion Aaron Roy (Yellow Grass, Saskatchewan) who rode Double Major (Wild Hoggs/Corey Chmelnyk) for 85.5 points in the opening round.
Rounding out the Top 5 was Klayton Lakevold (Provost, Alberta). He made the whistle on Applause (Vold Rodeo) for 84.5 points.
Action from the Ranchman's PBR Charity Classic will continue on Wednesday, July 3 at 7:00 p.m. MDT in Calgary at Ranchman's Cookhouse and Dancehall.
Fans can watch all the action LIVE on RidePass at RidePass.com or via the mobile app.
Be sure to stay tuned to PBRCanada.com and follow the tour on Facebook (PBR Canada), Twitter (@PBRCanada), and Instagram (@PBRCanada) for the latest results. 
PBR Canada Touring Pro Division
Calgary, Alberta – Ranchman's Cookhouse and Dancehall Inc.
Ranchman's PBR Charity Classic
Event Results (Round 1-Round 2-Aggr. Score)
1. Shay Marks, 80.5-86-166.5
2. Marcos Gloria, 77.5-85.5-163
3. Jared Parsonage, 86-0-86
4. Aaron Roy, 85.5-0-85.5
5. Klayton Lakevold, 84.5-0-84.5
6. Donovan Rutherfurd, 82.5-0-82.5
7. Zane Lambert, 82-0-82
8. Dayton Johnston, 81-0-81
9 (tie). Dakota Buttar, 80-0-80
Lonnie West, 80-0-80