Lane Mellers Wins Czar PBR
By: Kacie Albert Sunday, July 21, 2019 @ 2:35 PM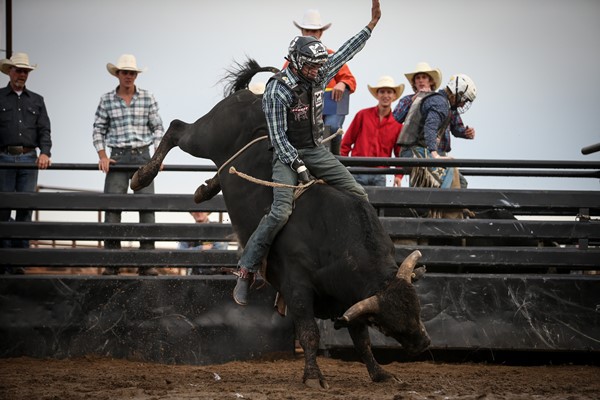 CZAR, Alberta – A double-entry at the Czar PBR, Lane Mellers (Mundubbera, Queensland, Australia) used a dominant 4-for-4 showing to finish both first and second at the Canadian Touring Pro Division event in Czar, Alberta at the Czar Lake Rodeo Grounds.
The Australian secured his first event win on Canadian soil after riding Done Talking (Eno Bucking Bulls) for 82 points in Round 1, followed by and event-best 86.5-point trip on Crank-It-Up (Eno Bucking Bulls) in the championship round.
Mellers then claimed the runner-up finish when he rode Throwin Shade (Flying High Rodeo Co.) for 82.5 points in the first round, and Twist of Barbwire (Eno Bucking Bulls) for 84 points in the final round.
Collectively Mellers earned a check for $6,160.38, in addition to a $10,000 bonus for his sweep of the top two positions on the podium.
He also left the Alberta event with 497.5 Canadian and 90 world points.
In the Canadian national standings, Meller gained significant ground, rising from No. 34 to No. 10.
The 2019 PBR Canada season will conclude in Saskatoon, Saskatchewan on Nov. 22-23 when the nation's Top 20 riders will compete for the season's championship and $50,000 bonus.
Thor Hoefer II (Priest River, Idaho) and Shay Marks (Sunnybrook, Alberta) tied for third after winning the event's opening round, collecting 137.5 Canadian and 17.5 world points apiece.
Each cowboy was marked 84.5 points after they reached the 8-second whistle aboard Honky Sam (Eno Bucking Bulls) and OMB Full Sleeve (Wilson Rodeo), respectively.
For Hoefer II, who also earned a check for $1,547.01, the points earned marked his first of the 2019 Canadian season. He is now the No. 45 ranked rider in the Great White North.
While Marks remains the No. 2 rider in Canada, he inched closer to top-ranked Jared Parsonage (Maple Creek, Saskatchewan). He is now 309.99 points removed from returning to the No. 1 ranking in the country.
Rounding out the Top 5 was annual PBR Canada Championship contender Brock Radford (De Winton, Alberta).
Radford, who returned to competition at the start of July after undergoing knee surgery at the conclusion of the 2018 season, rode Hanna Motors Full Throttle (Skori Bucking Bulls) for 82.5 points in Round 1 to propel him to his best overall finish thus far in 2019.
He left the Czar Lake Rodeo Grounds with a check for $712.72, in addition to 82.5 Canadian and 10 world points.
On the hunt for his first national title, Radford rose from No. 60 to No. 48 in the national standings.
Be sure to stay tuned to PBRCanada.com and follow the tour on Facebook (PBR Canada), Twitter (@PBRCanada), and Instagram (@PBRCanada) for the latest results.
PBR Canada Touring Pro Division
Czar, Alberta – Czar Lake Rodeo Grounds
Czar PBR
Event Results (Round 1- Round 2 -Aggr. Score- Money Earned-Canadian Points-World Points)
1. Lane Mellers, 82-86.5-168.5-$3,425.50-300-60
2. Lane Mellers 2, 82.5-84-166.5-$2,734.88-197.5-30
3 (tie). Thor Hoefer II, 84.5-0-84.5-$1,547.01-137.5-17.5
Shay Marks, 84.5-0-84.5-$1,546.99-137.5-17.5
5. Brock Radford 2, 82.5-0-82.5-$712.72-82.5-10
6. Aaron Kleier, 81.5-0-81.5-$309.40-30-5
7 (tie). Brady Fielder, 80-0-80-$193.38-17.5-0
Cole Young, 0-80-80-$580.12-17.5-0
9. Dakota Buttar, 72-0-72-$0.00-0-0