Dakota Buttar Earns Third PBR Canada Event Win of 2019 in North Battleford
By: Kacie Albert Friday, July 26, 2019 @ 1:14 PM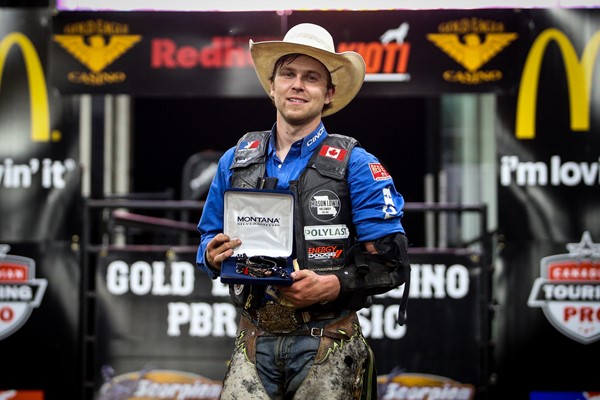 NORTH BATTLEFORD, Saskatchewan – Bringing the North Battleford, Saskatchewan crowd inside the Civic Centre to its feet, Dakota Buttar (Kindersley, Saskatchewan) captured his third PBR Canada event win of the 2019 season Thursday night, victorious at the North Battleford PBR.
The two-time Glen Keeley Award winner set the tone for the event early, recording the top marks in Round 1 when he made the 8 aboard Devour (Vold Rodeo) for 84 points.
As the last man to erupt from the chutes in the championship round, Buttar continued the momentum, riding Rat Trap (Flying Four Bucking Bulls) for an event-best 87.5 points.
Buttar is now tied with Jordan Hansen (Okotoks, Alberta) for most Canadian event wins of 2019. Buttar was previously victorious in Moose Jaw, Saskatchewan and Medicine Hat, Alberta.
For his flawless performance Buttar earned a check for $4,003.15, along with 350 Canadian and 60 world points.
In the national standings, Buttar climbed from No. 5 to No. 3 and now trails No. 1 Jared Parsonage (Maple Creek, Saskatchewan) by a mere 474.99 points.
The 2019 PBR Canada season will culminate in Saskatoon, Saskatchewan on Nov. 22-23 when the Top 20 riders from the national standings will battle it out inside the SaskTel Centre for the PBR Championship and $50,000 bonus.
2017 PBR Canada Rookie of the Year Coy Robbins (Camrose, Alberta) finished second, marking his best finish of the season.
In Round 1 Robbins rode Swagger (Vold Rodeo/Dynamite Buckers) for 83 points, which he followed with an 87-point trip atop Kool Aid (R Saga Ranch) in the championship round.
The 2-for-2 effort garnered Robbins $2,761.73, 200 Canadian and 30 world points.
He is now ranked inside the Top 20 in Canada, rising from No. 22 to No. 13 courtesy of the runner-up finish. He trails the top ranking by 1,427.49 points.
Continuing his triumphant return from knee surgery which relegated him to the sidelines for the entirety of the first half, Brock Radford (De Winton, Alberta) finished third. Much like Robbins, the finish was also a season-best for Radford.
Radford's qualified rides were earned aboard Can't Catch Me (Wild Hoggs Bucking Bulls) for 83.5 points in Round 1, and Twist of Barbwire (Thompson Rodeo Livestock) for 85.5 points in the final round.
Radford left the Saskatchewan event with $1,844.16, in addition to 165 Canadian and 20 world points.
As he looks to qualify for his fifth consecutive PBR Canada Finals, Radford gained significant ground in the national standings. Ranked No. 41 prior to the event, he is now No. 29 in Canada, 227.08 points outside of the Top 20.
Reigning PBR Australia Champion Aaron Kleier (Clermont, Queensland, Australia) finished fourth, earning $1,142.47, 100 Canadian and 15 world points.
The final rider to go a perfect 2-for-2, Kleier was marked 78 points on Mystic (R Saga Ranch) in Round 1, and 86 points on Finning Twitch (Flying Four Bucking Bulls) in the championship round.
Since arriving in North America prior to the Cluny, Alberta Touring Pro Division event on July 1, Kleier has been a dominant presence on Canadian soil. Riding at eight events he has recorded five Top 10 efforts.
As the current No. 1 man in the Australian standings, Kleier is now ranked No. 18 in Canada, up from No. 21.
Rounding out the Top 5 was Todd Chotowetz (Major, Saskatchewan) whose finish was backed by an 82.5-point ride on Smash (Skori Bucking Bulls) in Round 1.
Chotowetz collected $678.29, 80 Canadian and 10 world points.
Maintaining his No. 6 ranking in Canada, he now trails No. 1 Parsonage by 1,223.32.
As the final rider to record a qualified ride, covering Finning Overhaul (Flying Four Bucking Bulls) for 81 points in Round 1, Parsonage finished seventh.
He earned $365.23, 55 Canadian and 5 world points.
PBR Canada Touring Pro Division action continues on Sunday, August 4 in Frog Lake, Alberta at the Frog Lake Rodeo Grounds for the Frog Lake PBR. The event begins at 7:00 p.m. MDT.
Be sure to stay tuned to PBRCanada.com and follow the tour on Facebook (PBR Canada), Twitter (@PBRCanada), and Instagram (@PBRCanada) for the latest results.
PBR Canada Touring Pro Division
North Battleford, Saskatchewan – Civic Centre
North Battleford PBR
Event Results (Round 1- Round 2 -Aggr. Score- Money Earned-Canadian Points-World Points)
1. Dakota Buttar, 84-87.5-171.5-$4,003.15-350-60
2. Coy Robbins, 83-87-170-$2,761.73-200-30
3. Brock Radford, 83.5-85.5-169-$1,844.16-165-20
4. Aaron Kleier, 78-86-164-$1,142.47-100-15
5. Todd Chotowetz, 82.5-0-82.5-$678.29-80-10
6. Jared Parsonage, 81-0-81-$365.23-55-5