Chase Outlaw Wins Cluny Lions PBR
By: Kacie Albert Tuesday, July 2, 2019 @ 10:20 AM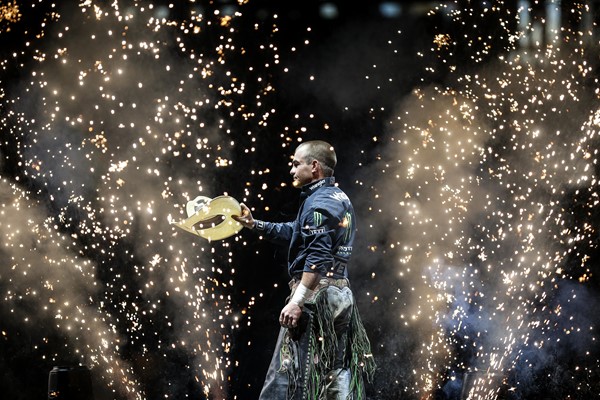 CLUNY, Alberta – Competing on Canadian soil for the third time this season, Chase Outlaw (Hamburg, Arkansas) delivered a flawless performance at Coulee Creek Farms in Cluny, Alberta to win the Cluny Lions PBR.
After recording the second-best score in Round 1, 84.5 points aboard Pretty In Prison (Flying High Rodeo Co.), Outlaw catapulted to the top of the leaderboard when he made the 8 on Throwin' Shade (Flying High Rodeo Co.) for an event-best 88 points in the championship round.
Outlaw, one of four riders to go a perfect 2-for-2, earned a check for $3,867.50, along with 320 Canadian and 60 world points for the victory.
The win, his second in as many events and sixth overall across all levels of competition in 2019, allowed Outlaw to surpass Joao Ricardo Vieira (Itatinga, Brazil) in the PBR world standings, rising from No. 4 to No. 3. Outlaw now trails No. 1 Jose Vitor Leme (Ribas do Rio Pardo, Brazil) by 359.16 points. Contextually, as Outlaw looks to capture his first PBR World Championship, last year's race for the coveted gold buckle was decided by 422.5 points.
The 27-year-old also gained ground in the Canadian national standings. Ranked No. 26 prior to the start of the event, Outlaw is now No. 10 in Canada, 1,252.49 points behind No. 1 Jared Parsonage (Maple Creek, Saskatchewan).
Riding at just his sixth PBR event of the 2019 season after undergoing knee surgery, Gage Gay (Staley, North Carolina) finished second to earn $2,431, 185 Canadian points and 30 world points.
He rode Waiting On You (Big Stone Rodeo Co.) for 83.5 points in Round 1, and Kubota's Summer Warrior (Wild Hoggs/Chmelnyk/Bryant) for 86.5 points in the championship round.
The runner-up finish at his 2019 Canadian debut allowed Gay to rise to No. 29 in the national standings.
Continuing his hot streak, which has included two event wins and two additional Top-5 efforts in three weeks, Dakota Buttar (Kindersley, Saskatchewan) concluded the event third.
Earning a re-ride aboard his initial draw Big John (Two Bit Bucking Bulls), Buttar advanced to the final round when he covered All About Me (Big Stone Rodeo Co.) for 79.5 points.
As the ninth man overall heading into the final round, the 26-year-old quickly climbed the leaderboard when he earned an 87-point score on Hell's Bells (Wilson Rodeo).
Buttar left the Alberta venue with $1,657.50, 135 Canadian and 20 world points. While he maintained his No. 5 ranking in the Canadian standings, he closed the gap on No. 1 Parsonage, now 879.16 points behind the top spot.
The Kindersley man also climbed the broader world rankings as he looks to return to the elite PBR Unleash The Beast for Last Cowboy Standing, the third Major of the season, on July 22-23 at Cheyenne Frontier Days.
He is now No. 32 in the world, rising from No. 34.
As the final man to go a perfect 2-for-2, Dakota Louis (Browning, Montana) was fourth to net $939.25, 95 Canadian and 15 world points. He rode Spot On (Wilson Rodeo) for 81 points and Far Out (Big Stone Rodeo Co.) for 84.5 points.
Louis' finish allowed him to rise nine spots in the national standings, now No. 35. He trails the Top 20 and a berth to the 2019 PBR Monster Energy Canadian Finals, presented by Dakota Dunes Casino, by 212.5 points.
Rounding out the Top 5 was 2017 PBR World Champion Jess Lockwood (Volborg, Montana).
His fifth-place finish was backed by a Round 1-best 85-point ride on Feed Bill (Vold Rodeo).
Lockwood left his first Canadian event of the season with a check for $1,127.10, in addition to 125 Canadian and 10 world points.
PBR Canada action continues on Tuesday, July 2 with the first of three nights of action from the iconic Ranchman's Cookhouse and Dancehall in Calgary, Alberta. The event, a Touring Pro Division Major, will award riders both an increased purse and points, world and Canadian.
Fans can watch all the action LIVE on RidePass via RidePass.com or the mobile app starting at 7:00 p.m. MDT.
Be sure to stay tuned to PBRCanada.com and follow the tour on Facebook (PBR Canada), Twitter (@PBRCanada), and Instagram (@PBRCanada) for the latest results. 
PBR Canada Touring Pro Division
Cluny, Alberta – Coulee Creek Farms
Cluny Lions PBR
Event Results (Round 1- Round 2 -Aggr. Score- Money Earned-Canadian Points-World Points)
1. Chase Outlaw, 84.5-88-172.5-$3,867.50-320-60
2. Gage Gay, 83.5-86.5-170-$2,431-185-30
3. Dakota Buttar, 79.5-87-166.5-$1,657.50-135-20
4. Dakota Louis, 81-84.5-165.5-$939.25-95-15
5. Jess Lockwood, 85-0-85-$1,127.10-125-10
6. Cole Skender (2), 84-0-84-$640.90-65-5
7 (tie). Brady Fielder (2), 81.5-0-81.5-$193.38-20-0
Jake Lockwood, 81.5-0-81.5-$193.37-20-0
Donovan Rutherfurd, 81.5-0-81.5-$0.00-20-0
10. Brady Fielder, 79.5-0-79.5-$0.00-0-0
11. Shay Marks, 78-0-78-$0.00-0-0
Will Purcell, 0-0-0-$0.00-0-0
Dalton Rudman, 0-0-0-$0.00-0-0
Wyatt Laughlin, 0-0-0-$0.00-0-0
Lachlan Slade, 0-0-0-$0.00-0-0
Jack Keats, 0-0-0-$0.00-0-0
Jake Curr, 0-0-0-$0.00-0-0
Lawson Nobbs, 0-0-0-$0.00-0-0
Jackson Scott, 0-0-0-$0.00-0-0
Chase Thielen, 0-0-0-$0.00-0-0
Dayton Johnston, 0-0-0-$0.00-0-0
Weston Hartman, 0-0-0-$0.00-0-0
Fabian Dueck, 0-0-0-$0.00-0-0
Thor Hoefer II, 0-0-0-$0.00-0-0
Cole Skender, 0-0-0-$0.00-0-0
Lane Mellers, 0-0-0-$0.00-0-0
Troy Berry, 0-0-0-$0.00-0-0
Aaron Kleier, 0-0-0-$0.00-0-0
Kache Moosman, 0-0-0-$0.00-0-0
Cody Casper, 0-0-0-$0.00-0-0