2017 PBR World Champion Jess Lockwood Wins Day 3 at Ranchman's PBR Charity Classic
By: Ted Stovin Friday, July 5, 2019 @ 10:33 AM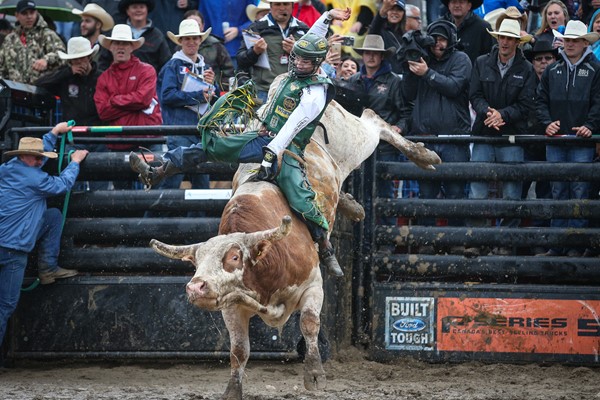 CALGARY, Alberta – In front of a sold-out crowd on Thursday night, 2017 PBR World Champion Jess Lockwood (Volburg, Montana) won the third and final day of competition at the Ranchman's PBR Charity Classic.
In Round 1 Lockwood covered Blow Me Away (Vold Rodeo) for 89 points and as the last man out on the night in the championship round, brought the crowd to its feet with another 89-point effort, on Catch My Drift (Two Bit Bucking Bulls).
Coming into Ranchman's the No. 2 man in the world standings, Lockwood earned 170 world points to close the gap on World No. 1 Jose Vitor Leme (Ribas do Pardo, MS, Brazil) to a mere 179 points.
Lockwood takes home $33,530, which included a $25,000 bonus for winning the event, and 550 Canadian points which catapult him all the way up into the Top 10 in the nation.
Matt Triplett (Columbia Falls, Montana) was the only other man to go 2-for-2 on Thursday night. In Round 1, Triplett rode Shere Khan (X6 Ranch) for 83 points which left him eighth heading into the championship round.
In the final round as the third man out of the chutes, Triplett made the first of only two rides, 86.5 points on Grey Eyes (Vold Rodeo).
For his work, Triplett won $5,338.65, 200 Canadian points and 90 world points which move him up one spot to No. 11 on the planet, 85 points ahead of Cody Jesus (Window Rock, Arizona).
Rounding out the Top 5 on Thursday night were Dayton Johnston (Milk River, Alberta), World No. 3 Chase Outlaw (Hamburg, Arkansas) and Canadian National Standings leader Jared Parsonage (Maple Creek, Saskatchewan). Each athlete earned $2,252.87, 118.33 Canadian points and 30 world points.
All three bull riders recorded scores of 85.5 points in Round 1 and were bucked off in the Final round. Johnston rode Rebel Soul (Wild Hoggs) and was bucked off Twisted (Vold Rodeo) in the championship round. He moves up to No. 13 from No. 16 in the Canadian standings. 
Outlaw recorded 85.5 points on Speak Easy (X6 Ranch) in Round 1 and was bucked off Spooky Lukie (Two Bit Bucking Bulls) in the championship round. He remains No. 3 in the world standings but closes the gap on No. 1 by another 30 world points and now sits inside the Top 10 in Canada.
With $50,000 on the line for the PBR Canadian Champion at the conclusion of the 2019 season, Parsonage continued to add to his title pursuit. He recorded his 85.5-point effort on Mish Mash (Vold Rodeo) but was bucked off Muddy Water (X6 Ranch) in the championship round. Parsonage remains No. 1 in the nation, 450.57 points ahead of No. 2 Daylon Swearingen (Piffard, New York).
Next up on the PBR Canada docket is the Edgerton PBR Bullarama on the Touring Pro Division schedule on Friday July 5th starting at 7 p.m. MT.
Be sure to stay tuned to PBRCanada.com and follow the tour on Facebook (PBR Canada), Twitter (@PBRCanada), and Instagram (@PBRCanada) for the latest results.
PBR Canada Touring Pro Division
Calgary, Alberta – Ranchman's Cookhouse and Dancehall Inc.
Ranchman's PBR Charity Classic
Event Results (Round 1- Round 2 -Aggr. Score- Money Earned-Canadian Points-World Points)
Jess Lockwood, 89-89-168-$33,530.82-550-170
Matt Triplett, 83-86.5-169.5-$5,338.65-200-90
Dayton Johnston, 85.5-0-85.5-$2,252.87-118.33-30
Chase Outlaw, 85.5-0-85.5-$2,252.87-118.33-30
Jared Parsonage, 85.5-0-85.5-$2,252.87-118.33-30
Donovan Rutherfurd, 83.5-0-83.5-$462.31-33.33-5
Brady Fielder, 83.5-0-83.5-$462.31-33.33-5
Aaron Kleier, 83.5-0-83.5-$462.31-33.33-5
Dakota Buttar, 81.5-0-81.5-7.5
Lonnie West, 81.5-0-81.5-7.5
Gage Gay, 80-0-80