CPRA Champion Jordan Hansen Added to Team Canada for 2019 PBR Global Cup USA
By: Kacie Albert Friday, January 4, 2019 @ 8:11 PM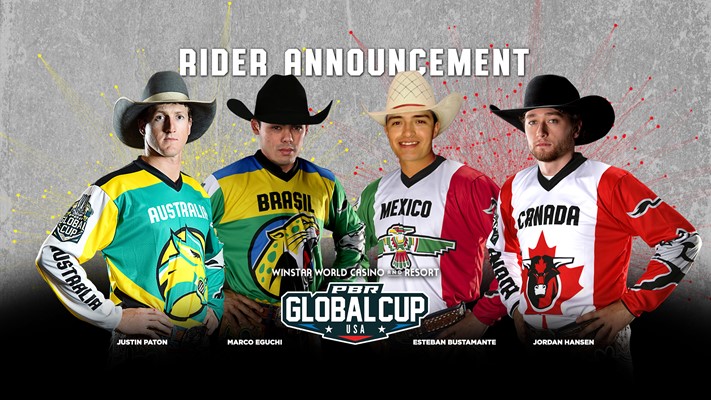 NEW YORK CITY – Ahead of PBR's (Professional Bull Riders) 2019 WinStar World Casino and Resort Global Cup USA, the eight remaining open roster spots for the six competing teams have been filled, headlined by two-time PBR World Champion J.B. Mauney (Statesville, North Carolina) and 2018 PBR World Finals event winner Marco Eguchi (Poá, São Paulo), both first-time selections, joining Team USA-Eagles and Team Brazil, respectively.
The PBR Global Cup, the only nation vs. nation bull riding competition, will make its U.S. debut, and third stop, at AT&T Stadium in Arlington, Texas on February 9-10, 2019.  The new team tournament debuted in Edmonton, Alberta in November 2017 and then visited Sydney, Australia in June 2018.
Team Canada's Aaron Roy (Yellow Grass, Saskatchewan), used his final pick to add Jordan Hansen (Okotoks, Alberta) to the Great White North's roster.
The other riders set to wear the Canadian jersey are three-time PBR Canada Champion Roy, making history as the first coach to also compete, Dakota Buttar (Kindersley, Saskatchewan), Tanner Byrne (Prince Albert, Saskatchewan), two-time PBR Canada Champion Zane Lambert (Ponoka, Alberta), Jared Parsonage (Maple Creek, Saskatchewan), Lonnie West (Cadogan, Alberta) and alternate Wacey Finkbeiner (Ponoka, Alberta).
Team USA-Eagles is coached for the third consecutive edition of the event by Justin McBride (Elk City, Oklahoma). The two-time World Champion also named Derek Kolbaba (Walla Walla, Washington) to his squad.
The remainder of McBride's team is comprised of 2016 World Champion Cooper Davis (Buna, Texas), Cody Nance (Paris, Tennessee), Chase Outlaw (Hamburg, Arkansas), Cody Teel (Kountze, Texas), 2017 World Champion Jess Lockwood (Volborg, Montana) and Matt Triplett (Columbia Falls, Montana).
The team's alternate, Mauney, who finished 2018 No. 28 in the world, began the year on a historic note. At the season-launch event inside Madison Square Garden, the North Carolinian rode his Round 1 draw, All The Way Up (K-C Bucking Bulls) for 87.25 points to become the third rider in league history to record 500 qualified rides on the premier series. His total now stands at 517 8-second efforts on the PBR Unleash The Beast. Mauney is also the richest athlete in western sports history, having earned more than $7.3 million in PBR.
Mauney's 2018 season concluded with his eleventh consecutive qualification to the PBR World Finals where he finished eleventh.
Kolbaba rode for Team USA in both Edmonton and Sydney. He went a flawless 2-for-2 in Canada, helping his country win the inaugural Global Cup event, and added one 8-second effort in Australia where the Americans were fourth.
The Washington-native ended 2018 ranked No. 11 in the world; his best event finish was third at the 2018 PBR World Finals courtesy of his 3-for-6 showing. Kolbaba's three 8-second efforts at the sport's most prestigious event, two of which earned him wins in Round 3 and 5, were all marked 90 points or higher.
With two remaining roster slots to fill via coach's picks, Team USA-Wolves Coach Wiley Petersen (Fort Hall, Idaho; Shoshone Bannock) completed his contingent with Colten Jesse (Konawa, Oklahoma; Potawatomi) and alternate Dakota Louis (Browning, Montana; Northern Cheyenne and Black Feet).
Petersen's team also includes: Ryan Dirteater (Hulbert, Oklahoma; Cherokee), Stetson Lawrence (Williston, North Dakota; Chippewa and Sioux), Keyshawn Whitehorse (McCracken Springs, Utah; Navajo), Cody Jesus (Window Rock, Arizona; Navajo), Cannon Cravens (Porum Oklahoma; Cherokee) and Justin Granger (Tuba City, Arizona; Navajo).
A reflection of the event's evolving format, whereby the host nation will field two teams of seven, as opposed to a roster of 14 athletes, the Team USA-Wolves squad is poised to make modern sports history as the first all-Native American team competing at a major league sporting event
Jesse joins the Wolves contingent after finishing second in the 2018 PBR Rookie of the Year Race.
He made his elite tour debut in February in Kansas City, the weekend after winning the Velocity Tour event in Grand Rapids, Michigan.
Two weeks later, the 21-year-old finished tenth at the PBR Iron Cowboy, the first Major of his career. When the elite tour returned from its annual summer break, the Oklahoman finished third at the Music City Knockout, the fourth and final PBR Major of the season, propelling him from No. 35 to No. 17 in the world standings.
A staple on the elite tour for the remainder of the season, Jesse competed in the first 15/15 Bucking Battle of his career in September in Fairfax, Virginia.  He finished the 2018 season ranked No. 22 in the world.
Louis began competing with the PBR in 2011 and has since made five appearances on the premier series, including two trips to PBR Majors.
In 2018, his best finish came in April at the TPD event in Prescott Valley, Arizona where he was second.
Eguchi, the winner of the 2018 PBR World Finals, is the final rider to join the defending Global Cup event winners, Team Brazil. In Sydney, the South American team outlasted the host nation, Team Australia, by 0.75 points to capture the Australian horn from the glittering Global Cup trophy.
His teammates, coached by 2010 PBR World Champion and Coach Renato Nunes (Buritama, São Paulo), are: Eduardo Aparecido (Gouvelândia, Goiás), 2018 PBR World Champion Kaique Pacheco (Itatiba, São Paulo), Jose Vitor Leme (Ribas do Rio Pardo, Mato Grosso do Sul), Claudio Montanha Jr. (Pacaembu, São Paulo), Fernando Henrique Novais (Pereira Barreto, São Paulo), Bruno Scaranello (General Salgado, São Paulo) and alternate João Marcelo Santos(Cláudio, Minas Gerais)
After going 5-for-6 at the World Finals, including his Brent Thurman/Lane Frost Award-winning 94-point trip on Spotted Demon (Julio Moreno/Dallas Schott) in Round 2, Eguchi rocketed from No. 20 to No. 5 in the world standings, a career-high ranking for the Brazilian at the end of a season.
The remaining position for all visiting nations was filled via a coach's pick.
Team Australia Coach and 1998 PBR World Champion Troy Dunn (Bloomsbury, Queensland) completed his roster with Justin Paton (Nebo, Queensland).
His entire squad includes: Lachlan Richardson (Gresford, New South Wales), Nathan Burtenshaw (Coonamble, New South Wales), Cliff Richardson (Gresford, New South Wales), Cody Heffernan (Singleton, New South Wales), 2018 PBR Australia Champion Aaron Kleier (Clermont, Queensland), Jason Mara (Cloncurry, Queensland) and alternate Kurt Shephard (Atherton, Queensland).
Team Mexico's Coach Gerardo Venegas (Juárez, Chihuahua) added Esteban Bustamante (Cuauhtémoc, Chihuahua) to his contingent of two-time PBR Mexico Champion Juan Carlos Contreras (Huichapan, Hidalgo), Jorge Valdiviezo (La Misión, Baja California), Edgar Durazo (Moctezuma, Sonora). Alvaro Aguilar Alvarez (La Punta, Jalisco), 2018 PBR Mexico Champion Francisco Garcia Torres (Sal, Mexico), Francisco Morales (Irapuato, Guanajuato) and alternate Luis Escobedo (Parras, Coahuila).
Tickets for the WinStar World Casino and Resort Global Cup USA are on sale now and start at just $10. They can be purchased at SeatGeek.com, PBR.com, or by calling PBRDirect at (800)732-1727.