2017 PBR World Champion Lockwood Wins Monster Energy Buck Off at The Garden
By: Kacie Albert Sunday, January 6, 2019 @ 5:51 PM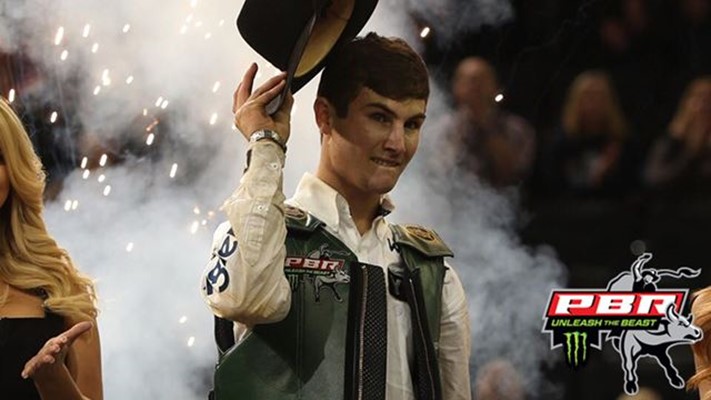 NEW YORK CITY – As one of three riders to deliver a flawless performance inside Madison Square Garden, 2017 PBR (Professional Bull Riders) World Champion Jess Lockwood (Volborg, Montana) won the Unleash The Beast Monster Energy Buck Off at The Garden, presented by Ariat, his second Major victory of his career in New York City.
Tanner Byrne (Prince Albert, Saskatchewan) was the top-finishing Canadian at No. 19 going 1-for-3 with the only score coming in Round 2 at 86.25 points for a split of sixth place. Lonnie West (Cadogan, Alberta) had a similar fate but failed to garner any world points. Dakota Buttar (Kindersley, Saskatchewan) went 0-for-4, bucked off in the 15/15 Bucking Battle as well. 
Lockwood's Championship Sunday began with a punishing 85-point ride aboard Dream Catcher (Wallgren/High View Cattle Co.) in Round 3, leading him to enter the season-launching event's final round the top-ranked rider in the aggregate. After making the 8, he took three hard hits from the bull, passed his concussion protocol, and would get back on his final draw for a veritable walk-off home run.
Selecting the previously unridden Prayer Warrior (Halpain & Roth), the 21-year-old phenom brought the roaring crowd inside "The World's Most Famous Arena," to its feet, riding the bovine athlete for a season-high, and round-winning, 91.75 points.
For his victory, Lockwood netted 895 world points and collected a check for $118,350. He is now the No. 1-ranked rider in the world, 572.5 points ahead of No. 2 Claudio Montanha Jr. (Pacaembu, Brazil).
The World Champion bull rider is now one of just three riders to win the New York City Major in multiple seasons. Lockwood previously won the event in 2017, the first of four event wins for the Montana rider that season en route to becoming the youngest World Champion in league history.
"I was confident coming in (to last season), but there were times when I didn't want to ride bulls at all," Lockwood said. "I was pretty disappointed in myself. After the season, I thought to myself, 'If you're going to do this, do it right.'  This sport is just too gosh-darn dangerous to do it any other way."
Montanha, also going 4-for-4, finished second, earning 344.3 world points and $20,100.
The standout Brazilian started the afternoon event with an 84.75-point ride on Little Bob (BMC Bucking Bulls/Jenkins Cattle Co.), followed by an 89.25-point trip on Two Point Oh (Jane Clark/Gene Owen).
Freshly minted to Team USA-Wolves for the upcoming PBR Global Cup, 18-year-old sensation Cannon Cravens (Porum, Oklahoma) started the season strong with a third-place finish.
In Round 3 he rode No Excuses (Richard & Teri Braun/Wallgren Bull Co.) for 86 points, and then became the first rider in 14 attempts to ride Pneu-Dart's Muscles & Shovels (Mike Miller/K-J Bucking Bulls), making the 8 on the bull for 89.75 points in the championship round.
He leaves the Big Apple with $22,850 and 264 world points. Cravens is now the No. 4-ranked rider in the world, 645 points behind Lockwood.
Reigning Velocity Tour Champion Alisson De Souza (Taubaté, Brazil) earned $6,925.50 and 340 world points courtesy of his fourth-place finish as the final rider to cover each of his four bulls.
His Championship Sunday performance included an 85.5-point ride on Roll of the Dice (Halpain & Roth) in Round 3, capped by an 86.75-point ride onShort Pop (Wallgren & Hale Bull Co./JOPA) in the final round.
Rounding out the Top 5 was Matt Triplett (Columbia Falls, Montana). After covering Pennsylvania Bandit (Mike Miller Bucking Bulls) for 86.5 points in Round 3, the Montana man made the 8 on Wicked Hou (Wallgren & Hale Bull Co./Randy Wood) for 88.75 points in the championship round, earning him 261.5 world points and $11,100.
Triplett is now No. 10 in the world, 752.5 points behind Lockwood.
In the bull pen, Cochise (Jane Clark/Gene Owen) and Short Pop (Wallgren & Hale Bull Co./JOPA) tied the first YETI "Built for the Wild" Bull of the Event honors, both marked 44.75 points. Cochise earned the score for his 2.52-second buck off of Chase Outlaw (Hamburg, Arkansas), while Short Pop recorded the marks for his 3.26-second trip with Luciano De Castro (Guzolândia, Brazil) in the 15/15 Bucking Battle Friday night.  
Fans will be able to watch all the action from Round 3 and the championship round on CBS Sports Network beginning at 8:00 p.m. ET. All the action from Sunday afternoon will also be viewable Monday starting at 8 a.m. ET on RidePass.com or via the RidePass mobile app.
Next week the PBR heads to Chicago for the Chicago Invitational, January 12-13. Action from Allstate Arena begins on Saturday, January 12 at 6:45 p.m. CT and Sunday, January 13 at 1:45 p.m. CT. Both airing on CBS Sports Network, Round 1 will be seen at 10:00 p.m. ET on Saturday, while Round 2 and the championship round will be televised on Sunday at 8:00 p.m. ET.
In other PBR action this weekend, Joe Frost (Randlett, Utah) won the Velocity Tour's Oakland Classic inside Oracle Arena Saturday night.
Following an 85.5-point ride aboard Bit A Bad News (Rocking Forty-Five Cattle) in Round 1, Frost fired out of the chutes recording the highest score of the championship round with 87.5 points aboard High Razor (Humpz & Hornz). The win, recorded at his career-first Velocity Tour appearance, earned him 170 world points and a $6,100 paycheck.
In addition to winning the very first PBR event of his career, the Utah cowboy has also earned an invite to the upcoming Unleash The Beast Sacramento Invitational at the Golden 1 Center on January 25-27.
PBR Unleash The Beast
Monster Energy Buck Off at the Garden, presented by Ariat
Madison Square Garden - New York City, New York
Event Leaders (Round 1-Round 2-Round 3-Round 4-Event Aggregate-Event Points)
Jess Lockwood, 88.25-86.5-85-91.75-351.50-895 Points.
2. Claudio Montanha Jr., 86.25-84-84.75-89.25-344.25-405 Points.
3. Cannon Cravens, 88.25-0-86-89.75-264.00-325 Points.
4. Alisson De Souza, 85.5-82.25-85.5-86.75-340.00-245 Points.
5. Matt Triplett, 86.25-0-86.5-88.75-261.50-225 Points.
6. Chase Outlaw, 87.25-84.5-87.25-0-259.00-215 Points.
7. Cody Jesus, 82.25-84.75-87.25-0-254.25-110 Points.
8. Stetson Lawrence, 82-87.25-83.75-0-253.00-105 Points.
(tie). Emilio Resende, 82.5-87.25-0-0-169.75-105 Points.
10. Rubens Barbosa, 0-86.75-0-0-86.75-60 Points.
(tie). Francisco Morales, 0-0-86.75-0-86.75-60 Points.
12. Luciano De Castro, 85-84-0-88-257.00-55 Points.
13. Colten Jesse, 0-86.5-0-0-86.50-45 Points.
14. Ryan Dirteater, 0-0-86.25-0-86.25-40 Points.
15. Cody Teel, 86-0-85.5-85.5-257.00-35 Points.
16. Cody Nance, 86-81.75-0-0-167.75-20 Points.
17. Keyshawn Whitehorse, 79.25-86.25-0-0-165.50-15 Points.
(tie). Ramon de Lima, 82-84.75-0-86.5-253.25-15 Points.
19. Tanner Byrne, 0-86.25-0-0-86.25-10 Points.
(tie). J.B. Mauney, 0-86.25-0-0-86.25-10 Points.
21. Eduardo Aparecido, 0-85.75-85.25-0-171.00-5 Points.
22. Marco Antônio Eguchi, 72.25-83.5-0-0-155.75
23. Sean Willingham, 0-84.5-0-0-84.50
24. Jose Vitor Leme, 83.75-0-0-0-83.75
25. Chase Robbins, 83.5-0-0-0-83.50
26. Lonnie West, 83.25-0-0-0-83.25
27. Brennon Eldred, 83-0-0-0-83.00
28. Nathan Burtenshaw, 0-82.25-0-0-82.25
Ezekiel Mitchell, 0-0-0-0-0.00
Dakota Buttar, 0-0-0-0-0.00
Silvano Alves, 0-0-0-0-0.00
Derek Kolbaba, 0-0-0-0-0.00
Cooper Davis, 0-0-0-0-0.00
Fabiano Vieira, 0-0-0-0-0.00
João Ricardo Vieira, 0-0-0-0-0.00
Alex Marcilio, 0-0-0-0-0.00
Koal Livingston, 0-0-0-0-0.00
2019 PBR World Standings
(Place, Rider, Events, Wins, Top 5's, Points, Total Winnings)
Jess Lockwood, 3, 1, 2, 977.50, $122,850.00
Claudio Montanha Jr., 2, 0, 1, 405.00, $20,100.00
Jose Vitor Leme, 3, 2, 2, 345.00, $14,700.00
Cannon Cravens, 2, 0, 1, 332.50, $23,340.00
Rubens Barbosa, 6, 0, 3, 282.50, $22,120.80
Aaron Kleier, 4, 1, 3, 280.00, $12,846.97
Chase Outlaw, 3, 1, 1, 260.00, $22,427.32
Alisson De Souza, 1, 0, 1, 245.00, $6,925.50
Ezekiel Mitchell, 4, 1, 2, 240.00, $7,690.00
Matt Triplett, 2, 0, 1, 225.00, $11,100.00
Jason Mara, 2, 1, 1, 170.00, $6,870.83
Joe Frost, 1, 1, 1, 170.00, $6,100.00
Mason Lowe, 4, 0, 3, 150.00, $9,901.31
Lucas Divino, 5, 1, 2, 140.00, $14,847.65
Cliff Richardson, 2, 0, 1, 130.00, $8,456.88
Ouncie Mitchell, 4, 0, 2, 130.00, $6,416.02
Guilherme Marchi, 1, 1, 1, 120.00, $6,183.57
Cody Teel, 2, 0, 1, 117.50, $6,958.50
Cody Jesus, 1, 0, 0, 110.00, $8,350.00
Stetson Lawrence, 2, 0, 0, 105.00, $7,600.00
Emilio Resende, 1, 0, 0, 105.00, $7,600.00
Kache Moosman, 6, 0, 1, 100.00, $4,610.92
Brennon Eldred, 3, 0, 1, 95.00, $5,250.00
Troy Wilkinson, 2, 0, 1, 90.00, $5,680.83
Cody Nance, 2, 0, 1, 80.00, $4,500.00
Dakota Buttar, 3, 0, 1, 70.00, $5,769.32
Austin Richardson, 5, 0, 1, 70.00, $4,036.60
João Marcelo G. Santos, 1, 0, 1, 70.00, $4,492.75
River Stephenson, 3, 1, 1, 70.00, $6,686.50
Justin Granger, 3, 0, 1, 65.00, $2,320.00
Dayton Johnston, 5, 1, 1, 60.00, $4,172.79
Jordan Hansen, 4, 1, 1, 60.00, $3,940.18
Francisco Morales, 3, 0, 0, 60.00, $4,475.00
Luciano De Castro, 2, 0, 0, 55.00, $1,000.00
Silvano Alves, 2, 0, 1, 55.00, $3,700.00
Brady Fielder, 1, 0, 1, 55.00, $3,470.83
Jake Lockwood, 3, 0, 1, 52.50, $5,079.34
Eduardo Aparecido, 2, 0, 1, 50.00, $2,600.00
Colten Jesse, 2, 0, 0, 46.66, $3,285.22
Ruger Piva, 3, 1, 1, 45.00, $9,911.41
Ryan Dirteater, 1, 0, 0, 40.00, $2,400.00
Brock Radford, 1, 0, 1, 40.00, $2,509.96
Jared Parsonage, 4, 0, 2, 40.00, $4,001.37
Justin Paton, 4, 1, 1, 40.00, $5,566.77
Ednélio Rodrigues Almeida, 1, 0, 1, 40.00, $3,888.89