Team Canada Sixth at 2019 PBR Global Cup USA
By: Kacie Albert Sunday, February 10, 2019 @ 6:37 PM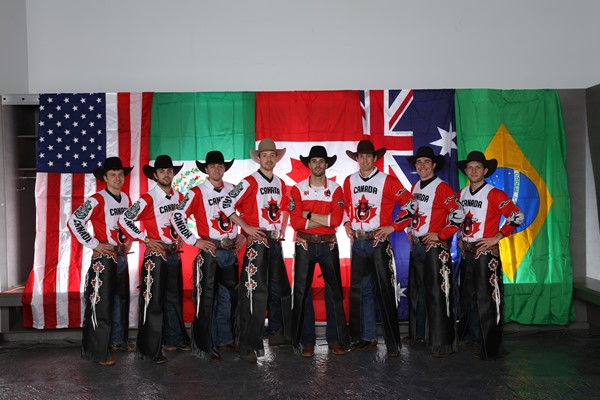 ARLINGTON, Texas – Going a collective 3-for-18, Team Canada finished sixth at the 2019 WinStar World Casino and Resort PBR Global Cup, presented by Monster Energy.
Earning a collective 258 points, the team will return to Canada with $39,500.
The Canuck contingent added two scores to their total on Sunday afternoon, with Jordan Hansen (Okotoks, Alberta) marked 85 points on Check It Out (Dakota Rodeo/Chad Berger/Clay Struve), and Dakota Buttar (Kindersley, Saskatchewan) riding Accelerator (TNT Rodeo Co.) for 86 points.  Hansen, who made his Global Cup debut in Texas, was Team Canada's top performer, going 2-for-4.
For the second consecutive edition of the PBR (Professional Bull Riders) Global Cup, Team Brazil was crowned the top bull riding nation in the world.
Coach Renato Nunes (Buritama, Brazil), who previously hoisted the Australian horn from the glittering Global Cup trophy in Sydney in June 2018, once again claimed another nation's soil, taking Team USA's dirt from AT&T Stadium in Arlington, Texas.
Team Brazil collectively went 11-for-18 to amass 939.25 points as the two-day, five-nation tournament went down to the final two rides.
The South American contingent was led by a perfect Eduardo Aparecido (Gouvelandia, Brazil) who went 3-for-3. After recording two rides on the opening night of the inaugural edition of the "Olympics of Bull Riding" on U.S. soil, Aparecido continued his flawless performance inside the home of the NFL's Dallas Cowboys when he covered Stone Cold Crazy (Hodges/Shuler) for 84.25 points in Round 2.
On the heels of recording the first-ever 90-point ride at a PBR Global Cup, Jose Vitor Leme (Ribas de Rio Pardo, Brazil) added another score to the nation's total in Sunday afternoon's opening round, marked 89.25 points on Biker Bob (Dakota Rodeo/Chad Berger/Clay Struve/H&C Bucking Bulls). Overall, Leme went 2-for-4 in the Lone Star State.
Alternate Joao Ricardo Vieira (Itatinga, Brazil) was called into action after Kaique Pacheco (Itatiba, Brazil) was unable to compete due to a sore knee.  Seizing the moment, Vieira made the 8 on Lefty (Bill Henson/Gene Owen) for 86.5 points.
The final rider to record a ride for the nation on the final night of the international bull riding spectacle was national standings qualifier Bruno Scaranello (General Salgado, Brazil). He covered Trouble Maker (Bronco's Bucking Bulls) for 83.75 points to also remain perfect in Arlington, going a collective 2-for-2.
In addition to claiming the U.S. soil encapsulated inside the nation's horn from the Global Cup trophy, Team Brazil earned $365,100.
Team USA-Eagles finished second, led by individual aggregate winner Cooper Davis (Jasper Texas). The home nation contingent fell 72.25 points short of defending their home soil. Overall, the Eagles went 10-for-18, earning 867 points.
After going 2-for-2 on the opening night, Davis continued the momentum in Round 2, riding Blue Stone (Dakota Rodeo/Chad Berger/Clay Struve) for 88 points. While he was unable to cover his final bull, Bad Beagle (Phenom Gentics/Spurs West LLC/Sankey Pro Rodeo), Davis finished 4.75 points ahead of Team USA-Wolves rider Ryan Dirteater (Hulbert, Oklahoma; Cherokee) to win the $30,000 for the top finishing rider in the individual aggregate.
Other top performers for the nation were: Cody Teel (Kountze, Texas) who went 2-for-3, adding an 87-point trip aboard Gambini (Dakota Rodeo/Julie Rosen/Clay Struve/Chad Berger) in Round 2; and Brennon Eldred (Sulphur, Oklahoma) who delivered a flawless 2-for-2 performance, including an 81-point ride on Tri-County Ford's Coyote (Wallgren & Hale Bull Co./Harrill/Angell/Burns/Wheeler).
Alternate Sage Kimzey (Strong City, Oklahoma), called in to replace 2017 PBR World Champion Jess Lockwood (Volborg, Montana) who suffered a broken collar bone Saturday night, Cody Nance (Paris, Tennessee) and Chase Outlaw (Hamburg, Arkansas) all also added a score to the nation's total on the final night. Kimzey rode Pure Gangster (Wallgren/Hale/ABC/Braun) for 87.75 points, Nance made the 8 on Blue Crush (McCoy Ranches) for 87 points, and Outlaw went the distance aboard Skitso (EVP Bucking Bulls) for 86 points.
For their efforts, the team earned $141,050.
The historic all Native American Team USA-Wolves finished third to earn $88,400 after going 8-for-18 and collecting 691.25 points.
Dirteater led the team with a flawless 3-for-3 showing. On Sunday, the Cherokee Kid first rode Scrappie (TNT Rodeo Co.) for 83.5 points, which he followed with an 89.25-point ride on Bezerk (BMC Bucking Bulls/Jenkins Cattle Co.) in the final bonus round.
Cody Jesus (Window Rock, Arizona; Navajo) also delivered a big ride for the Wolves on Sunday afternoon. The 20-year-old covered Black Rose (Broken Arrow Bucking Bulls) for 88.5 points in Round 2.
Led by Lachlan Richardson (Gresford, New South Wales), Team Australia finished third.
A three-time Team Australia competitor, Richardson recorded his second qualified ride of the event Sunday afternoon in Round 2 when he rode Real Gun (Cord McCoy/Graber/Gallagher) for 88 points.
The eight-man Australian squad leaves Texas with $64,150.
Team Mexico recorded their best finish ever at a Global Cup, concluding the event fifth. Collectively, the team went 4-for-18, totaling 337.75 points, to collect a check for $50,300.
After Alvaro Aguilar Alvarez (La Punta, Mexico) and Jorge Valdiviezo (La Mision, Mexico) put up scores on the first night, 2018 PBR Mexico Champion Francisco Garcia Torres (Sal, Mexico) and two-time PBR Mexico Champion Juan Carlos Contreras (Huichapan, Mexico) added scores of their own on Sunday afternoon. Torres covered Uncle G (Cooper/Scruggs/Braun) for 86.75 points, while Contreras rode Pneu Dart's Ninja Kicks (Cord McCoy/Lane Frost Brand) for 80.5 points.
Following Team Brazil's on-dirt celebration, PBR CEO Sean Gleason announced that the Global Cup would return to AT&T Stadium in 2020.
Fans can relive all the action from the 2019 WinStar World Casino and Resort PBR Global Cup USA, presented by Monster Energy, starting tomorrow at 8:00 a.m. EST on RidePass.
2019 WinStar World Casino and Resort PBR Global Cup USA, presented by Monster Energy
Arlington, Texas – AT&T Stadium
(Rides – Outs – Event Aggregate-Payout)
Team Brazil, 11-18-939.25-$365,100
Team USA-Eagles, 10-18-867-$141,050
Team USA-Wolves, 8-18-691.25-$88,400
Team Australia, 6-18-514.25-$64,150
Team Mexico, 4-18-337.75-$50,300
Team Canada, 3-18-258-$39,500
2019 WinStar World Casino and Resort PBR Global Cup USA, presented by Monster Energy
Arlington, Texas – AT&T Stadium
Event Leaders (Round 1-Round 2-Round 3-Round 4-Round 5-Event Aggregate-Event Points)
1. Cooper Davis, 85.75-89.5-88-0-0-263.25
2. Ryan Dirteater, 85.75-0-83.5-89.25-0-258.50
3. Eduardo Aparecido, 82-88.5-84.25-0-0-254.75
4. Jose Vitor Leme, 0-90-89.25-0-0-179.25
5. Cody Teel, 89-0-87-0-0-176.00
6. Cody Jesus, 87-0-88.5-0-0-175.50
7. Lachlan Richardson, 86.75-0-88-0-0-174.75
8. Jordan Hansen, 0-87-85-0-0-172.00
9. Bruno Scaranello, 87.5-0-83.75-0-0-171.25
10. Brennon Eldred, 86-0-81-0-0-167.00
11. Sage Steele Kimzey, 0-0-87.75-0-0-87.75
12. Cannon Cravens, 87-0-0-0-0-87.00
(tie). Cody Nance, 0-0-87-0-0-87.00
14. Francisco Garcia Torres, 0-0-86.75-0-0-86.75
15. João Ricardo Vieira, 0-0-86.5-0-0-86.50
(tie). Cody Heffernan, 0-0-86.5-0-0-86.50
17. Chase Outlaw, 0-0-86-0-0-86.00
(tie). Dakota Buttar, 0-0-86-0-0-86.00
19. Alvaro Aguilar Alvarez, 85.75-0-0-0-0-85.75
20. Colten Jesse, 0-0-85.25-0-0-85.25
(tie). Brady Fielder, 0-0-85.25-0-0-85.25
22. Stetson Lawrence, 85-0-0-0-0-85.00
(tie). Cliff Richardson, 0-0-85-0-0-85.00
(tie). Fernando Henrique Novais, 85-0-0-0-0-85.00
25. Jorge Valdiviezo, 84.75-0-0-0-0-84.75
26. Kaique Pacheco, 83.5-0-0-0-0-83.50
27. Aaron Kleier, 82.75-0-0-0-0-82.75
28. Juan Carlos Contreras, 0-0-80.5-0-0-80.50
29. Marco Antônio Eguchi, 79-0-0-0-0-79.00
Jess Lockwood, 0-0-0-0-0-0.00
Claudio Montanha Jr., 0-0-0-0-0-0.00
Derek Kolbaba, 0-0-0-0-0-0.00
Jason Mara, 0-0-0-0-0-0.00
Tanner Byrne, 0-0-0-0-0-0.00
Kurt Shephard, 0-0-0-0-0-0.00
Justin Granger, 0-0-0-0-0-0.00
Keyshawn Whitehorse, 0-0-0-0-0-0.00
Francisco Morales, 0-0-0-0-0-0.00
Jared Parsonage, 0-0-0-0-0-0.00
Justin Paton, 0-0-0-0-0-0.00
Zane Lambert, 0-0-0-0-0-0.00
Lonnie West, 0-0-0-0-0-0.00
Aaron Roy  [2], 0-0-0-0-0-0.00
Aaron Roy  [1], 0-0-0-0-0-0.00
Edgar Durazo, 0-0-0-0-0-0.00
Esteban Bustamante Salcido, 0-0-0-0-0-0.00
Wacey Finkbeiner, 0-0-0-0-0-0.00
Luis Escobedo, 0-0-0-0-0-0.00