Byrne Fifth in Oklahoma City
By: Kacie Albert Sunday, February 3, 2019 @ 4:51 PM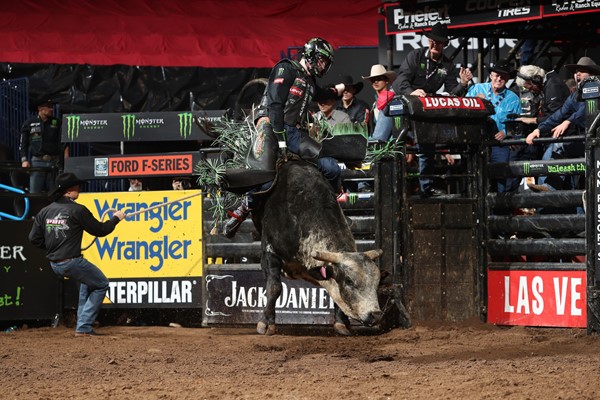 OKLAHOMA CITY, Okla. – Inside Oklahoma City's Chesapeake Energy Arena, Tanner Byrne (Prince Albert, Saskatchewan) led the Canadian contingent, going 2-for-3 to finish fifth at the PBR (Professional Bull Riders) Unleash The Beast Express Ranches Invitational.
After he was unable to make the 8 on his Round 1 draw, dispatched by Good Night Robicheaux (Dakota Rodeo/Berger/Struve/Willow/Samford) in 2.31 seconds, Byrne was flawless on the final day of action for the two-night event.
He began his perfect Saturday performance with a 77.25-point ride on Locked & Loaded (Bill Henson/Gene Owen), which he followed with 85.75 points on Chain Smoker (Broken Arrow Bucking Bulls) in the championship round.
For his efforts, Byrne collected a check for $5,545 in addition to 145 world points. His second Top-10 finish of the season propelled him 34 spots in the world rankings. He is now No. 28 in the world after beginning the event ranked No. 62.
While Byrne was joined by fellow Canadians Dakota Buttar (Kindersley, Saskatchewan) and Lonnie West (Cadogan, Alberta) in the draw, neither recorded a qualified ride.
The nearly sold-out crowd inside Oklahoma City's Chesapeake Energy Arena went wild Saturday night when Oklahoma's own Ryan Dirteater (Hulbert) tallied 91 points in the championship round to go back-to-back in his home state and win the event for the second consecutive year.
Dirteater's massive, victory-sealing ride came aboard Big Black (K-C Bucking Bulls/Joe & Nina Webb), marking just the second time in his career that the big, black bovine has ever been ridden. In going 3-for-3, the Cherokee Kid earned his first victory of the 2019 season.
On his first bull of the night, Dirteater covered Bandit (Halpain & Roth) for 86 points to finish fourth in Round 2.
"Man, I just can't believe it," Dirteater said. "I could really feel the crowd behind me. I think I have like a thousand friends and family here, everyone probably wants to be related to me tonight. It feels really good to go back-to-back here in Oklahoma City."
For the victory, Dirteater earned 600 world points and $39,361. The win catapulted him up the world rankings, from No. 21 at the start of the event to No. 5.
Click here to watch Dirteater's winning ride.
The only other rider to go 3-for-3 was Luciano De Castro (Guzolandia, Brazil) who finished second. De Castro covered Smooth Over (DT Bucking Bulls/Hart Cattle Co.) for 85.75 points in Round 2 before taking on Prayer Warrior (Halpain & Roth) as his final bull of the night for a score of 86.25 points.
The runner-up finish, his best of the season, vaulted De Castro to No. 6 in the world. He leaves the Sooner State with 342.5 world points and $17,086.
2017 PBR World Champion Jess Lockwood (Volborg, Montana) finished in third place after making the whistle on Stunt Man Ray (Broken Arrow Bucking Bulls) in the championship round for 89.5 points.
The No. 1 bull rider in the world earned 290 points towards the world standings along with $14,211. As the Oklahoma City event came to a close Lockwood leads the world standings, a mere 967 points ahead of No.2 ranked man Joao Ricardo Vieira (Itatinga, Brazil). 
Despite bucking off both his bulls on Saturday night, Arizona's Cody Jesus (Window Rock) finished fourth with 165 points and $9,191.
The YETI "Built for the Wild" Bull of the Event was Fearless (D&H Cattle/Buck Cattle/Julian) who dispatched Lockwood in 2.75 seconds during the 15/15 Bucking Battle to earn a 46-point bull score.
Fans will be able to watch the action in its entirety at PBR.com/ondemand. Action from Round 2 and the Championship Round can be seen starting at 8:00 a.m. ET on Sunday, February 3.
The PBR Unleash The Beast will take a one week break as the league prepares to travel to Arlington Texas and AT&T Stadium for the WinStar World Casino & Resort PBR Global Cup USA, presented by Monster Energy. The event will be on Saturday, February 9 at 6:45 p.m. CT and Sunday, February 10 at 12:45pm CT.
In other PBR action this weekend, a Canadian athlete also recorded a Top-10 finish on the Pendleton Whisky Velocity Tour. Cawl Braithwaite (Bluffton, Alberta) finished sixth at the Grand Rapids Classic in Grand Rapids, Michigan. Braithwaite covered Neon Dreams (Cornwell Bucking Bulls) for 84.5 points in Round 1 to earn 20 world pointd and $1,160. 
Scottie Knapp (Edgewood, New Mexico) brought the heat in front of a sold-out crowd on Saturday night as he won the Michigan event.

Following an 82.5-point ride aboard Southern Charm (New Frontier Rodeo) in Round 1, the crowd inside Van Andel Arena erupted as the New Mexico cowboy rocketed from the chutes recording the highest score of the championship round with 88 points aboard Bandit (Mike Miller Bucking Bulls). The win earned him 170 world points and a $6,200 paycheck.

Every winner of a Pendleton Whisky Velocity Tour event has an opportunity to compete at an Unleash The Beast series event, and with the victory in Grand Rapids, Knapp will go to Los Angeles for the Iron Cowboy, presented by Ariat, on Feb. 22-23 at STAPLES Center.
In front of an electric crowd at Thompson-Boling Arena, Dylan Smith (Ararat, Virginia) captured his career-first Pendleton Whisky Velocity Tour event win, victorious at Saturday night's Knoxville Invitational.

The 19-year-old's win was highlighted by a Round 1 best 89 points atop Switch Hitter (Winston Bucking Bulls/Melton Bull Co.).
For his efforts, Smith collected 220 points, in addition to a check for $6,400. He also earned an invite to compete on the elite tour at the Unleash The Beast's Iron Cowboy, presented by Ariat, in Los Angeles at the STAPLES Center on Feb. 22-23.
The Knoxville event also included a Canadian competitor. Shay Marks (Sunny Book, Alberta) finished 17th after riding Bout Time (UTC/Sellers Bucking Bulls) for 81 points in Round 1. 
Pendleton Whisky Velocity Tour
Grand Rapids Event Results
Name, Round 1-Round 2-Aggr. Score-Total Points-Money Earned
1. Scottie Knapp, 82.5-88-170.50-170 Points.
2. Caic Cassio Carvalho, 83.5-85.5-169.00-90 Points.
3. Ueberson Duarte, 82.5-84.5-167.00-55 Points.
4. Jake Lockwood, 86-0-86.00-70 Points.
5. Eli Byler, 85-0-85.00-40 Points.
6. Cawl Braithwaite, 84.5-0-84.50-20 Points.
7. Rafael Marcelino de Montanha, 83.5-0-83.50-5 Points.
8. Mason Taylor, 83-0-83.00
9. Allen Burkholder, 82-0-82.00
10. Taylor Toves, 81.5-0-81.50
11. Marcus Mast, 81-0-81.00
Pendleton Whisky Velocity Tour
Knoxville Invitational
Thompson-Boling Arena – Knoxville, Tennessee
Event Leaders (Round 1-Round 2-Event Aggregate-Event Points)
1. Dylan Smith, 89-0-89.00-220 Points.
2. Ouncie Mitchell, 88-0-88.00-115 Points.
3. Jason Mara, 87.5-0-87.50-65 Points.
4. Bryan Titman, 86.5-0-86.50-20 Points.
5. Lindomar Lino, 86-0-86.00-15 Points.
6. Cody Casper, 85.5-0-85.50-10 Points.
7. J.T. Pettitt, 85-0-85.00-5 Points.
8. Kurt Shephard, 84.5-0-84.50
(tie). Brady Fielder, 84.5-0-84.50
(tie). Michael Lane, 84.5-0-84.50
11. Tye Chandler, 84-0-84.00
12. Luis Blanco, 83.5-0-83.50
(tie). Andrew Alvidrez, 83.5-0-83.50
14. Ryan Essenpreis, 83-0-83.00
15. Junio Quaresima, 82.5-0-82.50
16. Cody Clint Brewer, 82-0-82.00
17. Shay Marks, 81-0-81.00
PBR Unleash The Beast
Express Ranches Invitational
Chesapeake Energy Arena, Oklahoma City, Oklahoma
Event Leaders (Round 1-Round 2-Round 3-Event Aggregate-Event Points)
1. Ryan Dirteater, 87.25-86-91-264.25-600 Points.
2. Luciano De Castro, 82-85.75-86.25-254.00-342.5 Points.
3. Jess Lockwood, 86-0-89.5-175.50-290 Points.
4. Cody Jesus, 88.25-0-0-88.25-165 Points.
5. Tanner Byrne, 0-77.25-85.75-163.00-145 Points.
6. Chase Outlaw, 0-86.75-0-86.75-112.5 Points.
(tie). Cody Teel, 0-86.75-0-86.75-112.5 Points.
8. Colten Jesse, 0-86.5-0-86.50-65 Points.
9. João Ricardo Vieira, 82.5-0-0-82.50-45 Points.
10. Emilio Resende, 0-85.75-0-85.75-32.5 Points.
11. Alex Marcilio, 68-0-0-68.00-20 Points.
12. Lucas Divino, 0-83.75-0-83.75-15 Points.
Jose Vitor Leme, 0-0-0-0.00
Rubens Barbosa, 0-0-0-0.00
Silvano Alves, 0-0-0-0.00
Alisson De Souza, 0-0-0-0.00
Danilo Carlos Sobrinho, 0-0-0-0.00
Cannon Cravens, 0-0-0-0.00
Brennon Eldred, 0-0-0-0.00
Ruger Piva, 0-0-0-0.00
Cody Nance, 0-0-0-0.00
Derek Kolbaba, 0-0-0-0.00
Ezekiel Mitchell, 0-0-0-0.00
Dakota Buttar, 0-0-0-0.00
Stetson Lawrence, 0-0-0-0.00
Koal Livingston, 0-0-0-0.00
Sean Willingham, 0-0-0-0.00
Paulo Ferreira Lima, 0-0-0-0.00
Ramon de Lima, 0-0-0-0.00
J.B. Mauney, 0-0-0-0.00
Keyshawn Whitehorse, 0-0-0-0.00
Eduardo Aparecido, 0-0-0-0.00
Lonnie West, 0-0-0-0.00
Cody Heffernan, 0-0-0-0.00
Lachlan Richardson, 0-0-0-0.00
Dakota Louis, 0-0-0-0.00
Esteban Bustamante Salcido, 0-0-0-0.00
2019 Professional Bull Riders PBR Unleash The Beast World Standings
(Place, Rider, Events, Wins, Top 5's, Points, Total Winnings)
1. Jess Lockwood, 10, 2, 6, 2,097.50, $192,501.92
2. João Ricardo Vieira, 9, 2, 2, 1,130.00, $76,241.11
3. Jose Vitor Leme, 9, 2, 5, 995.00, $54,930.00
4. Chase Outlaw, 10, 1, 2, 872.50, $52,918.98
5. Ryan Dirteater, 5, 1, 2, 835.00, $51,931.67
6. Luciano De Castro, 7, 0, 2, 772.50, $37,836.67
7. Cody Jesus, 7, 1, 3, 663.33, $43,221.67
8. Claudio Montanha Jr., 8, 0, 2, 560.00, $28,669.44
9. Rubens Barbosa, 12, 0, 5, 542.50, $38,834.14
10. Silvano Alves, 9, 0, 2, 485.00, $27,374.44
11. Lucas Divino, 11, 1, 3, 475.00, $27,955.99
12. Aaron Kleier, 7, 2, 4, 455.00, $21,046.97
13. Alisson De Souza, 8, 1, 2, 452.50, $16,545.50
14. Danilo Carlos Sobrinho, 6, 1, 3, 432.50, $25,953.35
15. Cannon Cravens, 6, 0, 1, 335.00, $24,950.00
16. Brennon Eldred, 11, 0, 3, 305.00, $31,392.57
17. Cooper Davis, 5, 0, 1, 300.00, $15,333.33
18. Ruger Piva, 8, 2, 2, 257.50, $16,431.41
19. Cody Nance, 9, 1, 2, 255.00, $32,407.25
20. Ouncie Mitchell, 8, 0, 3, 245.00, $11,116.02
21. Derek Kolbaba, 9, 1, 1, 240.00, $74,552.69
21. Ezekiel Mitchell, 9, 1, 2, 240.00, $8,490.00
23. Jason Mara, 3, 1, 2, 235.00, $9,870.83
24. Cody Teel, 7, 0, 1, 230.00, $13,648.50
25. Matt Triplett, 5, 0, 1, 225.00, $11,900.00
26. Dylan Smith, 5, 1, 1, 220.00, $6,400.00
27. Daniel Tinsman, 6, 1, 1, 215.00, $7,650.00
28. Tanner Byrne, 5, 0, 1, 210.00, $9,957.84
28. Scottie Knapp, 8, 1, 4, 210.00, $12,367.99
30. Marcus Mast, 5, 1, 2, 200.00, $9,022.72
31. Dakota Buttar, 8, 0, 2, 190.00, $13,752.66
32. Emilio Resende, 5, 0, 0, 177.50, $11,900.00
33. Colten Jesse, 6, 0, 0, 176.66, $13,580.22
34. Joe Frost, 4, 1, 1, 172.50, $7,514.46
35. Juan Carlos Contreras, 7, 0, 1, 170.00, $9,630.00
35. Alan de Souza, 5, 1, 1, 170.00, $7,900.00
35. Shay Marks, 2, 1, 1, 170.00, $7,100.00
38. Stetson Lawrence, 8, 0, 0, 163.33, $11,700.00
39. Mason Taylor, 4, 0, 1, 155.00, $5,980.00
40. Mason Lowe, 6, 0, 3, 150.00, $9,901.31
41. Koal Livingston, 6, 0, 0, 140.00, $9,744.47
41. Sean Willingham, 6, 0, 1, 140.00, $8,625.00
43. Cliff Richardson, 3, 0, 1, 130.00, $8,456.88
43. Kurt Shephard, 8, 0, 4, 130.00, $9,947.31
45. Chandler Bownds, 4, 0, 1, 127.50, $17,675.91