Dakota Buttar Ties for Ninth in Round 1 of Jack Daniel's Music City Knockout, presented by Cooper Tires
By: Kacie Albert Saturday, August 24, 2019 @ 11:10 PM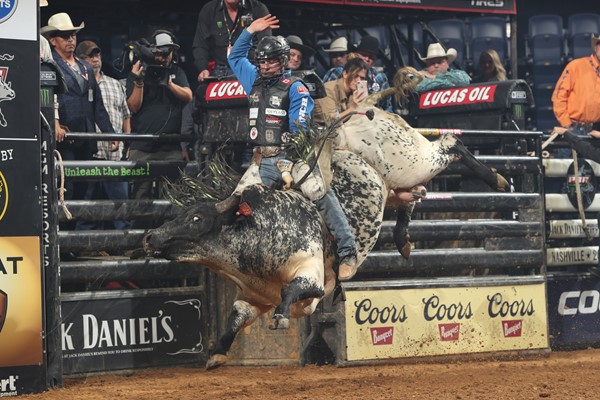 NASHVILLE, Tennessee – As he looks to become the first Canadian to win a PBR Unleash The Beast Major in league history, Dakota Buttar (Kindersley, Saskatchewan) advanced to Round 2 of the Jack Daniel's Music City Knockout, presented by Cooper Tires, Saturday night after tying for ninth in the opening round.
The 26-year-old's qualified ride was earned aboard Newsom (D&H Cattle Co./444 Bucking Bulls) for 85.5 points.
For Buttar, the draw was a familiar opponent. In the bovine athlete's last out on record, Buttar covered him for 85 points during Round 2 of April's Unleash The Beast event in Billings, Montana.
In addition to punching his ticket to Round 2, Buttar also earned 5 world points.
The draw also featured three additional Canadians: Shay Marks (Sunnybrook, Alberta), Brock Radford (De Winton, Alberta) and Lonnie West (Cadogan, Alberta).
All three were dispatched prior to the whistle. Marks was bested by Red Snapper (Dakota Rodeo/Chad Berger/Clay Struve) in 4.81 seconds, Radford dispatched by Jay Slinger (Rickey West Bucking Bulls) in 6.87 seconds and West bucked off by Cha Ching (D&H Cattle Co./Buck Cattle Co.) in 5.28 seconds.
Bringing the raucous crowd inside Bridgestone Arena to its feet, young gun Dalton Kasel (Muleshoe, Texas) made a splash competing in his first-ever PBR Major, winning Round 1 of the Jack Daniel's Music City Knockout, presented by Cooper Tires.
The 20-year-old rode Kamabugu (BMC Bucking Bulls/Jenkins Cattle Co.) for an elite tour, career-best 89.25 points to surge to an early lead at the Nashville event.
Kasel's second round win of 2019 earned him $10,000 and 125 world points, allowing him to crack into the Top 35, rising from No. 37 to No. 33.
2018 PBR World Finals event winner Marco Eguchi (Poa, Brazil) and new father Michael Lane (Tazewell, Virginia) tied for second after earning matching 87.75-point scores. The duo covered Milky Chance (TNT Bucking Bulls/Hart Cattle Co.) and Heartless (Hart Cattle Co./Hale), respectively.
For their efforts, each rider collected $2,875 and 67.5 world points.
In the world standings, Eguchi climbed from No. 26 to No. 24, while Lane rose from No. 40 to No. 37.
Snapping a four-out buckoff streak, Rookie of the Year contender Ezekiel Mitchell (Rockdale, Texas) concluded the night fourth in Round 1 after riding Coy Dog (Rickey West Bucking Bulls) for 87.25 points.
Netting $1,500 and 50 world points, Mitchell remained No. 18 in the world standings as he looks to qualify for the first PBR World Finals of his career.
Rounding out the Top 5 was Luciano De Castro (Guzolandia, Brazil).
His three-out buckoff streak came to an end when he reached the 8-second buzzer aboard Check It Out (Dakota Rodeo/Chad Berger/Clay Struve) for 87 points.
The 23-year-old Brazilian's fifth-place result in the opening round of the Music City event earned him a quick $1,250, in addition to 40 world points.  He maintained his world No. 7 ranking.
2017 PBR Rookie of the Year Jose Vitor Leme (Ribas Do Rio Pardo, Brazil) and Cody Teel (Kountze, Texas) were the lone two bull riders ranked inside the current world Top 5 to cover their Round 1 opponents.
Leme tied for seventh alongside three-time PBR World Champion Silvano Alves (Pilar do Sul, Brail) after both rode on Saturday night for 86.5 points. Leme rode Crazy Doc (Paradigm Bull Company) while Alves covered Joker (Deer Prairie Creek Bucking Bulls) for his 401st qualified ride on the premier series.
Australians Kurt Shephard (Mareeba, North Queensland) and Nathan Burtenshaw (Coonamble, New South Wales) also inched closer to becoming the first rider from their nation to win a PBR Major.
The Australians covered Sugar Boom Boom (Cornwell Bucking Bulls/Circle G) and Mickey Mouse (Deer Prairie Creek Bucking Bulls), respectively, each earning 5 world points.
Saturday night's Round 1 saw a collective thirteen rides. The remaining riders to advance via a qualified ride were: Matt Triplett (Columbia Falls, Montana) and Dener Barbosa (Paulo de Faria, Brazil).
Also advancing to Round 2 courtesy of their current world ranking were: Jess Lockwood (Volborg, Montana). Chase Outlaw (Hamburg, Arkansas), Joao Ricardo Vieira (Itatinga, Brazil), Cooper Davis (Jasper, Texas), Derek Kolbaba (Walla Walla, Washington), Daylon Swearingen (Piffard, New York), Lucas Divino (Nova Crixas, Brazil), Cody Jesus (Window Rock, Arizona), Stetson Lawrence (Williston, North Dakota), Claudio Montanha Jr. (Pacaembu, Brazil), Mason Taylor (Maypearl, Texas) and Cody Nance (Paris, Tennessee).
The Jack Daniel's Music City Knockout will conclude on Sunday, August 25 starting at 2:45 p.m. CDT. Fans can watch all the action LIVE on CBS starting at 4:00 p.m. EDT, or via the listen LIVE RidePass stream starting at 3:45 p.m. EDT.
Following the 25-rider Round 2, the Top 8 in the aggregate will advance to Round 3, followed by the Top 4 moving on to Round 4. All riders who cover their bull in Round 4 will automatically advance to Round 5. If only one rider reaches the 8-second whistle, one rider will be drawn back based on aggregate.
Round 5 will feature a sudden death style of competition. The overall winner will be the rider with the highest score in the final round. In the event that all riders record the same score, the winner will be the rider with the highest aggregate score. If there is a tie in both the ride score and aggregate score, the event will end in a tie. If all riders buck off in Round 5, the winner will be the rider with the highest aggregate score from all five rounds of competition. Should those riders also be tied in the aggregate, the event will also end in a tie.
The Music City Knockout Champion will earn a minimum of $100,000 and 625 points toward the world standings. The rider who records the highest marked ride will also receive a $26,000 bonus. 
Fans can relive all the action from Round 1 in Nashville staring at 8:00 a.m. EDT on Sunday, August 25 on RidePass, online at RidePass.com or via the mobile app.
PBR Unleash The Beast
Jack Daniel's Music City Knockout, presented by Cooper Tires
Bridgestone Arena – Nashville, Tennessee
Event Leaders (Round 1-Round 2-Round 3-Round 4-Round 5-Event Aggregate-Event Points)
1. Dalton Kasel, 89.25-0-0-0-0-89.25-125 Points.
2. Marco Eguchi, 87.75-0-0-0-0-87.75-67.5 Points.
(tie). Michael Lane, 87.75-0-0-0-0-87.75-67.5 Points.
4. Ezekiel Mitchell, 87.25-0-0-0-0-87.25-50 Points.
5. Luciano De Castro, 87-0-0-0-0-87.00-40 Points.
6. Jose Vitor Leme, 86.5-0-0-0-0-86.50-15 Points.
(tie). Silvano Alves, 86.5-0-0-0-0-86.50-15 Points.
8. Cody Teel, 83.75-0-0-0-0-83.75-5 Points.
(tie). Matt Triplett, 86-0-0-0-0-86.00-5 Points.
(tie). Dakota Buttar, 85.5-0-0-0-0-85.50-5 Points.
(tie). Kurt Shephard, 85.5-0-0-0-0-85.50-5 Points.
(tie). Dener Barbosa, 83.75-0-0-0-0-83.75-5 Points.
(tie). Nathan Burtenshaw, 85.5-0-0-0-0-85.50-5 Points.
Jess Lockwood, 0-0-0-0-0-0.00
Chase Outlaw, 0-0-0-0-0-0.00
João Ricardo Vieira, 0-0-0-0-0-0.00
Cooper Davis, 0-0-0-0-0-0.00
Derek Kolbaba, 0-0-0-0-0-0.00
Daylon Swearingen, 0-0-0-0-0-0.00
Lucas Divino, 0-0-0-0-0-0.00
Cody Jesus, 0-0-0-0-0-0.00
Stetson Lawrence, 0-0-0-0-0-0.00
Claudio Montanha Jr., 0-0-0-0-0-0.00
Mason Taylor, 0-0-0-0-0-0.00
Cody Nance, 0-0-0-0-0-0.00
Brennon Eldred, 0-0-0-0-0-0.00
Alisson De Souza, 0-0-0-0-0-0.00
Rubens Barbosa, 0-0-0-0-0-0.00
Taylor Toves, 0-0-0-0-0-0.00
Eduardo Aparecido, 0-0-0-0-0-0.00
Keyshawn Whitehorse, 0-0-0-0-0-0.00
Scottie Knapp, 0-0-0-0-0-0.00
Danilo Carlos Sobrinho, 0-0-0-0-0-0.00
Dylan Smith, 0-0-0-0-0-0.00
Junio Quaresima, 0-0-0-0-0-0.00
Shay Marks, 0-0-0-0-0-0.00
Ruger Piva, 0-0-0-0-0-0.00
Lonnie West, 0-0-0-0-0-0.00
Brock Radford, 0-0-0-0-0-0.00
Fabiano Vieira, 0-0-0-0-0-0.00