Dakota Buttar Closes in on Canadian No. 1 Ranking with Win in Frog Lake
By: Kacie Albert Monday, August 5, 2019 @ 6:57 PM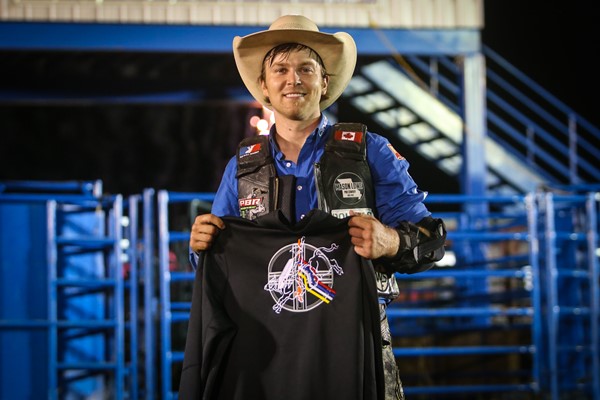 FROG LAKE, Alberta – Two-time Glen Keeley Award winner Dakota Buttar (Kindersley, Saskatchewan) continued his dominant summer run Sunday night, delivering a perfect 2-for-2 performance at the Frog Lake PBR to capture his fourth Canadian event win of the 2019 season.
Buttar's flawless showing at the Frog Lake Rodeo Grounds began in Round 1 when he reached the 8 on Honky Sam (Eno Bucking Bulls) for 85.5 points.
In the championship round, Buttar surged to the top of the leaderboard when he covered OMB Legal Issues (Wilson Rodeo) for an event-best 87.5 points.
The Kindersley native also finished sixth courtesy of a double entry.
The Top 10 effort, his twelfth of the year in Canada, was backed by an 84-point ride on Act Naturally (Thompson Rodeo Livestock) in Round 1.
For his efforts, the 26-year-old left the Alberta event with a check for $4,116.89, in addition to 360 Canadian and 65 world points.
In the Canadian national standings, Buttar maintained his No. 3 ranking, closing the gap on No. 1 Jared Parsonage (Maple Creek, Saskatchewan) to 134.99 points. Buttar also gained ground in the world standings, now ranked No. 28.
Competing on Canadian soil for the first time during the 2019 season on June 8, winning the stop in Moose Jaw, Buttar has now won four of the summer's 13 events, going 20-for-29 (68.97%).
The Kindersley native has skyrocketed from unraked to No. 3 in Canada during the two months' time, on pace to qualify for his fifth career PBR Canada Finals. This season's Canadian Finals will take place on Nov. 22-23 in Saskatoon, Saskatchewan at the SaskTel Centre where the nation's Top 20 riders will contend for the 2019 PBR Canada Championship and $50,000 bonus.
Shay Marks (Sunnybrook, Alberta), another double-entry, finished both second and tied for fourth to collect $3,448.03, 270 Canadian and 42.5 world points.
As the only other rider to go 2-for-2, Marks' runner-up performance included an 83-point ride on Chances (Wild Hoggs Bucking Bulls) in Round 1, and an 87.5-point trip on Tom Petty (Skori Bucking Bulls) in the championship round.
His second Top-5 effort of the event was highlighted by an 84.5-point ride on Original Sin (Thompson Rodeo Livestock) in the opening round.
Much like Buttar, Marks also closed in on No. 1 Parsonage. Remaining No. 2 in Canada, the home province rider is now within 114.99 points of the top spot.
In the world rankings, Marks is now No. 41, 155 points outside of the Top 35 and a berth onto the premier PBR Unleash The Beast.
Winning Round 1 courtesy of an 87-point trip on Time Well Spent (Thompson Rodeo Livestock), Logan Biever (Claresholm, Alberta) finished third. He was unable to contend for the event win due to an arm/elbow injury which relegated him to the sidelines for the championship round.
The finish netted Biever $1731.79, 165 Canadian and 20 world points. He is now ranked No.19 in the PBR Canada national standings.
Tied for fourth alongside Marks was Jake Gardner (Fort St. John, British Columbia), earning him $834.78, 90 Canadian and 12.5 world points.
The British Columbia rider's 84.5-point ride was also seen in Round 1, earned aboard One For the Money (Vold Rodeo).
As he looks to qualify for the second PBR Canada Finals of his career, Gardner continued to climb the national rankings. Now No. 7, he trails No. 1 Parsonage by 1,293.32 points.
The final man to record a qualified ride in Frog Lake, Parsonage finished seventh after reaching the 8 on Tipping Hippy (Wilson Rodeo) for 80 points. He left the event with $238.51 and 20 Canadian points.
Firebeatz (Foley Bucking Bulls) was the high-marked bull of the event, scored 44 points for his 2.33-second buckoff of Buttar in the championship round.
PBR Canada Touring Pro Division action continues on Saturday, August 10 in Elnora, Alberta at the Elnora Ag Grounds for the Elnora Brahma Rama. The event begins at 7:00 p.m. MDT.
Be sure to stay tuned to PBRCanada.com and follow the tour on Facebook (PBR Canada), Twitter (@PBRCanada), and Instagram (@PBRCanada) for the latest results.
PBR Canada Touring Pro Division
Frog Lake, Alberta – Frog Lake Rodeo Grounds
Frog Lake PBR
Event Results (Round 1- Round 2 -Aggr. Score- Money Earned-Canadian Points-World Points)
1. Dakota Buttar, 85.5-87.5-173-$3,805.79-305-60
2. Shay Marks 2, 83-87.5-170.5-$2,613.24-180-30
3. Logan Biever, 87-0-87-$1731.79-165-20
4 (tie). Shay Marks, 84.5-0-84.5-$834.79-90-12.5
Jake Gardner, 84.5-0-84.5-$834.78-90-12.5
6. Dakota Buttar 2, 84-0-84-$311.10-55-5
7. Jared Parsonage, 80-0-80-$238.51-20-0