Two-time Canadian Champion Lambert wins in Marwayne
By: Ted Stovin Monday, April 8, 2019 @ 9:42 AM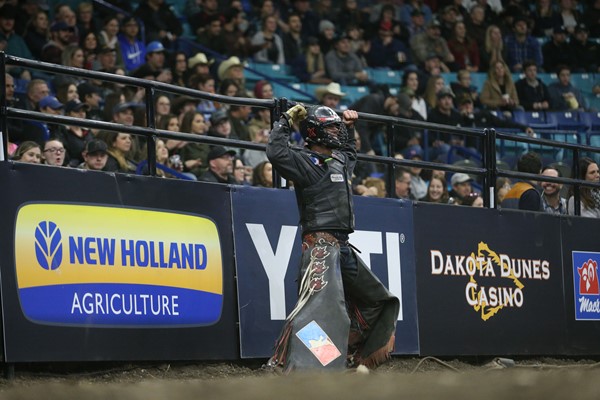 MARWAYNE, Alberta – Zane Lambert (Ponoka, Alberta) rode to his first PBR Canada victory of the 2019 season on Saturday night inside the Marwayne Arena at the Marwayne Touring Pro Division event as one of three riders to go a perfect 2-for-2.
In Round 1, Lambert rode Boomerang from event hosts Wild Hoggs Bucking Bulls for 85.5 points, advancing to the championship round second in the overall event aggregate.
Continuing the momentum, the two-time Canadian Champion rode Wait For It (Thompson Rodeo) for 86.5 points to win the final round and capture the event title.
For his work, Lambert earned $4,073.60, 320 Canadian and 60 world points.
In the Canadian national standings, Lambert rose from No. 9 to No. 4 where he now trails No. 1 Jordan Hansen (Okotoks, Alberta) by 385.41 points. In the world standings, the Ponoka-native also gained notable ground. After beginning the third Touring Pro Division event of the 2019 season No. 103, he is now No. 80.
Brazilian Italo Goncalves finished second to net $2,581.88, 165 Canadian and 30 world points.  
In Round 1 he rode Catch of the Day (Wild Hoggs) 83 points and followed it up with an 85.5-point effort aboard Papa's Rockstar (Vold Rodeo) in the championship round. For his efforts he earned Goncalves ranks No. 16 in Canada after Marwayne.
As the final rider to go a perfect 2-for-2, 2017 PBR Canada Finals event winner Edgar Durazo (Monteczuma, Mexico) was third. After covering Aussie Rules (Wild Hoggs) for 79.5 points in the first round, he made the 8 on Son of Odin (Wild Hoggs) for 84 points in the championship round.
Durazo collected $1,606.51, 125 Canadian and 20 world points for the Top 5 effort. In the Canadian national standings he is now No. 15, rising seven positions from No. 22.
In fourth was Defending event champion Wyatt Gleeson (Sundre, Alberta) who won Round 1 courtesy of his 86-point trip on Done Talking (Eno Bucking Bulls).
The home province cowboy left Marwayne with $1,491.75, 140 Canadian and 15 world points.  Gleeson notably rose 10 positions in the national standings, now the No. 14-ranked rider in Canada.  
Rounding out the Top 5 were three men, Hansen, Shay Marks (Sunnybrook, Alberta) and 2018 Calgary Stampede Champion Marcos Gloria (Central de Minas, Brazil), who were all marked 84 points in Round 1.
Hansen rode Gordy Blue (Eno Bucking Bulls), while Marks covered Age Crazy (Thompson Rodeo) and Gloria reached the whistle aboard Blockbuster (Wild Hoggs).
Each man in the trio pocketed more than $520, while also taking home 51.66 Canadian and 5 world points.
Hansen and Marks their standing in the national rankings, currently No. 1 and No. 3, respectively, while Gloria rose one spot to No. 17.  
Homegrown (Eno Bucking Bulls) was the high-marked bull of the event for his buckoff of Lonnie West (Cadogan, Alberat) in the championship round.
PBR Canada's Touring Pro Division next travels to Brooks, Alberta and Silver Sage Arena on Saturday, April 27 for the Brooks Black Gold PBR. Action gets underway at starting at 7:00 p.m. MDT.
Stay tuned in to PBRCanada.com and follow the tour on Facebook (PBR Canada), Twitter (@PBRCanada), and Instagram (@PBRCanada) for the latest results, news, stats and more.
PBR Canada Touring Pro Division
Marwayne, Alberta – Marwayne Arena
Event Results (Round 1- Round 2 -Aggr. Score- Money Earned-Canadian Points-World Points)
1. Zane Lambert, 85.5-86.5-172-$4,073.60-320-60
2. Italo Goncalves, 83-85.5-168.5-$2,581.88-165-30
3. Edgar Durazo, 79.5-84-163.5-$1,606.51-125-20
4. Wyatt Gleeson, 86-0-86-$1,491.75-140-15
5T. Jordan Hansen, 84-0-84-$520.20-51.66-5
5T. Shay Marks, 84-0-84-$520.20-51.66-5
5T. Marcos Gloria, 84-0-84-$520.20-51.66-5
8. Fabian Dueck, 82.5-0-82.5-15-0
9. Lonnie West, 82-0-82
10. Jared Parsonage, 81.5-0-81.5