Edgar Durazo Victorious in Brooks
By: Kacie Albert Monday, April 29, 2019 @ 10:45 AM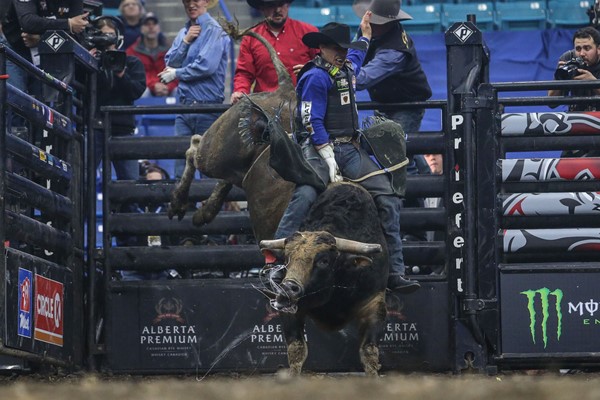 BROOKS, Alberta – As one of three riders to deliver a flawless performance inside the Silver Sage Community Corral, Edgar Durazo (Moctezuma, Mexico) used a Round 1 victory to propel him to the event win Saturday night in Brooks, Alberta at the Brooks Black Gold PBR, part of the Touring Pro Division.
Beginning the event on a strong note, Durazo recorded the tops marks in the first round after making the 8 aboard Heaven's Basement (Vold Rodeo) for 86.5 points.
The 27-year-old continued the momentum in the championship round, riding Hell's Bells (Wilson Rodeo) for a second-best 88 points.
Compliments of the event win, Durazo earned a check for $3,922.75 along with 320 Canadian and 60 world points. He is now No. 7 in the Canadian national standings, after beginning the event No. 15, 495.83 points behind No. 1 Jordan Hansen (Okotoks, Alberta).
Marcos Gloria (Central de Minas, Brazil) concluded the event second, collecting $2,983.50 along with 230 Canadian and 30 world points.
Following his 84-point ride on Hillbilly Heaven (Wilson Rodeo) in Round 1, Gloria won the championship round with an 89.5-point effort atop Origin Malting and Brewing Legal Issues (Wilson Rodeo), his high-marked ride thus far of 2019.
The runner-up finish, his best of the year, propelled him from No. 16 to No. 8 in the national standings where he now trails the top spot by 595 points.
Amidst one of the best seasons of his career, and the final rider to go a perfect 2-for-2, Dayton Johnston (Milk River, Alberta) was third. In Round 1 he rode Power Show (Vold Rodeo) for 71 points, and covered Throwin' Shade (Flying High Rodeo Co.) for 87 points in the final round.
Johnston left the home province event with $1,547, in addition to 125 Canadian and 20 world points. He rose from No. 20 to No. 13 in the Canadian standings.
In fourth was Logan Biever (Claresholm, Alberta). The 21-year-old's performance was highlighted by an 85-point ride on Honky Sam (Eno Bucking Bulls) in the opening round.
Biever earned $1,270.75 along with 110 Canadian and 15 world points. He is now the No. 12-ranked rider in Canada.
Rounding out the Top 5 were Shane Peters (Delburne, Alberta) and Jared Parsonage (Maple Creek, Saskatchewan) who tied for fifth, each netting $469.63, 67.5 Canadian and 7.5 world points.
Recording matching 82-point scores in Round 1, Peters covered El Camino (Wild Hoggs), while Parsonage made the 8 on Razed Country (Flying High Rodeo Co.).
For Parsonage, the Top 5 finish allowed him to hone in on the No. 1 ranking. While he remains No. 2 in the nation, he now trails No. 1 Hansen by a mere 115 points.
In the bull pen, Crank It Up (Eno Bucking Bulls) was the high-marked bull of the event, for his Championship Round trip against Peters.
PBR Canada is next in action on Saturday, May 4 with the Canadian Monster Energy Tour's Iron Cowboy, presented by Super Sagamie in Québec, Québec at the Videotron Centre.
PBR Canada Touring Pro Division
Brooks, Alberta – Silver Sage Community Corral
Event Results (Round 1- Round 2 -Aggr. Score- Money Earned-Canadian Points-World Points)
1. Edgar Durazo, 86.5-88-174.5-$3,922.75-320-60
2. Marcos Gloria, 84-89.5-173.5-$2,983.50-230-30
3. Dayton Johnston, 71-87-158-$1,547-125-20
4. Logan Biever, 85-0-85-$1,270.75-110-15
5T. Shane Peters, 82-0-82-$469.63-67.5-7.5
5T. Jared Parsonage, 82-0-82-$469.63-67.5-7.5
7. Jackson Scott, 81-0-81-$232.05-20-0
8T. Jackson Scott (2), 79-0-79-$77.35-7.5-0
8T. Zane Lambert, 79-0-79-$77.35-7.5-0
10. Chase Thielen, 78.5-0-78.5-$0-0-0
Wyatt Laughlin, 0-0-0.00-$0-0-0
Warlen Aquino, 0-0-0.00-$0-0-0
Shay Marks, 0-0-0.00-$0-0-0
Jake Gardner, 0-0-0.00-$0-0-0
Fabian Dueck, 0-0-0.00-$0-0-0
Italo Aguilar Goncalves, 0-0-0.00-$0-0-0
Riley Gagnon, 0-0-0.00-$0-0-0
Weston Hartman, 0-0-0.00-$0-0-0
Shane Peters (2), 0-0-0.00-$0-0-0
Todd Chotowetz, 0-0-0.00-$0-0-0
Tim Lipsett, 0-0-0.00-$0-0-0
Michael Ostashek, 0-0-0.00-$0-0-0
Klayton Lakevold, 0-0-0.00-$0-0-0
Jacob Breum, 0-0-0.00-$0-0-0
Ron Hunt, 0-0-0.00-$0-0-0
Aaron Roy, 0-0-0.00-$0-0-0
Fabien Dueck (2), 0-0-0.00-$0-0-0
Cody McPeak, 0-0-0.00-$0-0-0
Italo Aguilar Goncalves (2), 0-0-0.00-$0-0-0
Billy West, 0-0-0.00-$0-0-0