World Champion Cooper Davis Remains atop New York City Event Leaderboard after Round 2
By: Kacie Albert Sunday, January 7, 2018 @ 10:33 AM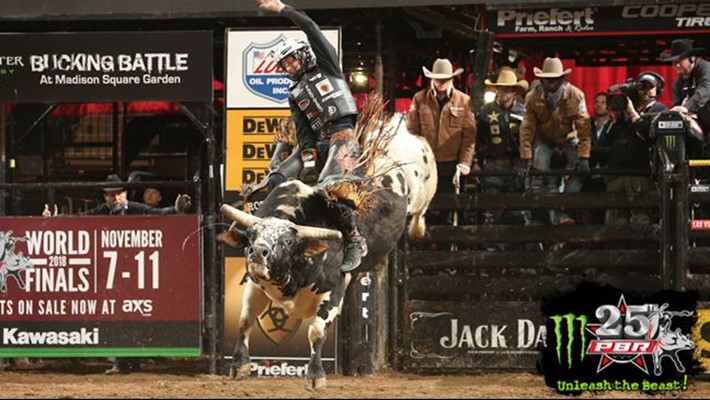 NEW YORK CITY – After Round 2 of action inside "The World's Most Famous Arena," Madison Square Garden, Cooper Davis (Jasper, Texas) remains atop the leader board for the 25th PBR Unleash The Beast Monster Energy Buck Off at the Garden as the only rider to go a perfect 2-for-2.
The 2016 PBR (Professional Bull Riders) World Champion covered Spin Machine (Halpain Bucking Bulls) for 86 points to tie for third on the night and earn $3,250 and 55 world points. 
The second round of the event was won by 2015 PBR Rookie of the Year Kaique Pacheco (Itatiba, Brazil) who made the 8 aboard Little Red Jacket (Halpain & Roth) for 87.5 points. 
Pacheco, who won the first 15/15 Bucking Battle of the season on Friday night, netted $6,500 and 125 points towards the PBR world standings for taking the top spot in the round. He is currently second overall for the weekend.
Second place went to veteran rider Cody Campbell (Summerville, Oregon) who collected $5,000 and 75 world points for the runner-up effort.
The 30-year-old rode Roll of the Dice (Halpain Bucking Bulls) for 86.5 points.
Tied with Davis for third was Claudio Montanha Jr. (Ribeirão dos Indios, Brazil).
Amid his second year on the premier tour, the rising Brazilian star covered Shazam (Halpain Bucking Bulls) for 86 points, also earning $3,250 and 55 world points.
Tanner Byrne (Prince Albert, Saskatchewan, Canada) rounded out the Top 5 with an 85.5-point effort aboard Switch Hitter (Halpain/Martinelli).
The 2015 PBR Canada Champion earned $1,500 and 40 world points for his second qualified ride of the 2018 season to hold down the No.3 spot in aggregate standings thus far. 
Fellow Canadian Dakota Buttar (Kindersley, Saskatchewan) was bucked off in Round 2 but remains fourth overall in points after splitting second in Round 1 with J.B. Mauney. 
The Top 35 bull riders in the world will return to The Garden for Championship Sunday of the Monster Energy Buck Off at the Garden tomorrow evening, Sunday, January 7. Each rider will face one bull in Round 3 before the Top 15 riders advance to the Championship Round, where a winner will be crowned.
CBS Sports Network will broadcast all the action from Championship Sunday, with coverage of Round 3 and the Championship Round, on Sunday, January 7 at 8:00 p.m. ET.
Fans will also be able to watch the action in its entirety at PBR.com/ondemand. Action from Round 2 and Friday's 15/15 Bucking Battle will be viewable starting at 8:00 a.m. ETon Sunday, January 7. Round 3 and the Championship Round can be seen starting at 8:00 a.m. ET on Monday, January 8.
Professional Bull Riders – 25th PBR Unleash The Beast
Monster Energy Buck Off at the Garden
Madison Square Garden, New York City, New York
Event Leaders (Round 1-Round 2-Round 3-Round 4-Event Aggregate-Event Points)
1. Cooper Davis, 89.75-86-0-0-175.75-180 Points.
2. Kaique Pacheco, 0-87.5-0-0-87.50-125 Points.
3. Cody Campbell, 0-86.5-0-0-86.50-75 Points.
4. Dakota Buttar, 87.25-0-0-0-87.25-67.5 Points.
(tie). J.B. Mauney, 87.25-0-0-0-87.25-67.5 Points.
6. Claudio Montanha Jr., 0-86-0-0-86.00-55 Points.
7. Ryan Dirteater, 87-0-0-0-87.00-50 Points.
8. Tanner Byrne, 82.5-85.5-0-0-168.00-40 Points.
(tie). Alex Marcilio, 84.75-0-0-0-84.75-40 Points.
10. Dener Barbosa, 84.25-84-0-0-168.25-20 Points.
11. Cody Teel, 0-85.25-0-0-85.25-15 Points.
(tie). Cody Nance, 0-85.25-0-0-85.25-15 Points.
13. Guilherme Marchi, 83.75-68.5-0-0-152.25-10 Points.
14. Luciano De Castro, 82.5-85-0-0-167.50
15. Joao Ricardo Vieira, 81.5-85-0-0-166.50
16. Gage Gay, 83.25-81-0-0-164.25
17. Valdiron de Oliveira, 82.5-81.25-0-0-163.75
18. Eduardo Aparecido, 0-84.5-0-0-84.50
19. Derek Kolbaba, 83-0-0-0-83.00
20. Mason Lowe, 82.25-0-0-0-82.25
21. Ramon de Lima, 81.5-0-0-0-81.50
22. Shane Proctor, 81-0-0-0-81.00
23. Troy Wilkinson, 0-80-0-0-80.00
24. Silvano Alves, 66.5-0-0-0-66.50
Rubens Barbosa, 0-0-0-0-0.00
Jose Vitor Leme, 0-0-0-0-0.00
Stetson Lawrence, 0-0-0-0-0.00
Lachlan Richardson, 0-0-0-0-0.00
Ednei Caminhas, 0-0-0-0-0.00
Stormy Wing, 0-0-0-0-0.00
Fabiano Vieira, 0-0-0-0-0.00
Marco Antonio Eguchi, 0-0-0-0-0.00
Robson Palermo, 0-0-0-0-0.00
Francisco Morales, 0-0-0-0-0.00
Jess Lockwood, 0-0-0-0-0.00
Emilio Resende, 0-0-0-0-0.00
Reese Cates, 0-0-0-0-0.00