Three-Time Canadian Champion Roy Wins in Manor
By: Ted Stovin Sunday, July 22, 2018 @ 11:16 AM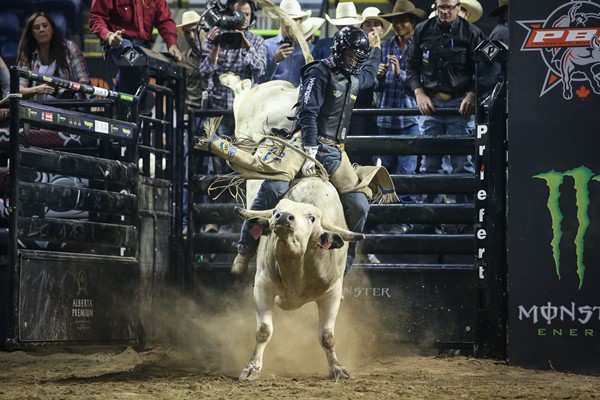 MANOR, Saskatchewan – Saturday night, three-time PBR Canada Champion Aaron Roy (Yellow Grass, Saskatchewan) captured his first event victory since 2015, victorious at the Manor Fun Daze PBR Canada Touring Pro Division (TPD) stop in Manor, Saskatchewan.
The win was marked with added significance as Manor was the site of his last win in 2015.
As the closest event on this season's schedule to Roy's hometown, his victory came at the hands of a familiar foe, drawing event host R-Saga Ranch's Kool Aid in the championship round. The two met earlier in the season at May's Clunie-Cooper Memorial PBR TPD event in Prince Albert, where the Canadian veteran used an 87.5-point trip on the bovine athlete to finish fifth.
In front of a home province crowd in Manor, Roy again made the 8, this time for 88 points.
For his work, he earned $3,541.95, 275 Canadian Points and 60 world points.
Amidst his first season competing since fracturing his femur at the 2016 PBR World Finals, Roy has caught a hot streak as of late. After an eighth place effort at the Kelowna Monster Energy Tour event on July 7, Roy was third Friday night at the Czar Lake Bullarama.
Riding to his second Top 5 effort in as many days, Lachlan Richardson (Gresford, New South Wales, Australia) finished second to earn $2,761.65, 165 Canadian and 30 world points.
Much like Roy, Richardson's finish was highlighted by his qualified ride in the championship round where he made the 8 on Whiskey Mussels (Vold Rodeo) for 85.5 points.
Fellow Aussie Lachlan Slade rounded out the Top 3, riding Chances Are (R Saga Ranch Ltd) for 82 points in Round 1 to collect $2,876.40, 165 Canadian and 20 world points.
The PBR Canada Touring Pro Division next travels to North Battleford, Saskatchewan on Wednesday, July 25 for the Gold Eagle Casino PBR Challenge beginning at 7:00 p.m. CST at the North Battleford Civic Centre.
Manor Fun Daze PBR – July 21, 2018
Manor, Saskatchewan – Manor Fun Daze
PBR Canada Touring Pro Division Event Results
Event Leaders (Round 1- Round 2 -Aggr. Score- Money Earned-Canadian Points-World Points)
1. Aaron Roy, 0-88-88-$3,541.95-275-60
2. Lachlan Richardson, 0-85.5-85.5-$2,761.65-165-30
3. Lachlan Slade, 82-0-82-$2,876.40-165-20