Team Canada Fourth After First Night of PBR Global Cup in Sydney
By: Kacie Albert Saturday, June 9, 2018 @ 7:18 PM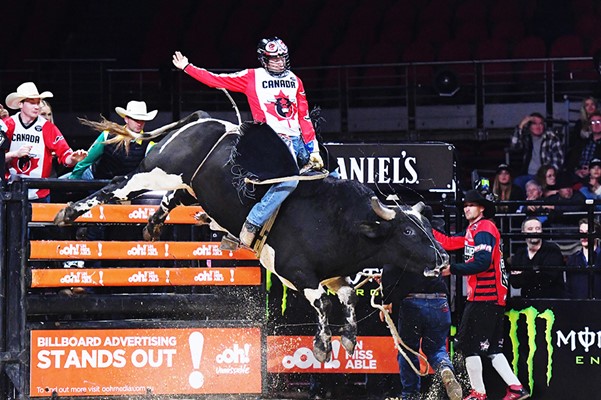 SASKATOON, Saskatchewan - After a perfect 4-for-4 start to the Saturday night event in Qudos Bank Arena, Team Canada slipped to fourth at the conclusion of the first night of competition for the second stop of the inaugural PBR (Professional Bull Riders) Global Cup in Sydney, Australia.
As the first Canadian to leave the chutes down under, Tanner Byrne (Prince Albert, Saskatchewan) gave the nation a quick start, marked 79.5 points on Annihilation (Brandenburg Bucking Bulls).
Hot on his heels, surging young-gun Lonnie West (Cadogan, Alberta) made the 8 on Mojito (Stuart Timm/Allen) for 79.5 points, which Jared Parsonage (Maple Creek, Saskatchewan) followed with a 68.5-point trip on Jack Rabbit (Peter Wallace).
The nation's ride streak was continued by two-time and reigning PBR Canada Champion Zane Lambert (Ponoka, Alberta) who conquered Stir Crazy (John Gill & Sons) for 82.25 points.
While world No. 13 Dakota Buttar (Kindersley, Saskatchewan) and team newcomer Wacey Finkbeiner (Ponoka, Alberta) were unable to make qualified rides on their animal athlete opponents, current Canadian No.1 Brock Radford (De Winton, Alberta) concluded Round 1 for Canada on a high note, covering SweetPro's Turn It Up (Maynes Bucking Bulls) for 80 points.
Based on their Round 1 performances, coach, and three-time PBR Canada Champion Aaron Roy selected Byrne and Parsonage to return as the nation's two competitors in the Bonus Round.
Not to disappoint, both riders, who each stand more than six-feet tall, covered their Bonus Round draws, making the 8 on SweetPro's Hillbilly Deluxe (Maynes Bucking Bulls) for 83.5 points, and Bring The Action (Throsby & Russell Bucking Bulls) for 82.25 points, respectively.
Byrne and Parsonage are two of just four riders to cover both of their draws inside Qudos Bank Arena, joining 2016 PBR World Champion, and Team USA captain, Cooper Davis (Buna, Texas) and 2015 PBR Rookie of the Year Kaique Pacheco (Itatiba, Brazil).
Collectively going 7-for-9, Team Canada's scores earned them 555.5 points, trailing third place Team USA by 30 points, second place Team Australia by 101. 5 points and event leader Team Brazil by 107. 25 points.
Australian team captain Cliff Richardson (Gresford, New South Wales) led the hometown charge, scoring the high-marked ride of the night on Blossom (Brandenburg Bucking Bulls) for 87.25 points in Round 1.
Key contributors to the Australian aggregate also included brothers Justin and Mitch Paton (Nebo, Queensland), with Justin covering Notorious (Brandenburg Bucking Bulls) for 83.75 points, and Mitch besting Paradise Outdoors High Class Hooker (Dittmann Bucking Bulls) for 83 points.
Current PBR Australia No.1 Aaron Kleier (Clermont, Queenslnad) also contributed a score to the nation's total, marked 83.25 points on SweetPro's Palooka (Dittmann Bucking Bulls) in the opening round.
The Bonus Round proved to be the critical factor allowing Team Brazil to take the lead over Team Australia after the host nation failed log a qualified ride and Brazil's Pacheco successfully rode High Flying Akubra (John Gill & Sons) for 83 points to nab the lead after the first day.
Pacheco, who has made the 8 more than any other rider in the last three seasons in the PBR's elite series, was Team Brazil's top rider of the night, going 2-for-2 for an aggregate score of 164.25.
Reigning Rookie of the Year Jose Vitor Leme (Ribas do Rio Pardo),  a former semi-pro soccer player, contributed the second highest score to Team Brazil's aggregate, marked 84 points aboard Earth Bound (John Gill & Sons), while Ramon de Lima (Sao Paulo, Brazil) added another 83.75 points to his nation's total.
Luciano De Castro (Guzolandia, Brazil) also went 1-for-2, recording an 83.75-point trip on Domino Effect (Dunne Bulls), while veteran rider Eduardo Aparecido (Gouvelandia, Brazil) logged an identical score on Seek & Destroy (Peter Wallace).
After winning the inaugural event in Edmonton, the American roster was led by team captain Davis, who also leads the individual aggregate race after the first night, going 2-for-2 to total 171.5 points.
After covering Lock n Load (Peter Wallace) for 85 points in the opening round, Davis broke Unbroken (Brandenburg Bucking Bulls) for 86.5 points in the Bonus Round – the highest score of the event's final round. The qualified ride snapped the bovine's previous 14-out unridden streak.
Matt Triplett (Columbia Falls, Montana) was the second-highest American scorer, covering 5th Battalion (Dunne Bulls) for 84 points, followed closely by Stetson Lawrence (Williston, North Dakota) who was marked 83.5 points on Light Em Up (Throsby & Russell Bucking Bulls).
Reigning PBR World Champion Jess Lockwood (Volborg, Montana) contributed an additional 82.75 points to Team USA's opening night aggregate, successfully covering Red Man (Throsby and Russell Bucking Bulls) in Round 1.
Lockwood, however, came up short in the Bonus Round, bucked off by PBR Australia Stock Contractor of the Year Dakota Brandenburg's Take the Gamble, who earned the top bull score of the night with 44 points.
Derek Kolbaba (Walla Walla, Washington) was the final American to log a qualified ride, also recording an 82.75 score on Dunne Bulls' Rockslide.
Team Mexico's aggregate score from Night 1 resulted from qualified rides by Jorge Valdiviezo (La Mision, Mexico) on Iron Jacket (Peter Wallace) for 85.5 points and Gustavo Pedrero (Jalisco, Mexico) on SweetPro's Enemies Everywhere (Peter Wallace) for 83 points.
The second leg of the inaugural PBR Global Cup event concludes Sunday, June 10, 2018.
Each rider from the four visiting nations will once again get on one bull each, while 10 of Australia's best will attempt one from the rank pen, followed by the Bonus Round where the team's coach will select two riders who will attempt the nation's final two draws of the Global Cup.
At the conclusion of the event, the nation with the highest score in the aggregate from their Top 12 qualified rides will be crowned the victors of the Sydney leg of the Global Cup.
The winning team will earn international bull riding bragging rights, a portion of the Australian record $750,000 prize-purse, and the Australian horn from the glittering Global Cup trophy filled with native soil.
RidePass coverage will begin at 5:30am ET on Sunday, June 10.
Fans will also be able to watch all the action on TSN2 when the network airs a one-hour highlights program from the event on Tuesday, July 3 at 7:00 p.m. ET.
Be sure to stay tuned to PBRCanada.com for the latest event information, and follow the team's journey on Facebook (PBR Canada), Twitter (@PBRCanada), and Instagram (@PBRCanada).
2018 Professional Bull Riders Sydney Global Cup
Qudos Bank Arena – Syndey, Australia
1. Team Brazil - 662.75 points
2. Team Australia, 657 points
3. Team USA, 585.50 points
4. Team Canada, 555.50 points
5. Team Mexico, 168.50 points