Tanner Byrne Wins St. Louis Invitational
By: Mandi McCary Sunday, February 18, 2018 @ 7:31 PM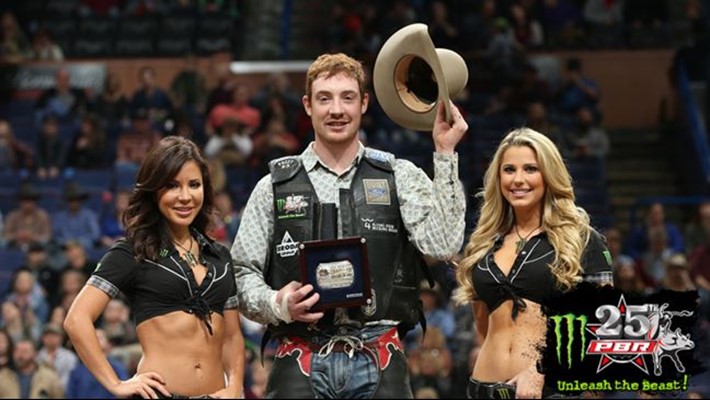 ST. LOUIS – Capping an action-packed two days, Tanner Byrne (Prince Albert, Canada) was perfect in St. Louis to win his first PBR (Professional Bull Riders) elite series event of the 2018 season at The PBR 25th: Unleash The Beast, St. Louis Invitational, presented by Express Employment Professionals, at Scottrade Center.
Byrne, the only rider to go 3-for-3 over the two days, clinched the victory with an 88.75-point ride on Bad Beagle (Phenom Genetics/ Rothe) to win the championship round. The Canadian cowboy earned 475 world points, launching him from No. 36 in the world to No. 12, and collected a paycheck of $34,600.
Luciano de Castro (Guzolandia, Brazil) finished second over the weekend, taking him from No. 12 to No. 3 in the world standings. The arena erupted as Castro rode Shownuff (Henry Wilson/Walgren Bull Co.) for a career-high 90.25 points in the championship round. Castro earned 370 points toward the world standings and $18,450.
Young gun Keyshawn Whitehorse (The Woodlands, Texas) secured a third-place finish after he covered Gambini (Dakota Rodeo/ Julie Rosen/Clay Struve) in Sunday's championship round for 88 points. He climbed from No. 27 to No. 17 in the world standings, earning 265 points and $11,250.
2012 PRCA champion Cody Teel (Kountze, Texas) went 2-for-3 to finish in fourth place. Teel rode Seven Dust (Jane Clark/Gene Owen) for 88.5 points in the final round of the weekend. Teel picked up 165 world points and a $8,325 paycheck.
Rounding out the Top 5 was Washington native Derek Kolbaba (Walla Walla, Washington), who led the event after winning Round 1 on Saturday night with an 87.5-point ride aboard Cyclone (Blake Sharp/ Sharp Farms & Cattle/ Rio Rojo Cattle Co, LLC). Kolbaba was bucked off by Uncle Si(Meyeraan Bucking Bulls/Phenom Genetics) in Sunday's Round 2 and by Pearl Harbor (Dakota Rodeo/Chad Berger/Clay Struve/ H&C Bucking Bulls) in the championship round. For the weekend, Kolbaba takes home 110 world points and $7,480.
After dispatching Kolbaba in 2.5 seconds for a 45.5-point bull score, the YETI "Built for the Wild" Bull of the Event was Pearl Harbor. It's the third time this season the big, black bovine has earned the honor.
Action from Round 2 can be seen in its entirety on RidePass.com or via the RidePass mobile app starting on Monday, February 19 at 8 a.m. ET. The Championship Round will be on CBS Sports Network on Sunday, February 18 at 8 p.m. ET.
The Top 35 bull riders in the world will now head to AT&T Stadium in Arlington, Texas, for the Winstar World Casino & Resort Iron Cowboy powered by Kawasaki on Feb. 24.
In other PBR action this weekend, Ryan Miller (Waterloo, Indiana) won the Real Time Pain Relief Velocity Tour (RVT) Knoxville Invitational event Saturday night inside of Thompson-Boling Arena.
After riding Fist City (Dakota Rodeo/Chad Berger/J.R. Scott) for 88 points in Round 1, he covered True Story (Twisted 3 Cattle Co./Cornwell Bucking Bulls) for 86 points in the championship round to win the event. He earned $7,300, 120 points toward the world standings, and a spot at the Ty Murray Invitational Presented by Isleta Resort & Casino in Albuquerque, New Mexico, on March 16-18.
Real Time Pain Relief Velocity Tour 
Knoxville, Tennessee - Event Results
Name, Round 1-Round 2-Aggr. Score-Total Points-Money Earned
1. Ryan Miller, 88-86-174-$7,300
2. Reese Cates, 87.5-84.5-172-$4,700
3. Fernando Henrique Novais, 85.5-85-170.5-$2,500
3. Jesse Tillman, 86.5-84-170.5-$2,050
5. Cody Casper-84.5-85-169.5-$1,590
25th PBR: Unleash The Beast
St. Louis Invitational
Scottrade Center - St. Louis, Missouri
Event Leaders (Round 1-Round 2-Round 3-Round 4-Event Aggregate-Event Points)
1. Tanner Byrne, 83-77.25-88.75-249.00-475 Points.
2. Luciano De Castro, 85.5-0-90.25-175.75-370 Points.
3. Keyshawn Whitehorse, 86.25-0-88-174.25-265 Points.
4. Cody Teel, 0-82.25-88.5-170.75-165 Points.
5. Derek Kolbaba, 87.5-0-0-87.50-110 Points.
6. Wallace Vieira de Oliveira, 0-86.5-0-86.50-107.5 Points.
7. Ramon de Lima, 82.5-0-87-169.50-95 Points.
8. Guilherme Marchi, 61.25-85.5-0-146.75-75 Points.
9. Brennon Eldred, 86.5-0-0-86.50-67.5 Points.
10. Cody Nance, 0-84-0-84.00-55 Points.
(tie). Ueberson Duarte, 82.5-82.25-0-164.75-55 Points.
12. Paulo Ferreira Lima, 86.25-0-0-86.25-50 Points.
13. Stetson Lawrence, 0-83.75-0-83.75-45 Points.
14. Mason Lowe, 0-83.25-0-83.25-35 Points.
15. Lindomar Lino, 82.75-76.25-0-159.00-25 Points.
16. Dener Barbosa, 0-82-0-82.00
Claudio Montanha Jr., 0-0-0-0.00
Kaique Pacheco, 0-0-0-0.00
Eduardo Aparecido, 0-0-0-0.00
Marco Antonio Eguchi, 0-0-0-0.00
Jess Lockwood, 0-0-0-0.00
Brady Oleson, 0-0-0-0.00
Chase Robbins, 0-0-0-0.00
Tye Chandler, 0-0-0-0.00
J.B. Mauney, 0-0-0-0.00
Cody Campbell, 0-0-0-0.00
Emilio Resende, 0-0-0-0.00
Rubens Barbosa, 0-0-0-0.00
Silvano Alves, 0-0-0-0.00
Edgar Durazo, 0-0-0-0.00
Alex Marcilio, 0-0-0-0.00
Colten Jesse, 0-0-0-0.00
Bryan Titman, 0-0-0-0.00
Juan Carlos Contreras, 0-0-0-0.00
Stormy Wing, 0-0-0-0.00
2018 25th PBR: Unleash The Beast World Standings
(Place, Rider, Events, Wins, Top 5's, Points, Total Winnings)
1. Dener Barbosa, 14, 1, 7, 1,455.00, $68,445.00
2. Claudio Montanha Jr., 13, 0, 5, 1,035.83, $59,741.67
3. Luciano De Castro, 8, 0, 2, 885.00, $46,183.50
4. Ramon de Lima, 12, 1, 2, 845.00, $49,275.00
5. Ryan Dirteater, 6, 1, 1, 825.00, $55,490.00
6. Cooper Davis, 8, 1, 3, 820.00, $105,984.14
7. Guilherme Marchi, 8, 1, 1, 753.33, $58,503.33
8. Stetson Lawrence, 10, 0, 3, 715.00, $39,361.78
9. Gage Gay, 3, 1, 1, 700.00, $109,425.50
10. Cody Nance, 8, 1, 1, 648.33, $88,337.27
11. Derek Kolbaba, 12, 0, 4, 645.00, $88,909.32
12. Tanner Byrne, 10, 1, 1, 617.50, $47,275.50
13. Valdiron de Oliveira, 11, 0, 3, 574.16, $26,031.67
14. Cody Teel, 11, 0, 3, 562.50, $76,920.95
15. Jose Vitor Leme, 11, 1, 4, 507.50, $46,649.58
16. Kaique Pacheco, 11, 2, 2, 492.50, $50,311.66
17. Eduardo Aparecido, 10, 0, 2, 463.33, $30,686.66
17. Keyshawn Whitehorse, 13, 1, 4, 463.33, $29,122.73
19. Marco Antonio Eguchi, 7, 0, 1, 430.00, $22,300.00
20. Joao Ricardo Vieira, 10, 0, 1, 375.00, $32,378.11
21. Jess Lockwood, 8, 0, 1, 345.00, $19,905.00
22. Brennon Eldred, 7, 0, 2, 337.50, $68,848.54
23. Dakota Buttar, 9, 0, 1, 332.50, $25,134.30
24. Fabiano Vieira, 9, 0, 0, 252.50, $22,308.39
25. Brady Oleson, 11, 1, 5, 245.83, $22,977.29
26. Chase Robbins, 11, 0, 4, 230.00, $30,140.94
27. Wallace Vieira de Oliveira, 13, 1, 1, 227.50, $28,766.07
28. Tye Chandler, 15, 2, 4, 217.50, $18,391.09
29. Lindomar Lino, 11, 2, 3, 215.00, $15,787.20
30. J.B. Mauney, 5, 0, 1, 210.00, $13,900.00
31. Cody Campbell, 12, 1, 1, 198.33, $17,565.00
32. Paulo Ferreira Lima, 9, 1, 4, 195.83, $21,495.81
33. Emilio Resende, 7, 0, 1, 180.00, $12,975.00
34. Ueberson Duarte, 3, 1, 1, 175.00, $7,585.00
35. Aaron Kleier, 6, 2, 3, 170.00, $15,077.97
36. Lucas Divino, 4, 2, 2, 160.00, $10,325.81
37. Reese Cates, 9, 0, 3, 152.50, $12,600.00
38. Rubens Barbosa, 13, 0, 3, 150.00, $23,029.61
39. Silvano Alves, 10, 0, 1, 145.00, $15,826.66
40. Edgar Durazo, 7, 1, 1, 135.00, $14,725.87
41. Alex Marcilio, 8, 0, 1, 120.00, $9,872.24
41. Colten Jesse, 9, 1, 1, 120.00, $8,193.33
41. Ryan Miller, 5, 1, 1, 120.00, $7,300.00
41. Bryan Titman, 7, 1, 1, 120.00, $6,950.00
45. Fernando Henrique Novais, 6, 1, 2, 110.00, $5,893.79