Roy Earns Second Victory of the Season in Coronation
By: Kacie Albert Thursday, August 16, 2018 @ 7:23 AM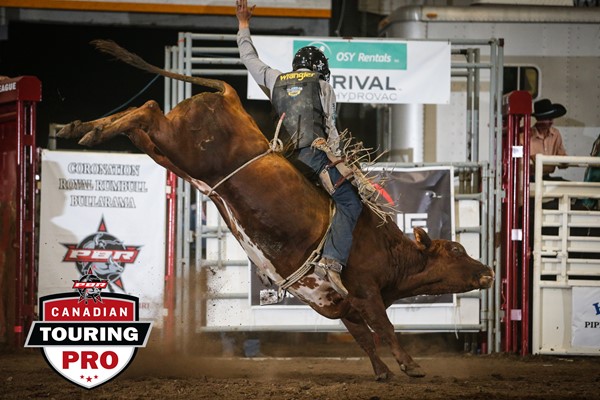 CORONATION, Alberta – Amidst his first competitive season since fracturing his femur at the 2016 PBR World Finals, Aaron Roy (Yellow Grass, Saskatchewan) earned his second event victory of the season Wednesday night, delivering a flawless 2-for-2 performance to win the Touring Pro Division's Royal Rumbull in Coronation, Alberta.
The three-time PBR Canada Champion began the event with an 83.5 point trip aboard Mr. Brightside (Vold Rodeo) in Round 1. In the final round, he used an 84.5-point ride on Honky Sam (Eno Bucking Bulls) to narrowly edge runner-up Zane Lambert (Ponoka, Alberta) by 0.5 points to win the 18th annual edition event.
The win earned him $3,513.30, in addition to 275 Canadian and 60 world points.
After beginning the event ranked No. 15 in the nation, Roy cracked into the Top 10, now tied for tenth with Koal Livingston (Burleson, Texas), 1,402.5 points behind No. 1 Brock Radford (De Winton, Alberta).
So far this season, Roy, who won earlier this year in Manor, Saskatchewan, has recorded four Top-5 and 10 Top-10 efforts across 13 events.
Two-time and reigning Canada Champion Lambert finished second, collecting a check for $2,775.50, 195 Canadian and 30 world points.
In Round 1, Lambert rode Ghost Rider (Outlaw Buckers Rodeo Corp.) for 80.5 points, which he followed with an event-best 87-point trip on Darkness (Vold Rodeo) to dominate the championship round.
The silver finish allowed the 32-year-old to gain ground in the title race, rising from No. 10 to No. 6 in the national standings. As he looks to earn a repeat title, he trails the No. 1 rider in Canada by 1,278.34 points.
Traveling partners Lonnie West (Cadogan, Alberta) and Lachlan Richardson (Gresford, New South Wales, Australia) tied for third after they split the Round 1 win for their matching 85-point trips. West made the 8 aboard Slick Cat (Outlaw Buckers Rodeo Corp.), while Richardson covered Done Talking (Eno Bucking Bulls).
Each earned $1,537.10, 137.5 Canadian and 17.5 world points.
With a Top-5 finish in their rear-view mirror, the pair will now travel stateside to compete at the 25th PBR: Unleash The Beast Major event in Nashville, Tennessee, the Music City Knockout, presented by Cooper Tires.
Australia's Lachlan Slade and top Rookie of the Year contender Nick Tetz (Calgary, Alberta) split fifth, each collecting $588.50, 70 Canadian and 7.5 world points.
Both riders were marked 83.5 points on their Round 1 draw, with Slade riding Spy Hill (Vold Rodeo) and Tetz covering Tequila Jax (Vold Rodeo).
The PBR Canada Touring Pro Division next travels to Stavely, Alberta on August 15 for the Glen Keeley Memorial Bull Riding at the Stavely Arena. Action gets underway at 7:00 p.m. MT.
Royal Rumbull – August 15, 2018
Coronation, Alberta – Coronation Arena
PBR Canada Touring Pro Division Event Results
Event Leaders (Round 1- Round 2 -Aggr. Score- Money Earned-Canadian Points-World Points)
1. Aaron Roy, 83.5-84.5-168-$3,513.30-275-60
2. Zane Lambert, 80.5-87-167.5-$2,775.50-195-30
3T. Lonnie West, 85-0-85-$1,537.10-137.5-17.5
3T. Lachlan Richardson, 85-0-85-$1,537.10-137.5-17.5
5T. Lachlan Slade, 83.5-0-83.5-$588.50-70-7.5
5T. Nick Tetz, 83.5-0-83.5-$588.50-70-7.5