Richardson Wins Inaugural Monster Energy Tour Event in Kelowna
By: Kacie Albert Saturday, July 7, 2018 @ 10:48 PM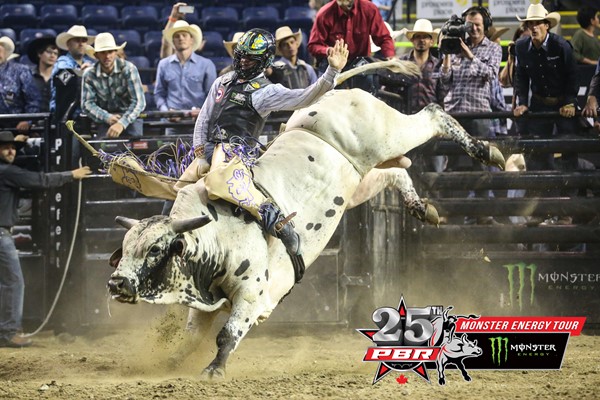 KELOWNA, British Columbia – In front of an electric crowd at Prospera Place, Lachlan Richardson (Gresford, New South Wales, Australia) continued his hot streak, going a perfect 2-for-2 to capture the event win at the inaugural PBR (Professional Bull Riders) Canada Monster Energy Tour Event in Kelowna, the Okanagan PBR Challenge, presented by Westbank First Nation/Ntityix, Vantage Living and Mac's/Circle K.
To begin the Saturday night event, the 25-year-old first made the 8 on Broken Trigger (Skori Bucking Bulls) for 86 points to finish second in Round 1. In the Championship Round he brought the crowd to its feet when he rode Finning Majic Shivers (Flying Four Bucking Bulls) for 86.5 points.
The win comes amidst a hot streak for the Australian rider, recording five Top 10 finishes in as many days leading into the Kelowna event, including a win on the Touring Pro Division on Tuesday in Calgary, Alberta. The perfect effort also extends Richardson's ride streak to five.  
For his first win on the Canadian Monster Energy Tour, Richardson earned $5,667.57, 510 Canadian and 120 world points. Collectively in the last week, he's earned 242.5 world points and $17,489.24.
The only other rider to go 2-for-2, Koal Livingston (Burleson, Texas) finished second to net $4,146.07, 250 Canadian and 70 world points.
Also on a tear since returning in May from reconstructive shoulder surgery, the 20-year-old young gun first covered Tykro Total (Wild Hoggs Bucking Bulls) for 85 points in Round 1, which he followed with a 74.5-point ride on Parachute Pants (Vold Rodeo Co.) in the final round.
Daylon Swearingen (Piffard, New York) used his Round 1 winning 88-point trip aboard Catch My Drift (Two Bit Bucking Bulls / K Rose Ranch) to end the event  third. The ride, which caused the fans in attendance to erupt into raucous cheers, earned the 18-year-old $2,510.47, 200 Canadian and 40 world points.
The highest finishing Canadian, reigning and two-time PBR Canada Champion Zane Lambert (Ponoka, Alberta) was fourth, collecting a check for $1,293.27, 100 Canadian and 20 world points, in his first event since travelling to Sydney, Australia for the second leg of the Inaugural PBR Global Cup in early June.
His fifth Top 5 finish of the season came via an 84.5-point ride on Forty Creek (S&E Bucking Bulls) in Round 1.
Rounding out the Top 5, and delivering the best finish thus far of his career, was Cody Floyd (Kipling, Saskatchewan). He collected $639.03, 75 Canadian and 15 world points after making the 8 on Punch My Ticket (Vold Rodeo Co.) for 84 points.
Two Vold Rodeo bovine athletes split the Bull of the Event title. VJV Whiskey Hand and Twisted were both marked 44 points in the Championship Round for bucking off Floyd and Swearingen, respectively.
The elite Monster Energy Tour next travels to Abbotsford, British Columbia and the Abbotsford Centre on October 13 with the action getting underway at 7:00 p.m. PT.
Fans can relive all the action from the Kelowna event on RidePass, or on TSN 2 at 7:00 p.m. ET on Tuesday, July 17.
PBR Canada Monster – Okanagan PBR Challenge, presented by Westbank First Nation/Ntityix, Vantage Living and Mac's/Circle K
Kelowna, British Columbia – Prospera Place
Event Leaders (Round 1-Round 2-Event Aggregate-Canadian Points-World Points-Payout)
1. Lachlan Richardson, 86-86.5-172.50-510-120-$5,667.57
2. Koal Livingston [2], 85-74.5-159.50-250-70-$4,146.07
3. Daylon Swearingen, 88-0-88.00-200-40-$2,510.47
4. Zane Lambert, 84.5-0-84.50-100-20-$1,293.27
5. Cody Floyd, 84-0-84.00-75-15-$639.03
6. Jared Parsonage, 83-0-83.00-35-10-$426.02
7. Cody Coverchuk, 81-0-81.00-25-5-$319.51
8. Aaron Roy, 76-0-76.00-10-0-$213.01
Stetson Lawrence, 0-0-0.00-0-$0
Brock Radford, 0-0-0.00-0-$0
Marcos Gloria, 0-0-0.00-0-$0
Koal Livingston  [1], 0-0-0.00-0-$0
Matt Triplett, 0-0-0.00-0-$0
Juan Carlos Contreras, 0-0-0.00-0-$0
Edgar Durazo, 0-0-0.00-0-$0
Garrett Green, 0-0-0.00-0-$0
Dayton Johnston, 0-0-0.00-0-$0
Cody Casper, 0-0-0.00-0-$0
Wyatt Gleeson, 0-0-0.00-0-$0
Zac Peterson, 0-0-0.00-0-$0
Jake Gardner  [1], 0-0-0.00-0-$0
Jake Gardner  [2], 0-0-0.00-0-$0
Logan Biever  [1], 0-0-0.00-0-$0
Cole Young, 0-0-0.00-0-$0
Tim Lipsett, 0-0-0.00-0-$0
Lachlan Slade, 0-0-0.00-0-$0
Jackson Scott, 0-0-0.00-0-$0
Italo Aguilar Goncalves, 0-0-0.00-0-$0
Wyatt Laughlin, 0-0-0.00-0-$0