Reigning Canadian Champion Lambert Victorious at Glen Keeley Memorial Bull Riding
By: Kacie Albert Sunday, September 2, 2018 @ 11:31 AM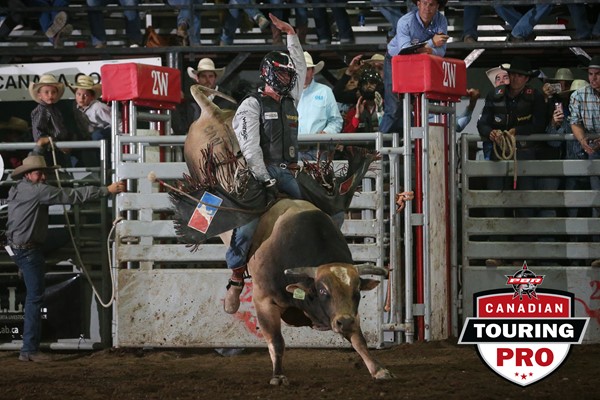 STAVELY, Alberta – For the second consecutive season, two-time and reigning PBR Canada Champion Zane Lambert (Ponoka, Alberta) rode to the win at the annual Glen Keeley Memorial Bull Riding, punctuating his first win of the season with the high-marked ride at a PBR event on Canadian soil thus far this season.
Launched in 2004, the event was created to honour the late Glen Keeley who passed away in March 2000 due to injuries sustained when he bucked off World Champion Bull Promise Land at the Ty Murray Invitational in Albuquerque, New Mexico. His namesake event donates all proceeds to the Glen Keeley Benevolent & Scholarship Fund, which has awarded more than $250,000.
Lambert began the night with an 87-point trip on Catch My Drift (Two Bit Bucking Bulls / K Rose Ranch), entering the championship round second in the aggregate.
In the final round, the 32-year-old sealed the win when he made the 8 on Happy Camper (Two Bit Bucking Bulls) for 90.5 points. The 90-point score was Lambert's first since March 2013 when he was marked 90 points on Big Valley Black (Tumbling Dice) in Lethbridge, Alberta.
The championship round-winning ride, which marked the second 90-point effort at a PBR Canada event this season, is the highest-marked trip on Canadian soil so far in 2018.
For his efforts Lambert earned $4,971, 320 Canadian and 60 world points. As he looks to capture his third national title, the Alberta-native rose one spot in the Canadian national standings, now ranked No. 6 and 963.34 points behind No. 1 Brock Radford (De Winton, Alberta), currently sidelined with a knee injury.
Lambert's current position in the Canadian standings is a near replica of where he stood this time last season, where he trailed Radford by 902.1 points
The only other rider to go a perfect 2-for-2 inside Stavely Arena, current PBR Canada Rookie of the Year standings leader Nick Tetz (Calgary, Alberta) finished second. His eighth Top-5 finish of the season earned the 18-year-old a check for $3,236.17, 165 Canadian and 30 world points.
After riding Lobster Dinner (Big Chief/Armstrong) for 82 points in Round 1, he covered Twisted (Vold Rodeo) for 84 points in the championship round.
Third went to Wacey Finkbeiner (Ponoka, Alberta) who won round one after riding Papa's Rockstar (Vold Rodeo) for 88.5 points. The bronze-effort netted the home province rider $2,201.92, 165 Canadian and 20 world points.
Australians Lachlan Slade and Lachlan Richardson finished fourth and fifth respectively. In Round 1, Slade was marked 86.5 points on Morning Wish (Wild Hoggs / Trish Streeter) to earn $1,334.50, 100 Canadian and 15 world points, while Richardson made the 8 on Headstruck (Eno Bucking Bulls) for 86 points, propelling him to net $760.67, 80 Canadian and 10 world points.
For Richardson the Top-5 finish elevated him to No. 2 in the Canadian national standings, now a mere 30.01 points behind No. 1 Radford.
After tying for eighth with three-time Canadian Champion Aaron Roy (Yellow Grass, Saskatchewan), Cody Coverchuk (Meadow Lake, Saskatchewan) earned 7.5 Canadian points to also gain ground on Radford. Now ranked No. 3, he now trails the national lead by 43.34 points.
At the conclusion of the event, Roy earned the $5,000 bonus as the top finisher who entered the Czar, Coronation and Stavely PBR Canada Touring Pro Division events. The three-time Canadian Champion captured the event win in Coronation, after finishing third in Czar, and punctuated the three-event run with a tie for eighth in Stavely.
Richardson finished second in the bonus race, earning a check for $2,500. He was fourth in Czar and Stavely, and tied for third in Coronation.
Skori Bucking Bulls' Hanna Motors Two Point Oh was the high-marked bull of the event. He was scored 46 points for his buckoff of Slade in the Championship Round.
The PBR Canada Touring Pro Division next travels to Magrath, Alberta and the Two Bit Ranch on Thursday, September 6 for the fourth annual Celebration for the Two Bit Nation.
Glen Keeley Memorial Bull Riding – September 1, 2018
Stavely, Alberta – Stavely Arena
PBR Canada Touring Pro Division Event Results
Event Leaders (Round 1- Round 2 -Aggr. Score- Money Earned-Canadian Points-World Points)
1. Zane Lambert, 87-90.5-177.5-$4,971-320-60
2. Nick Tetz, 82-84-166-$3,236.17-165-30
3. Wacey Finkbeiner, 88.5-0-88.5-$2,201.92-165-20
4. Lachlan Slade, 86.5-0-86.5-$1,334.50-100-15
5. Lachlan Richardson, 86-0-86-$760.67-80-10
6. Chase Thielen, 84.5-0-84.5-$373.66-55-5
7. Matt Triplett, 84-0-84-$280.25-20-0
8T. Aaron Roy, 83.5-0-83.5-$93.41-7.5-0
8T. Cody Coverchuk, 83.5- 0-83.5-$93.42-7.5-0
10. Jared Parsonage, 82-0-82-$0-0-0
11. Wyatt Laughlin, 80.5-0-80.5-$0-0-0