Radford Wins Czar Lake Bullarama
By: Kacie Albert Saturday, July 21, 2018 @ 11:10 AM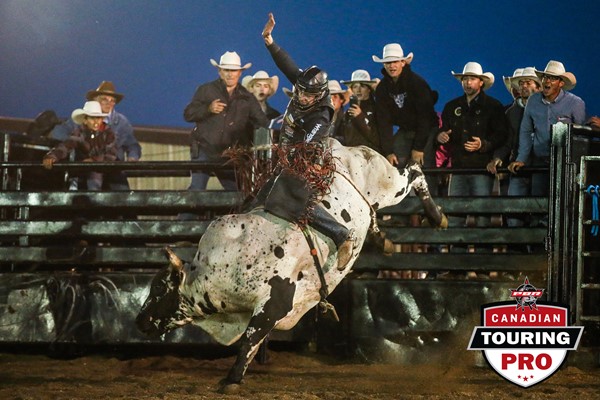 CZAR, Alberta – As the only rider to go a perfect 2-for-2 Friday night in Czar, Brock Radford (De Winton, Alberta) won the Czar Lake Bullarama, marking his second Canadian event win of the season.
The 23-year-old began the night in electric fashion, winning Round 1 with an 84.5-point trip on Homeboy (Skori Bucking Bulls). Not to be outdone, Radford swept the event, marked an event-high 88 points on his re-ride bull Pound Sand (Wild Hoggs/Corey Chmelnyk) in the championship round.
For his efforts, Radford earned $5,533.49, in addition to 350 Canadian and 60 world points. His earnings allowed him to extend his lead atop the Canadian national standings, where he is now more than 400 points ahead of No. 2 Lachlan Richardson (Gresford, New South Wales, Australia).
The flawless performance also continued to push Radford up the PBR world standings as he looks to qualify for his first-ever PBR World Finals. After collecting an additional 10 points Wednesday night for his fifth place result in Salinas, California, Radford now ranks No. 28 in the world.
Cody Casper (Newport, Washington) finished second to collect a check for $3,376.62, 165 Canadian and 30 world points.
His third runner-up finish of the season was backed by an 86-point ride aboard Hanna Motors Two Point Oh (Skori Bucking Bulls) in the championship round.
Amidst his first year back competing since fracturing his femur at the 2016 PBR World Finals, Aaron Roy (Yellow Grass, Saskatchewan) finished a season-best third.
The three-time PBR Canada Champion rode Honky Sam (Eno Bucking Bulls) for 85 points in the final round to earn a check for $2,112.25, along with 125 Canadian and 20 world points.
Richardson earned his thirteenth Top 5 finish of the season in Czar, concluding the event fourth to collect $1,740.38, 110 Canadian and 15 world points.
One of the winningest riders in Canadian competition thus far this season, Richardson's finish was highlighted by a 83.5-point ride on Paint The Town (Skori Bucking Bulls) in Round 1.
Fellow Australian Lachlan Slade rounded out the Top 5 after he made the 8 on Done Talking (Eno Bucking Bulls) for 83 points in Round 1. He netted $1,100.75, 85 Canadian and 10 world points.
The PBR Canada Touring Pro Division next travels to Manor, Saskatchewan on Saturday, July 21 for the Manor Fun Daze PBR beginning at 6:30 p.m. MT.
Czar Lake Bullarama – July 20, 2018
Czar, Alberta – Czar Lake Rodeo Grounds
PBR Canada Touring Pro Division Event Results
Event Leaders (Round 1- Round 2 -Aggr. Score- Money Earned-Canadian Points-World Points)
1. Brock Radford, 84.5-88-172.5-$5,533.49-350-60
2. Cody Casper, 0-86-86-$3,376.62-165-30
3. Aaron Roy, 0-85-85-$2,112.25-125-20
4. Lachlan Richardson, 83.5-0-83.5-$1,740.38-110-15
5. Lachlan Slade, 83-0-83-$1,100.75-85-10
6. Lonnie West, 82-0-82-$669.38-60-5
7. Billy West, 76-0-76-$342.13-45-0