PBR World Champions Jess Lockwood and Silvano Alves Highlight Field of International Riders for Quebec City International Major
By: Kacie Albert Wednesday, May 16, 2018 @ 9:00 AM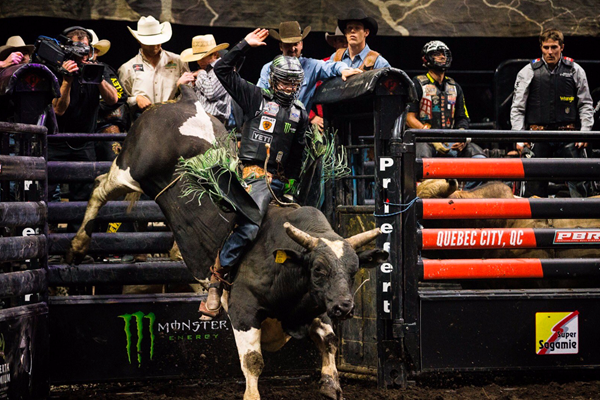 QUEBEC CITY, Quebec – Two PBR (Professional Bull Riders) World Champions will headline this year's PBR International Major, the Monster Energy Tour Canadian Iron Cowboy, presented locally by Couche-Tard, on May 19 at the Videotron Centre in Quebec City, Quebec. For the first time, Canadian fans will see an Iron Cowboy event, made popular in the United States. for its thrilling bracket-style knockout competition format.
After competing at last year's event, finishing third, Jess Lockwood (Volborg, Montana) went on to become the youngest PBR World Champion in league history at the age of 20. Currently, the young-gun is ranked No. 8 in the world standings, with one event win on the elite 25th PBR: Unleash The Beast this April in Sioux Falls, South Dakota.
Lockwood is joined in the draw by World Champion Silvano Alves (Pilar do Sol, Brazil), one of just two riders along with Adriano Moraes (Cachoeira Paulista, Brazil) to earn the sport's top honor three times (2011, 2012 and 2014). Having never before competed at a PBR Canada event, Alves is currently No. 27 in the world standings as he looks to qualify for his ninth career PBR World Finals.  
Derek Kolbaba (Walla Walla, Washington) will return to defend his title The 22-year old took both Round 1 and Round 2, going a perfect 3-for-3 in winning last season's inaugural event.  The 300 points Kolbaba earned propelled him to No. 3 in the world standings, and he concluded the year runner-up to friend Lockwood in the world title race. Presently, Kolbaba is No. 20 in the world after being sidelined for six weeks earlier this year with a torn ACL and MCL.
Alongside the already announced Canadian competitors, the field collectively includes seven of the Top-35 riders in the world, with international athlete Fabiano Vieira (Perola, Brazil) ranked inside the Top 15.
Veteran Brazilian Vieira surged to his present ranking, No. 12, after winning the 25th PBR: Unleash The Beast event this April in Columbus, Ohio. The 35-year-old has also recorded five Top-10 finishes this season. Last year in Quebec City, Vieira finished second after recording the 2017 Canadian Monster Energy Tour season's only 90-point effort, covering Handsome Jeff for 90.5 points in the Championship Round.
The remaining roster of 10 includes Marco Eguchi (Poa, Brazil), Marcos Gloria (Central de Minas, Brazil), Lawson Nobbs (Moura, Queensland, Australia), Lachlan Richardson (Gresford, New South Wales, Australia), Cody Casper (Newport, Washington) and Daylon Swearingen (Piffard, New York).
The Monster Energy Tour Canadian Iron Cowboy, presented locally by Couche-Tard, will mark the second-ever International Major, and third event for the 2018 PBR Canada Monster Energy Tour, which makes seven stops in six provinces before culminating in Saskatoon, Saskatchewan this November for the PBR Canada Finals.
The tour stop will also feature the first-ever bracket-style event in the nation. To begin the night, all entered riders will attempt one bull each in Round 1. The Top 8 will then advance to the three-round, knockout bracket where the last rider standing will be crowned PBR Canada's Iron Cowboy.
PBR's Monster Energy Tour Canadian Iron Cowboy, presented locally by Couche-Tard will award a total purse of $75,000 in prize money, with the winner set to receive a $20,000 bonus should he cover his final round bull. As a PBR International Major, riders will also be vying for increased world and Canadian national points.
After stopping in Québec City for the third event of the season, previously visiting Calgary (March 24) and Ottawa (May 12), the national series will move on to visit Halifax on May 26; Moncton, June 2; Kelowna, July 7; Abbotsford, October 13; and Saskatoon, November 23 and 24, where the 2018 PBR Canadian champion will be crowned.
The PBR Monster Energy Tour will be showcased on TSN. Fans should check local listings for broadcast event dates and times or stay tuned to pbrcanada.com/tv-schedule/
Tickets are on sale now and can be purchased online through PBRCanada.com, Gestev.com or Ticketmaster.ca, and via phone at 1 (855) 790-1245. One-day tickets range in price from $34 to $172.75, all taxes and fees included.