PBR Releases 8 to Glory for PlayStation 4 and Xbox One
By: Andrew Giangola Tuesday, July 31, 2018 @ 9:00 AM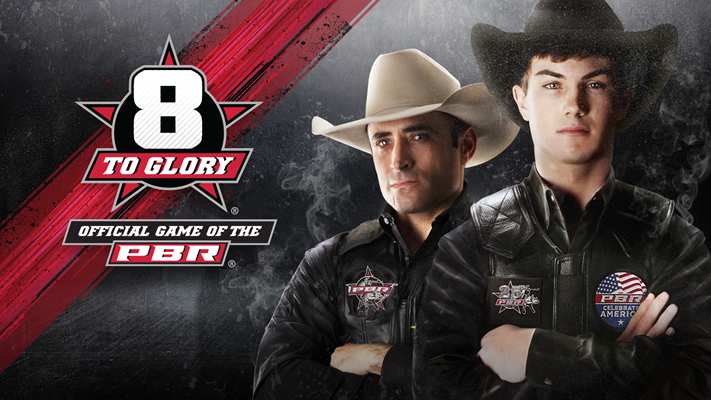 Pueblo, Colorado – 8 to Glory, the official game of PBR is now available for PlayStation®4 and Xbox One.
Since 8 to Glory was launched as a mobile app for iOS and Android in August 2016, more than 1 million people have downloaded and played the game. Based on this success, publisher Three Gates is now providing console players with an even more exciting and realistic bull-riding gaming experience. 
The game's console version, available on PlayStation 4 and Xbox One, offers a variety of modes that allow players to follow the real PBR season and relive legendary matchups. Fans can go through a season on the PBR tour with the league's best riders and rankest bulls, including 2017 World Champion Jess Lockwood as well as former Champions Cooper Davis, J.B. Mauney, and Silvano Alves. The rank roster of bulls includes SweetPro's Bruiser, Magic Train, and Spotted Demon. Fans can also play in "versus" mode head-to-head against other gamers. 
Full-season mode replicates actual 25th PBR: Unleash The Beast events and arenas. There is an opportunity to level up a rider's strength and skill with new gear as the season moves on with the ultimate goal of winning the PBR World Championship.  
"This action-driven game allows fans to immerse themselves in all the thrills and drama of PBR with one hand strapped to the controller and spurs digging into the recliner," said Sean Gleason, CEO, PBR. "We are proud to offer the most realistic graphics and play ever seen in a bull-riding video game."
"We tested 8 to Glory with real PBR athletes to ensure it's the highest-quality gaming experience that best reflects the PBR brand," said Don Geyer, CEO, Three Gates. "With PBR competing in five countries and available in 130 territories through global television distribution, we see global appeal for a console game depicting the epic man-versus-beast matchups in a sport with the bravest athletes in the world."
GAME FEATURES
Real PBR Seasons - Follow along with the real-world PBR season by playing the same events in Campaign Mode.
Dozens of real PBR Riders and Bulls - Play as your favorite riders and match up against the rankest bulls.
Head-to-Head Competition- Local multiplayer mode allows users to play as the bull or the rider in competition with others.
Leaderboards and contests- Compete to have the highest-rated players and bulls and to score the highest rides on the rankest bulls.
Collect and Dominate - Complete achievements and win events to unlock the best riders and bulls, stacking your bull team and stable to the max.

Three Gates is planning online events and tournaments, giving fans a chance to compete with the best gamers around the world to claim the 8 to Glory championship buckle.
A trailer for the game can be seen here.