Parsonage Wins 4th Annual Celebration for the Two Bit Nation
By: Kacie Albert Friday, September 7, 2018 @ 11:49 AM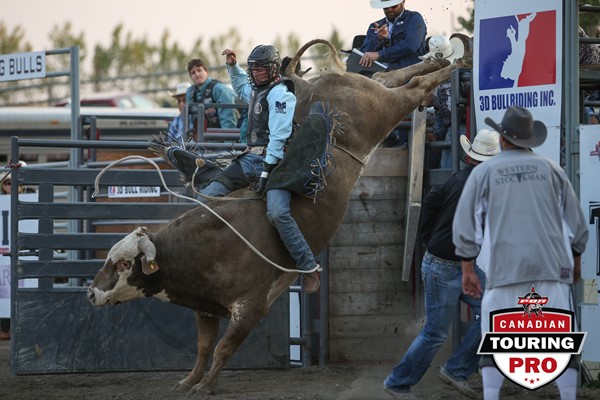 MAGRATH, Alberta – Jared Parsonage (Maple Creek, Saskatchewan) captured his fourth PBR Canada Touring Pro Division event win of the season Thursday night in Magrath, Alberta, victorious at the 4th Annual Celebration for the Two Bit Nation.
He began the event with an 85-point trip on Muddy Water (X6 Ranch Bucking Cattle), heading into the championship round second in the aggregate.
Finishing strong, after earning a re-ride, Parsonage made the 8 aboard Second Hand Snuff (Flying High Rodeo Co.) for 78.5 points to propel him to the win at the event hosted by Two Bit Ranch's Josh Berezay.
The only rider to go a flawless 2-for-2, Parsonage collected a check for $5,247.92, in addition to 320 Canadian and 60 world points.
In the national standings he rose two positions, now ranked No. 7, while in the world standings he moved from No. 68 to No. 57, now 327.5 points behind No. 35 Emilio Resende (Santa Helena do Goias, Brazil) and a berth onto the elite 25th PBR: Unleash The Beast.
Dayton Johnston (Milk River, Alberta) finished second after winning the event's opening round compliments of an 86-point trip on Double Major (Wild Hoggs/Corey Chmelnyk). His efforts in front of a home province crowd earned him $3,169.79, 195 Canadian and 30 world points.
After beginning the event No. 14 in the national standings, the runner-up finish allowed him to crack the Top 10 where he is now 1,427.49 points back from the top spot.
Continuing his string of successes this season on Canadian soil, Lachlan Richardson (Gresford, New South Wales, Australia) finished third to net $2,107.29, 125 Canadian and 20 world points.
His qualified ride came in Round 1 when he covered Friday Night Blues (X6 Ranch Bucking Cattle) for 83.5 points.
Marking his 13th Top-5 result in Canada this year, Richardson surged to the No. 1 position in the national standings, overtaking Brock Radford (De Winton, Alberta) who he now leads by 94.99 points.
As part of the Touring Pro Division stop, the championship round featured a 12-bull ABBI Canada Classic event won by Vold Rodeo's Wicked Dreams who was marked 89.75 points for his buckoff of Johnston.
The series next travels to Yorkton, Saskatchewan on Nov. 9-10 for the finals PBR Canada Touring Pro Division event of the 2018 season. The Yorkton Grain Millers Harvest Showdown, presented by Yorkton New Holland at the Gallagher Center begins at 7:00 p.m. CST on Friday, November 9, and concludes at 7:00 p.m. CST on Saturday, November 10.
4th Annual Celebration for the Two Bit Nation – September 6, 2018
Magrath, Alberta – Two Bit Ranch
PBR Canada Touring Pro Division Event Results
Event Leaders (Round 1- Round 2 -Aggr. Score- Money Earned-Canadian Points-World Points)
1. Jared Parsonage, 85-78.5-163.5-$5,247.92-320-60
2. Dayton Johnston, 86-0-86-$3,169.79-195-30
3. Lachlan Richardson, 83.5-0-83.5-$2,107.29-125-20